Learn about Presbyterian Women
Presbyterian Women (PW) is the national women's organization of the Presbyterian Church (U.S.A.). With more than 300,000 members and 25 years as an organization, PW is organized at all levels of the Presbyterian Church (U.S.A.). Learn more about PW and consider joining your local group.
Continue reading
---
Plan your gift to the
2017 Mission Pledge,
PW's annual fund
The 2017 Mission Pledge packet is now available for download! This resource has all the information you need to plan your giving and encourage others to give to Presbyterian Women's Mission Pledge (annual fund) in 2017. It will be mailing in late July to congregations, Celebration Giving Representatives and moderators and treasurers of Presbyterian Women in the Presbytery and Synod.
Download the 2017 Mission Pledge packet.
With stories and charts about what your gifts to the Mission Pledge makes possible, the Mission Pledge packet also includes a letter from PW's Churchwide moderator, Carol Winkler, a checklist/timeline for promoting giving and pledge forms. Plan to use these materials with your PW in the congregation in August and September. If you do not have a PW in the Congregation, you can still support Presbyterian Women by giving to the Mission Pledge online and remaining active in your presbytery, synod or churchwide.
Thank you for your generous support of Presbyterian Women!
---
Join a PW mission tour of Ferncliff
Consider joining a hands-on mission tour of the Presbyterian Disaster Assistance (PDA) Center, Ferncliff Camp and Conference Center, October 24–28, 2016. You will tour the facility, which is related to the Presbyterian Church (U.S.A.) and the Presbytery of Arkansas; assemble Gifts of the Heart kits; receive PDA disaster response training; and visit the Heifer Project's headquarters and Clinton Library. Participation is limited to 20, so apply soon!
The application (due no later than September 24) includes a full itinerary and cost information. Download the application. Contact Kathy Reeves, PW's associate for mission, at 502/569-5402 or by email for additional information.
---
Create (or fund) clean-up buckets for flood response
Spring and summer has brought heavy rains and flooding to Texas and West Virginia. Presbyterian Disaster Assistance invites Presbyterian Women to join in the response to these affected areas. Clean-up buckets, made up of a bucket full of cleaning products, are in short supply. Presbyterian Women who live close to Ferncliff's warehouse in Arkansas are welcome to deliver the buckets there. While shipping the buckets is cost prohibitive, women not near Ferncliff may donate money to the response. Learn more about the buckets and PDA's response.
---
A new website for Presbyterian Women
Work is underway to create a new and improved website for Presbyterian Women. The new site will merge content from Presbyterian Women's website (these pages!), the Horizons Magazine and Bible study website and the Gathering website. It will launch fall of 2016. A condensed version of the Horizons website will be available during this redesign. Click on the "Horizons magazine and Bible study" link in the left-hand navigation of this site.
Thank you to the hundreds who answered survey questions to help us create the best site possible. And thank you for your patience!
---
Apply to join the 2017 Global Exchange to Indonesia
The 2017 Global Exchange, "Building Bridges of Understanding," will visit Indonesia, September 12–29. Guided by Romans 1:12 (". . . so that we may be mutually encouraged by each other's faith, both yours and mine") participants will learn how to live respectfully in a multifaith culture and encourage and accompany one another as together they seek a more peaceful and just world. To apply, download the application here. The application deadline is August 15, 2106. For additional information, contact Kathy Reeves, PW's associate for mission, at 502/569-5402 or by email.
---
Remembering six decades of pioneering women
This year we celebrate the 60th anniversary of women as teaching elders in the Presbyterian Church. Last year was the 110th anniversary of women as deacons and the 85th anniversary of women as ruling elders. Read an article by Rhashell Hunter (director of Racial Ethnic & Women's Ministries) celebrating these milestones in women's ministry.
---
Give to the 2016 Birthday Offering
The 2016 Birthday Offering will fund four life-changing projects:
Heartland 180 (Kansas),
Direct Action and Research Training Center (Florida),
Habitat for Humanity East Bay/Silicon Valley (California), and
Building Minds in South Sudan
Your gift to the Birthday Offering will allow these ministries to help at-risk youth, ensure safe housing for low-income families and build a school for girls. The actual grant amounts for these worthwhile programs will depend on gifts received in 2016.
Learn more about the recipients. Resources to promote the Birthday Offering (in your congregation, presbytery and synod) are available to order or to download. Please give generously to the 2016 Birthday Offering to help reach the $900,000 goal.
Note: The 2016 Birthday Offering materials were mailed in late February, attn: PW/Women's Group. If your congregation did not receive a set, you can still download materials and hold a Birthday Offering event, or give directly.
---
Working on behalf of those left behind
Presbyterian Women's second 2016 Together in Action days was May 2–8. The focus was on promoting and supporting children's literacy, in connection with the PC(USA)'s Educate a Child Initiative. Anything that you and/or your PW group does to promote literacy and education for children means that you are part of Together in Action. Presbyterian Women has created a number of resources to aid your efforts that may be used at any time during the year.
a bulletin insert with information about the importance of literacy and suggestions for literacy-promoting activities
a list of suggested actions, from handing out story Bibles to organizing a story time
a book list with names of children's books that promote spirituality, character development, imagination and more (you can also find the list on Goodreads)
Your efforts for children's literacy need not stop on May 8. Consider joining the PC(USA)'s Educate a Child network. Tell us what you do to promote literacy, so we can share with others!
---
PW: Where we've been and where we're going
During the 2015 Churchwide Gathering in Minneapolis 2012–2015 PW Churchwide Moderator Mary Cook Jorgenson and PW Executive Director Susan Jackson Dowd led two sections of a workshop on the history, current work and future of Presbyterian Women. The presentation includes specifics on many of PW's programs and ministries and information about the PC(USA), including the change in the number of synods and how women can stay engaged in PW if their church leaves the PC(USA). Download the presentation.
---
Get the latest news from Presbyterian Women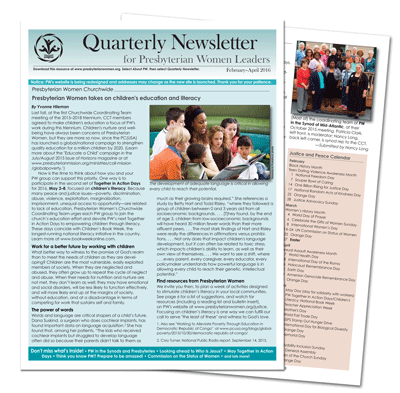 The second quarterly newsletter of 2016 is now available! Get information about Who Is Jesus Bible study resources, read highlights of the spring 2016 Churchwide Coordinating Team meeting, find information about new PW logo items, get ideas for PW mission and much more. Each quarter, learn about the worthwhile and exciting work of Presbyterian Women. You'll be in the know about all the latest leadership and mission opportunities, new resources, giving opportunities, peace and justice programs, special events, offerings and much more!
---
National task group responds to PW groups in churches seeking dismissal from the PC(USA)
Voting representatives to the 2012 PW Business Meeting in Orlando, Florida, recommended that a task group be formed to create a statement regarding PW in churches seeking dismissal from the PC(USA). National moderator Mary Cook Jorgenson appointed PW members and leaders Carol Winkler, Marilynn Collins, Esperanza Guajardo, Dolly Patterson and Carolyn Sprinkle to the task group. PC(USA) legal counsel April Davenport and then-PW program coordinator Ann Ferguson staffed the group. Read more.
---
Comments
Thanks. So much for letting me know what is going on iwill try to get involved as soon as possible

Hi Peggy - the 2016-2017 Horizons Bible Study, "Who is Jesus?" is HERE! You can purchase it online from the PC(USA) Church Store at this link: http://store.pcusa.org/HZN16100 . Thanks for asking! Patricia

I would like to know when the NEW BIBLE STUDY WILL BE READY FOR ME TO BUY?????

Hi Tammy (and others wondering about pillowcase dresses) - "Little Dresses for Africa" is a place to send dresses of this type, or to find patterns for making them. Their web site is: www.littledressforafrica.org. Thank you for doing this ministry!

Do you know of anyone that could use pillowcase dresses for girls and shirts for boys?