Learn about Presbyterian Women
Presbyterian Women (PW) is the national women's organization of the Presbyterian Church (U.S.A.). With more than 300,000 members and 25 years as an organization, PW is organized at all levels of the Presbyterian Church (U.S.A.). Learn more about PW and consider joining your local group.
Continue reading
---
Give to the 2017 Birthday Offering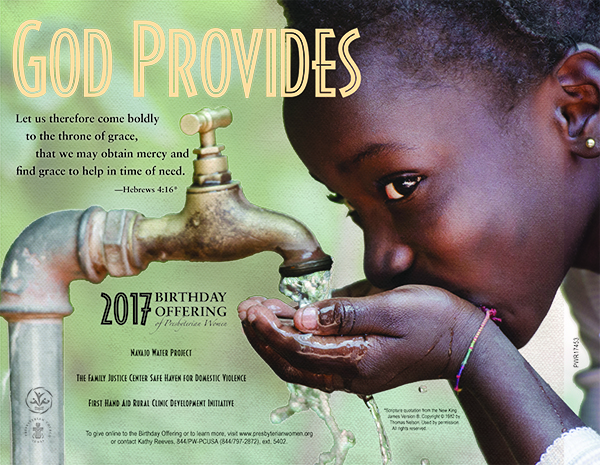 Your gifts to the 2017 Birthday Offering will make it possible for three life-changing ministries to help families seeking shelter from domestic violence in South Carolina, provide marginalized citizens in rural Cuba with hope and health services, and provide water systems to more than 40 families in New Mexico. Please give and promote giving so that each of these grants may be fully funded in 2017. The goal is $500,000. Recipients are:
Resources to promote the Birthday Offering are in the mail to all PC(USA) congregations, attn: PW/Women's Group. If your group does not receive the materials by the end of February 2017, download free materials online—promotional booklet and order form. Order placemats, posters, bulletin inserts, bulletin covers and promotional booklets from the Church Store. Or click to give to the 2017 Birthday Offering. Help us reach our goal in 2017 so more ministries can receive our support in 2018.
---
Plan your gift to the Mission Pledge, PW's annual fund
The 2017 Mission Pledge packet has all the information you need to plan your giving and encourage others to give to Presbyterian Women's Mission Pledge (annual fund) in 2017. It mailed in July 2016 to congregations, Celebration Giving Representatives and moderators and treasurers of Presbyterian Women in the Presbytery and Synod. These materials are designed for use in PW in the Congregation groups. Download the 2017 Mission Pledge packet.
With stories and charts about what your gifts to the Mission Pledge makes possible, the Mission Pledge packet also includes a letter from PW's Churchwide moderator, Carol Winkler, a checklist/timeline for promoting giving and pledge forms. In July 2017, materials for 2018 will be shipped. If you do not have a PW in the Congregation, you can still support Presbyterian Women by giving to the Mission Pledge online and remaining active in your presbytery, synod and churchwide. Thank you for your generous support of Presbyterian Women!
---
A new website for Presbyterian Women
Work is underway to create a new and improved website for Presbyterian Women. The new site will merge content from Presbyterian Women's website (these pages!), the Horizons Magazine and Bible study website and the Gathering website. It will launch fall of 2016. A condensed version of the Horizons website will be available during this redesign. Click on the "Horizons magazine and Bible study" link in the left-hand navigation of this site.
Thank you to the hundreds who answered survey questions to help us create the best site possible. And thank you for your patience!
---
Get the latest news from Presbyterian Women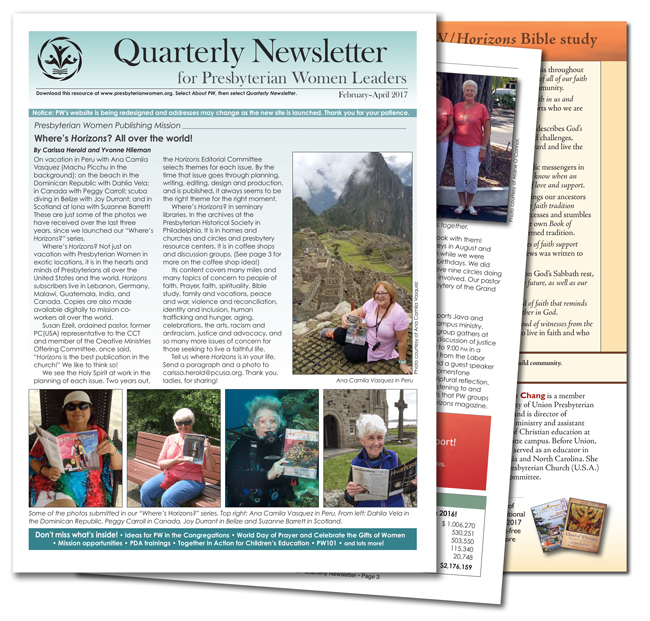 The first-quarter newsletter is now available! Find the latest information about the 2018 Churchwide Gathering, learn about PW mission opportunities, get the full scoop on the 2018–2019 PW/Horizons Bible study, print Birthday Offering and Bible study order forms, and much more. Each quarter, learn about the worthwhile and exciting work of Presbyterian Women by downloading and reading PW's quarterly churchwide newsletter. You'll be in the know about all the latest leadership and mission opportunities, new resources, giving opportunities, peace and justice programs, special events, offerings and more!
---
Think you know Presbyterian Women?
A new series of light-hearted and happily serious posters help show the range of what it means to be Presbyterian Women. Download these posters and share them widely—in newsletters, on bulletin boards, anywhere that you can share all that PW is and does. View the posters.
And, this wildly popular series inspired Mary Cook Jorgenson to write a skit about all that Presbyterian Women does and is. Download the skit.
---
Remembering six decades of pioneering women
This year we celebrate the 60th anniversary of women as teaching elders in the Presbyterian Church. Last year was the 110th anniversary of women as deacons and the 85th anniversary of women as ruling elders. Read an article by Rhashell Hunter (director of Racial Ethnic & Women's Ministries) celebrating these milestones in women's ministry.
---
Where we've been, where we're going
During the 2015 Churchwide Gathering in Minneapolis 2012–2015 PW Churchwide Moderator Mary Cook Jorgenson and PW Executive Director Susan Jackson Dowd led two sections of a workshop on the history, current work and future of Presbyterian Women. The presentation includes specifics on many of PW's programs and ministries and information about the PC(USA), including the change in the number of synods and how women can stay engaged in PW if their church leaves the PC(USA). Download the presentation.
---
National task group responds to PW groups in churches seeking dismissal from the PC(USA)
Voting representatives to the 2012 PW Business Meeting in Orlando, Florida, recommended that a task group be formed to create a statement regarding PW in churches seeking dismissal from the PC(USA). National moderator Mary Cook Jorgenson appointed PW members and leaders Carol Winkler, Marilynn Collins, Esperanza Guajardo, Dolly Patterson and Carolyn Sprinkle to the task group. PC(USA) legal counsel April Davenport and then-PW program coordinator Ann Ferguson staffed the group. Read more.
---
Comments
The Presbyterian Women of Broad Church would like to extend a warm invitation to the women of Bethany Presbyterian Church to our Retreat on March 9 at the Martin de Porres Center of Ohio Dominican from 9:00 a.m. to 3:00 p.m., with registration beginning at 8:30 a.m. The leader of the day will be Emily Corzine. A light lunch of soup and salad will be served. The cost is $20.00. For more information about the event and/or scholarships, contact Jane Nance at skid59@insight.rr.com or 1-740-965-1784 by March 3. Sincerely, Carol Freeland

For those who would like to apply to be Bible Study test groups for the next Horizons Bible Study, please go to this link for application form and theme: (you can find the application form in the sidebar of this page) http://horizons.pcusa.org/bibleupcome.htm

The field testing for the Horizons Bible Study is an important component of its development. The women in my church are interested in forming a field testing group for the next Bible study scheduled for this. Can you tell me what the subject is and how we can apply to be a group?

PW in Scioto Valley Presbytery want to encourage women to start saving for the next Churchwide Gathering. We know it is in Minneapolis, MN, but what are the dates?

Could you please give an update on the current status of The Congo Palm Development Project. My congregation had an interest in it several years ago, and the only information we can find doesn't seem to be current.