Presbyterian Hunger Program Staff
---
Ruth Farrell - Coordinator
Prior to becoming the Coordinator for the Presbyterian Hunger Program, Ruth Farrell worked for nearly 10 years as a PC(USA) Mission Co-worker in Peru where she worked with over 200 very poor artisans who formed cooperatives and exported as an alternative to the sweatshops and piecework available to them. Before Peru, Ruth was a Mission Co-worker in the Congo working with community development on a seminary campus. North American experiences include working with immigrant business owners through a micro-enterprise program in Louisville, Kentucky; and working in the public policy arena in the office of Senator Richard G. Lugar (Washington D.C.). She has an MBA (international finance) from the George Washington University. She currently serves on the boards of Bread for the World, Food Resources Bank and Just Creations. Ruth's husband Hunter is Director of World Mission for PC(USA) and they have three adult children. Ruth is a current Ruling Elder at Crescent Hill Presbyterian Church.
(800) 728-7228 x5816
---
Jenny Oldham - Administrative Assistant
A former kindergarten teacher, Jenny has worked with the Presbyterian Church (USA) in Mission Service Recruitment and Presbyterian Disaster Assistance. She joined the Presbyterian Hunger Program in April 2015 and looks forward to continuing to live out her faith as we "spend ourselves on behalf of the hungry" (from Isaiah 58:10). Jenny will offer administrative support for the PHP program. A few of her favorite things are her daughter, her yard, and having friends for dinner around the kitchen table.
(800) 728-7228 x5832
---
Jennifer Evans - Program Assistant for Grants & Communications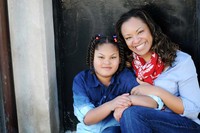 Jennifer Evans joined the PHP staff in 2012 and works very closely with the National Office grant process as well as managing educational materials and communication needs for PHP. She has a Bachelor's degree in Communication and comes from a background of home mortgage financing. She loves to run in her spare time which helps her keep up with her ten year old daughter.
(800) 728-7228 x5819
---
Valéry Nodem- Associate for International Hunger Concerns
Valéry Nodem, the former coordinator of the Joining Hands RELUFA Network and a Cameroonian human rights lawyer, joined the PHP staff in 2011. He coordinates both the international development work of PHP as well as the global advocacy work of the Joining Hands Initiative. Valery is married and has two sons, Imaan and Koffi.
(800) 728-7228 x5834
---
Eileen Schuhmann- Program Assistant for International Hunger Concerns
Eileen Schuhmann has her Bachelors in International Economics and French from the University of Kentucky. She served 3 years in the U.S. Peace Corps in Senegal as a small enterprise development agent. Currently, she is pursuing a Master of Arts in Sociology at the University of Louisville. Eileen is married and mother to a six year old daughter.
(800) 728-7228 x5828
---
Andrew Kang Bartlett- Associate for National Hunger Concerns

Prior to coming to the Hunger Program in 2001, Andrew Kang Bartlett worked with non-profit organizations in the San Francisco Bay Area on human rights, environmental health, people-centered development and social justice issues. Kang Bartlett also lived in Japan and East Asia for five years, three of those as a Presbyterian missionary doing community organizing and civil rights work with Koreans in Japan.
(800) 728-7228 x5388
---
Jessica Maudlin- Associate for Enough for Everyone
Jessica Maudlin joined the PHP Staff in 2009. She currently serves with the Enough for Everyone program and works with the Hunger Action Enabler network. She also serves as the managing editor for the PHP Post, PHP's quarterly justice journal. She is a graduate of Hanover College where she focused in the study of Liberation Theology as well as international studies. Her background includes volunteer work in Zambia, Mozambique, Jamaica, Nicaragua and Haiti.
(800) 728-7228 x5626
---
Rebecca Barnes- Associate for Environmental Ministries
Joining the Presbyterian Hunger Program in May 2012, Rebecca Barnes has been the Associate for Environmental Ministries for the Presbyterian Church (USA) since December 2011. Particularly she oversees the national PC(USA) certification program for Earth Care Congregations, coordinates the volunteer local leadership network called the Environmental Ministries Action Network, and works to help Presbyterians connect their Christian discipleship to ecological, economic and global justice concerns. Rebecca is a graduate of Louisville Presbyterian Theological Seminary where she earned a Masters of Divinity and a Masters of Art in Religion in 2011, with a thesis titled: "A Fuller Experience of God's Grace: How the Sacraments Invite Us to Relationship with, and Care for, the Earth." While in seminary, she authored "50 Ways to Help Save the Earth: How You and Your Church Can Help Make a Difference." In her local community, Rebecca also organizes the Eco-Justice Worship Collective, an initiative to create dynamic, ecumenical, inclusive worship spaces to engage in eco-justice concerns. She likes reading, writing, yoga, art, dancing, and playing imaginary games with her two children.
(800) 728-7228, x5624
---
Trey Hammond-Congregation-Based Community Organizing
Trey Hammond serves as a resource person with the Presbyterian Hunger Program for congregation-based community organizing grants. As part-time deployed staff, he has also served as the pastor of the La Mesa Presbyterian Church, Albuquerque, New Mexico, since 1999. He previously served for three years as the coordinator for the Urban Ministry Office of the General Assembly and a pastor in urban parishes in Dallas, Texas. He has been the co-chair of a congregation-based community organization, Albuquerque Interfaith, for eleven years. In 2001, he edited an issue entitled "Homelessness: The Church Responds to an Enduring Tragedy" for the PC(USA)'s journal on social issues, Church and Society.
(505) 255-8095
Topics:
Tags:
Comments
Thanks to God for the noble responsibility of the Presbyterian Hunger Program for serving humanity. True LOVE expressed.