Learn about Presbyterian Women
Presbyterian Women (PW) is the national women's organization of the Presbyterian Church (U.S.A.). With more than 300,000 members and 25 years as an organization, PW is organized at all levels of the Presbyterian Church (U.S.A.). Learn more about PW and consider joining your local group.
Continue reading
---
Give to the 2017 Birthday Offering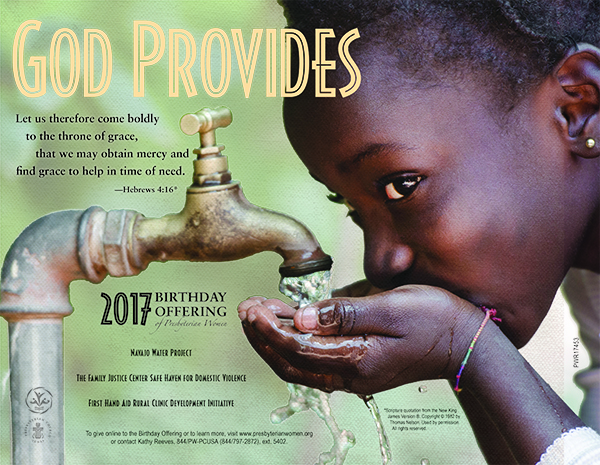 Your gifts to the 2017 Birthday Offering will make it possible for three life-changing ministries to help families seeking shelter from domestic violence in South Carolina, provide marginalized citizens in rural Cuba with hope and health services, and provide water systems to more than 40 families in New Mexico. Please give and promote giving so that each of these grants may be fully funded in 2017. The goal is $500,000. Recipients are:
Resources to promote the Birthday Offering are in the mail to all PC(USA) congregations, attn: PW/Women's Group. If your group does not receive the materials by the end of February 2017, download free materials online—promotional booklet and order form. Order placemats, posters, bulletin inserts, bulletin covers and promotional booklets from the Church Store. Or click to give to the 2017 Birthday Offering. Help us reach our goal in 2017 so more ministries can receive our support in 2018.
---
Guide for PW Treasurers now available
If you're a PW Treasurer, Celebration Giving representative or PW leader looking for information about giving deadlines or procedures, the new Guide for PW Treasurers is just what you need! This free download outlines what you need to know to facilitate giving to PW's many programs. Order the Guide for PW Treasurers now.
---
Get the latest news from Presbyterian Women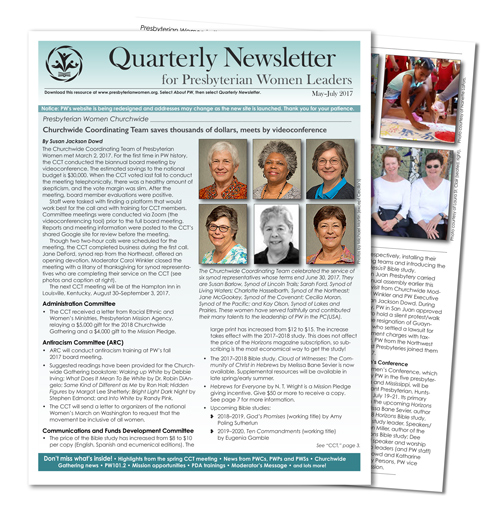 The second-quarter newsletter is now available! Find the latest information about the 2018 Churchwide Gathering, learn about PW/PDA training opportunities, get the full scoop on the 2018–2019 PW/Horizons Bible study, read highlights of the spring 2017 CCT meeting, and much more. Each quarter, learn about the worthwhile and exciting work of Presbyterian Women by downloading and reading PW's quarterly churchwide newsletter. You'll be in the know about all the latest leadership and mission opportunities, new resources, giving opportunities, peace and justice programs, special events, offerings and more!
---
Think you know Presbyterian Women?
A new series of light-hearted and happily serious posters help show the range of what it means to be Presbyterian Women. Download these posters and share them widely—in newsletters, on bulletin boards, anywhere that you can share all that PW is and does. View the posters.
And, this wildly popular series inspired Mary Cook Jorgenson to write a skit about all that Presbyterian Women does and is. Download the skit.
---
A new website for Presbyterian Women
Work is underway to create a new and improved website for Presbyterian Women. The new site will merge content from Presbyterian Women's website (these pages!), the Horizons Magazine and Bible study website and the Gathering website. A condensed version of the Horizons website will be available during this redesign. Click on the "Horizons magazine and Bible study" link in the left-hand navigation of this site.
Thank you to the hundreds who answered survey questions to help us create the best site possible. And thank you for your patience!
---
Where we've been, where we're going
During the 2015 Churchwide Gathering in Minneapolis 2012–2015 PW Churchwide Moderator Mary Cook Jorgenson and PW Executive Director Susan Jackson Dowd led two sections of a workshop on the history, current work and future of Presbyterian Women. The presentation includes specifics on many of PW's programs and ministries and information about the PC(USA), including the change in the number of synods and how women can stay engaged in PW if their church leaves the PC(USA). Download the presentation.
---
National task group responds to PW groups in churches seeking dismissal from the PC(USA)
Voting representatives to the 2012 PW Business Meeting in Orlando, Florida, recommended that a task group be formed to create a statement regarding PW in churches seeking dismissal from the PC(USA). National moderator Mary Cook Jorgenson appointed PW members and leaders Carol Winkler, Marilynn Collins, Esperanza Guajardo, Dolly Patterson and Carolyn Sprinkle to the task group. PC(USA) legal counsel April Davenport and then-PW program coordinator Ann Ferguson staffed the group. Read more.
---
Comments
MBEYA PRESBYTERIAN TANZANIA BOX 3313 MBEYA TANZANIA,WE NEED YOUR SUPPORT SPIRITUAL,WE HAD CHARRISON MINISTRY ORPHANS PLEASE TRY TO PRAY FOR US THAT ALL WOMEN SHOULD HELP US FOR PRAYER THAT OUR MINISTRY SHOULD HAVE SUPPORT,,OUR CHURCH IS TILL MISSION,IN MBEYA TANZANIA,

Gail, we anticipate having the Churchwide Gathering web page live by the middle of this month. In the meantime, the hotel has been selected, the registration cost set—and the good news is that both will cost less than in 2012! Registration is just $395 for the 2015 Gathering ($125 for single days), and rooms at the Hyatt are $169 plus tax (for up to four in a room). Put it on your calendar—June 18–21, 2015! Put a couple bucks back each day from now until then, and you can almost have it paid for by the time you get there! Can't go? Sponsor someone who can! For more details, check the latest issue of our quarterly newsletter. Go to www.presbyterianmission.org/ministries/pw/about/ and click the "Quarterly newsletter" link. We look forward to seeing you in Minneapolis in June 2015!

When will the Churchwide Gathering link be updated with the information on the 2015 CWG? We are anxious to get the details, so that women can start planning, especially in regards to registration costs. Thank you.

Hi Linda, Thank you for visiting the PW web site and for your interest in the preemie baby caps. Lots of PW love to make the preemie caps, and they are needed! All the caps get sent to the Brethren Service Center in Maryland and ship on to hospitals in Africa. Below is the address for shipping them: Presbyterian Church (U.S.A.) c/o Brethren Service Center PO Box 188 601 Main Street New Windsor, MD 21776 410.635.8795 Phone 410.635.8739 Fax If you have any further questions about PW's Mission work, please contact Kathy Reeves at Katharine.reeves@pcusa.org.

May I please have information on premie baby caps. Where they need to be sent and who will receive them.