About Presbyterian Women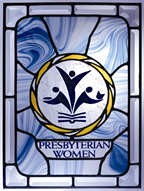 Join PW
PW Purpose
Presbyterian Women groups
Presbyterian Women Churchwide
Think You Know PW?
30 Years of PW
Quarterly newsletter
Initiatives and emphases
Institutional Relationship Agreement
Affiliations
Staff
History
PW's incorporation
PW logo and graphics
Presbyterian Women (PW) is an independent organization within the Presbyterian Church (U.S.A.) of more than 300,000 women. The programming and resource options for the organization offer a variety of ways for women to live out their faith in an inclusive, caring community. PW groups can choose to support the PW Purpose in any way, so PW groups may look very different from one synod to the next . . . or even one circle to the next within the same congregation!
PW's 2012–2015 Triennial Report
During the 2012–2015 triennium, PW offered a number of programs and opportunities to make a positive impact on the world, sharing Christ's love with all of God's children.
---
Join PW
Presbyterian Women (PW) offers women in the church meaningful ways to live out their faith in the midst of a caring community of women. For more than 200 years Presbyterian women's groups have strengthened the Presbyterian Church and played a major role in sharing the good news of Jesus Christ and witnessing to the promise of God's kingdom. And in 2013, Presbyterian Women celebrated 25 years of praying and working together as "Presbyterian Women," the organization created within the reunited Presbyterian Church (U.S.A.). Learn more about initiating or revitalizing a PW group in your church.
---
PW Purpose
Forgiven and freed by God in Jesus Christ, and empowered by the Holy Spirit, we commit ourselves
to nurture our faith through prayer and Bible study,
to support the mission of the church worldwide,
to work for justice and peace,
and to build an inclusive, caring community of women that strengthens the Presbyterian Church (U.S.A.) and witnesses to the promise of God's kingdom.
---
Presbyterian Women groups
Presbyterian Women is a churchwide group organized at all levels of the PC(USA). Like the PC(USA) structure, PW in the Congregation forms the basis for PW in the Presbytery; PW in the Presbytery feeds into PW in the Synod, and so on.
Learn about PW's voice and vote at the churchwide and presbytery levels. Download this mini-magazine for an in-depth look at the influence and status of Presbyterian Women at the presbytery level.
---
Think You Know PW?
A new series of light-hearted and happily serious posters help show the range of what it means to be Presbyterian Women. Feel free to share (on bulletin boards or refrigerator doors, in newsletters or in circle meetings!). This (gentle) educational campaign will challenge everyone to rethink what it means to be a part of Presbyterian Women.
---
30 Years of PW
Presbyterian Women will be celebrating its 30th anniversary in 2018! To celebrate that milestone, for the 30 months leading up to PW's 2018 Churchwide Gathering (August 2–8 in Louisville!), we'll be emailing a history/trivia question about a year in PW's amazing history. All the answers can be found on PW's web pages. If you're not receiving emails from Presbyterian Women, contact Patricia Longfellow and ask to be added to the email list.
Keep track of your answers on this answer sheet. (And bring your completed answer key to the 2018 Gathering for the opportunity to receive a trivia buff treat! The one recipient will be notified by August 6, 2018.)
---
Quarterly Newsletter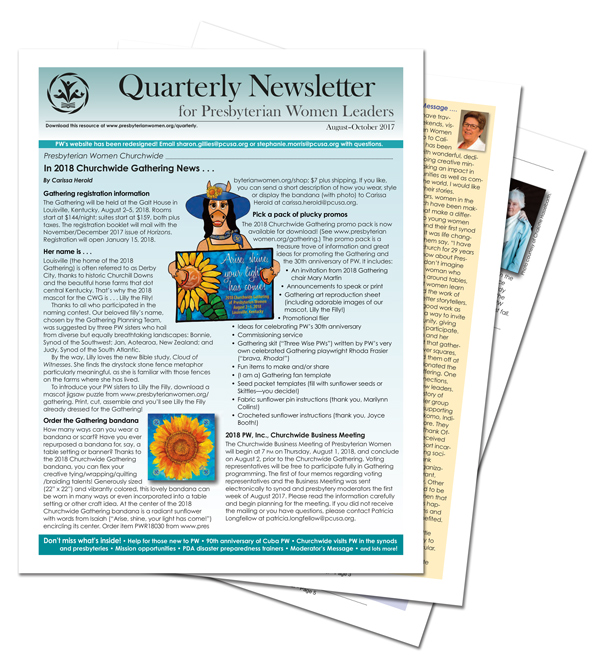 Each quarter, PW staff creates a newsletter detailing notable projects, resources and events for Presbyterian Women. The mailing goes to PW moderators, leadership coordinators and the CCT, but is important information for everyone involved with Presbyterian Women. Download newsletters here.
2017
Third quarter
Second quarter
First quarter
2016
Fourth quarter
Third quarter
Second quarter
First quarter
For older issues, contact PW staff.
---
Initiatives and Emphases
Immigration
At the 2006 Churchwide Business Meeting of Presbyterian Women, the organization committed itself to studying immigration issues.
Antiracism Initiative
The voting representatives to the 2006 Churchwide Business Meeting of Presbyterian Women unanimously approved a resolution declaring Presbyterian Women an antiracism organization and reaffirmed their 1997 commitment to strive to eradicate racism. The voting representatives acknowledged that "racism is imbedded in the very structure of our society and thus requires a very intentional effort to eradicate it."
Racial Ethnic Dialog
The Racial Ethnic Dialog Group consists of 21 women, including white and racial ethnic members-at-large from the Churchwide Coordinating Team of Presbyterian Women and women from each of the six racial ethnic women's constituency groups. The group seeks to honor the gifts of all people while finding ways to dialogue and work together as an inclusive, caring community.
---
Institutional Relationship Agreement
PW and the Presbyterian Church (U.S.A.) have had a long-standing partnership based upon shared beliefs, complementary visions and commitments, common history, and a relationship of mutual respect and cooperation. The 221st General Assembly (2014) approved an Institutional Relationship Agreement that was developed by Presbyterian Women, Inc., and the Presbyterian Mission Agency. This agreement reflects the organizational changes that Presbyterian Women has undergone since 2009. Learn more
---
Affiliations
In addition to supporting the affiliations and ecumenical partnerships of the Presbyterian Church (U.S.A.), Presbyterian Women works in partnership with various secular and faith-based organizations on issues of faith and social justice. Learn more about Presbyterian Women's affiliations.
---
Staff
The national staff of Presbyterian Women carries out the purpose and programming of the organization. Staff members are available to answer your questions about the organization and its projects as well as to serve as keynote speakers, workshop leaders or in other leadership positions at events. Meet the staff.
---
History
Women's groups in the Presbyterian Church have a powerful history. Since the early 1800s Presbyterian women have organized themselves to support mission and combat social injustices nationally and internationally. While the levels of involvement and recognition from the denominations has varied, women's dedication to living out God's call through women's organizations has remained steady. Learn more about the history of PW.
---
PW's incorporation
Voting representatives to the 2009 Churchwide Business Meeting of Presbyterian Women ratified the amended and restated certificate of incorporation that establishes Presbyterian Women as a publicly supported integrated auxiliary of the PC(USA). Voting representatives also approved the bylaws of Presbyterian Women in the Presbyterian Church (U.S.A.) Inc. Learn more
---
PW Logo and Graphics
The PW logo visually expresses the PW Purpose. It and other logos created by Presbyterian Women may be used for limited purposes.
Learn more about the PW logo and usage guidelines
Download logos
---
Tags:
Comments
Is there an outreach of PW to supply pillowcase type dresses for Africa or other needed areas? We are a small, senior group...limited resources and energy, but lots of fabric and a heart for mission.

Working on a presentation of PW 101 Wondering if anyone has created a power point with history of PW?

I have been working on history of PW and would like to know when Circles were begun in churches. What year?????

Hi Tricia! YES, PW still knit baby caps and send them to the Brethren Center in New Windsor, MD. Please contact Kathy Reeves for more information at katharine.reeves@pcusa.org Thanks!

Does the Presbyterian Women's group currently knit caps for needy babies? If so, who might I speak to about this?