Thursday, April 2
Presbytery of Carlisle
Pennsylvania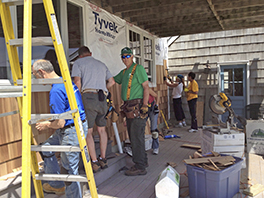 Christ's call to go out into the world to serve is for every congregation, but not all are able to coordinate the details of mission trips. A group from several of the Presbytery of Carlisle's 51 congregations has responded by founding Lend A Hand. Since its founding in 1989 as a local disaster- response and assistance program, Lend A Hand has carried out its mission to coordinate all the details for frequent presbytery-wide mission trips to help people suffering extraordinary hardship as the result of natural disasters.
The all-volunteer organization works only on privately owned residences and concentrates on helping people who are elderly or who live with handicaps or on small incomes. In addition to work in the region, over the last few years teams have traveled to the South, the Midwest, and many other places to repair damage from floods, tornados, hurricanes, fires, and blizzards. Work these last two years has been focused on the New Jersey coast and continued cleanup from Superstorm Sandy. Lend A Hand has stayed around long after the nation has forgotten residents who are still recovering.
While Lend A Hand works to repair damaged homes, one of the most valuable things its volunteers do is listen. Victims of disaster need to tell their stories of loss, hardship, and recovery to a sympathetic listener. Because Lend A Hand makes relationship building so central to its mission, volunteers of all skill levels are able to participate. The organization has achieved national recognition for its work and received two local awards in 2013.
—Rev. Kimberley Wadlington, chair, mission and advocacy committee, Presbytery of Carlisle
Let us join in prayer for:
Presbytery Staff
Rev. Mark Englund-Krieger, executive presbyter
Jim Speedy, stated clerk
Suzanne Souder, associate for communication and office management
Fran Heid, bookkeeper
Beckie Drover, regional associate
Edd Carlson, regional associate
Candace Veon-Nyiri, regional associate
PC(USA) Agencies' Staff
Richard Embry, PMA
Rev. Barry Ensign-George, PMA
Let us pray
Holy God, you honor us by calling us to be your people and sending us into the world to be your servants. May all those who suffer hardship due to natural disaster know the comfort of your Spirit. Prosper the work of the hands that reach out to help rebuild homes and lives. Amen.
Revised Common Lectionary for Maundy Thursday
Exod. 12:1–4 (5–10) 11–14
Ps. 116:1–2, 12–19; 1 Cor. 11:23–26
John 13:1–17, 31b–35
Revised Common Lectionary Readings
First Reading Exodus 12:1-4 (5-10) 11-14
Psalm Psalm 116:1-2, 12-19
Second Reading 1 Corinthians 11:23-26
Gospel John 13:1-17, 31b-35