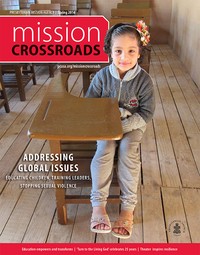 Mission Crossroads magazine
Mission Crossroads is a three-times-a-year magazine focused on the worldwide work of the PC(USA). It offers news and feature stories about mission personnel, international partners and grassroots Presbyterians involved in God's mission in the world.
To subscribe complete this form or call (800) 728-7228, x5415.
Welcome to the ePub edition!
This is browser-based reading on all of your devices.
You have the option to download the pdf version in a tab at the top of your window.
---
Download issues of Mission Crossroads
Addressing Global Issues
Educating Children, Training Leaders, Stopping Sexual Violence
Spring 2016 - View or Download

Planting Seeds of Inspiration: Garden Grows from Congregation's Values
Winter 2015 - View or Download

The Changing Face of Mission: Answering God's Call Together
Summer 2015 - View or Download
Answering Christ's Call to Witness in the Middle East
Spring 2015 - View or Download
Training Leaders for Community Transformation
Winter 2014 - View or Download
Poverty Alleviation Through Education
Fall 2014 - View or Download
Reconciliation: Healing the Wounds
Spring 2014 - View or Download
Call to Mission
Fall 2013 - View or Download
Addressing Critical Global Issues
Spring 2013 - Download
Addressing the Root Causes of Poverty
Fall 2012 - Download
Celebrating 175 Years of Presbyterian World Mission
Summer 2012 - Download
Communities of Mission Practice: Bringing God's Global Family Together
Spring 2012 - Download
Make a Difference in God's World With Presbyterian World Mission
Winter 2011 - Download
Bearing Faithful Witness to Jesus Christ
Fall 2011 - Download
Serving in Sudan
Spring 2011 - Download
Inspiring Service
Fall 2010 - Download
Better Together
Summer 2010 - Download
Tags: