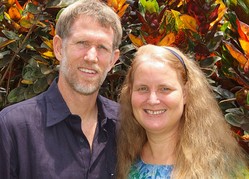 Read letters from Jeff and Christi Boyd
Subscribe to Jeff and Christi Boyd's letters
2016
January - Eye-Opening Experiences

2015
December - Training Opportunities
September - Reminiscing with Gratitude
June - Stories of Heartbreak and Hope
March - Training Women, Niger

2014
Winter - Child Migrants, Madagascar
Fall - Child Migrants, Rwanda
Summer - Seeking a Partner Congregation
Spring - Child Marriage, South Sudan

Older Letters
Dec 2013 - Seeking Partners, EQ Guinea
Fall 2013 - Widowhood, Congo
Summer 2013 - A New Chapter
March 2013
December 2012
September 2012
2012 Itineration
March 2012
December 2011
April 2011
December 2010
February 26 2010
December 31, 2009
March 26 2009
The 2015 Presbyterian Mission Yearbook for Prayer & Study, p. 147
Jeff and Christi Boyd
Mission co-workers in the Democratic Republic of Congo
Serving as Regional Liaison for Central Africa (Jeff) and
Facilitator for Women and Children's Interests (Christi)
Give to Jeff and Christi's MinistryMeet Jeff and Christi in a videoDownload Jeff and Christi's prayer card
Contact: Jeff Boyd (jeff.boyd@pcusa.org)
Contact: Christi Boyd (christi.boyd@pcusa.org)
Christi and Jeff will make two short trips to the U.S. in 2016. Email them to learn about their schedule and invite them to visit your ministry.
About Jeff and Christi Boyd's ministry:
As regional liaison for Central Africa, Jeff Boyd facilitates support for the relationships, programs and activities of Presbyterian Church (U.S.A.) partners in the Democratic Republic of the Congo, Cameroon, and Equatorial Guinea. He also resources PC(USA) mission personnel and helps connect partner churches with PC(USA) congregations that want to be involved in ministry in the region.
Besides the Congo, Christi works in three other French-speaking African countries, Madagascar, Niger, and Rwanda, and one non-French-speaking country, South Sudan. She accompanies global partners as they seek to remedy the marginalization of women and children in their communities, and engages with Presbyterian constituencies in the U.S. that wish to come alongside and promote those efforts.
In the Congolese village of Zapo-Zapo, parents proudly send their children to a new Presbyterian school complex that was built thanks to joint Presbyterian efforts brought together with the help of Jeff Boyd. A new Presbyterian education initiative in Congo began when Jeff connected the national leadership of the Presbyterian Community in Congo (CPC) with a couple from First Presbyterian Church in Evanston, Illinois, who were doing volunteer mission work in Congo. The couple facilitated a participatory process for the Congolese partners to identify and strategize around priority areas for its educational ministries. Presbyterian churches across the United States soon joined in to support the resulting Congo Education Excellence Program, which rallies to ensure quality education for Congo's future generations. The Congo Education Excellence Program is a major focus of the Congo Mission Network.
Read: Stewardship of Influence for Congo
Watch: Jeff and Christi describe working alongside African partners in ministries of empowerment
Christi fosters relationships that are aimed at helping women like Julienne, a Presbyterian evangelist from the West-Kasai Province in Congo. After the death of her husband Julienne found compassion and solidarity from the CPC Department for Women and Families. Following traditional widowhood rites, her in-laws had dispossessed Julienne of her home, her farm, and her children. With support from the Presbyterian Women's Thank Offering, the CPC is offering hope in such times of mourning and striving to curb harmful cultural practices. The CPC wants legal recognition for traditional marriages and official registration of childbirths. Across the African continent the well-being of women and children is compromised—and authentic Christian witness undermined—by customs that send people into poverty and deprive them of their rightful opportunities. Christi helps bring together U.S. Presbyterians and African partners in order to maximize their collective mission impact. She works where African women's and children's interests meet Presbyterian World Mission's critical global initiatives of poverty alleviation, evangelism, and reconciliation.
Regional context
Most of the countries where Jeff and Christi work are rich in natural resources, but only a small and powerful segment of the population benefits from the revenues they produce. In fact, poverty is rampant, educational access is limited, and disease is widespread. The wealth created by the abundant natural resources often fuels regional conflicts that exacerbate the vulnerability of women and children to cultural and gender-based violence. The PC(USA) works with partners in all seven countries to address these challenges. Congo, Cameroon, Rwanda, South Sudan and Madagascar have large and growing Presbyterian/Reformed churches. The Reformed presence is much smaller in Equatorial Guinea, which is predominately Roman Catholic, and Niger, which is mostly Muslim.
About Jeff and Christi Boyd
Jeff, a former math teacher, brings to his duties as regional liaison more than two decades of experience as an educator in the United States, Pakistan and Africa. Education is a priority for the partner churches with whom he works. Jeff says his agenda is guided by "what the local partner is already doing or is committed to do."
Though trained as a physical therapist, Christi has longstanding experience bringing people together to address root causes of hunger and poverty. Having completed 13 years as facilitator for the Joining Hands Initiative in Cameroon, she has particular expertise in building bridges of solidarity that connect people to tackle problems of a globalizing world.
For Christi, her efforts on behalf of the marginalized are rooted firmly in her faith. "Through the words of Jesus and the prophets, God consistently defends the cause of the poor, vulnerable, and oppressed," she says. "The Scriptures call us to follow in their footsteps."
Since arriving in Africa in 1990, the Boyds have lived in Tanzania, Cameroon and are now in Congo for the second time. As Christi puts it, "We discerned that the Author of all good things indeed had not yet finished the Congo chapter of our life in mission service." Jeff and Christi feel a strong call to serve in Africa. "We feel this is where God wants us at this time," Jeff says. "Christi and I are both constantly challenged in our work. There remains so much to learn and work on."
Jeff, a native of California, holds a B.A. degree from Whitworth College and an M.A. degree from California State University. Christi earned her physical therapy degree from Academie voor Fysiotherapie in Groningen, The Netherlands, the country of her birth.
Jeff and Christi are members of Crescent Hill Presbyterian Church in Louisville and are the parents of three grown children, Matthias, Salome, and Naomi.
Birthdays:
Jeff - April 9
Christi - September 4
Matthias - September 27
Salome - July 21
Naomi - July 4
Topics:
Tags: