A letter from Josh Heikkila serving in Ghana as Regional Liaison for for West Africa
July 2014 - Services of Healing

Anywhere you go in Ghana these days you're certain to find services of healing and deliverance given a prominent place in the church. I'm not sure I can explain them adequately, but let's say that people experiencing suffering—whether it be from sickness, poverty, family problems, infertility, or limitations in school and work—come to these special worship services to be delivered from their troubles.
In these services you often hear church leaders preach that God did not create human beings to suffer. In the process of deliverance you are promised "breakthroughs" in life, and there is prophesying of future blessings and glory. Because "what you sow is what you reap," the success of these breakthroughs is often tied to whether you tithe, fast, and pray sufficiently. Some of the leaders claim that God has made them agents of prosperity, so your success or failure depends on whether you pledge loyalty to this "man of God" in charge.
So many problems people have, in my opinion, are related to poverty. There's a lack of affordable health care, so people suffer from illness. Income from farming or work in the market isn't enough to take care of basic needs like food, shelter, and clothing. Students struggle to raise fees for school, and even after graduation jobs are still hard to come by. Because there's little recourse through other means people turn to prayer, and they pray fervently.
I see these services of healing and deliverance as an interesting mix of Pentecostal and charismatic Christianity, the gospel of prosperity, and traditional African religion. Something about them resonates deeply with people in West Africa, perhaps because they speak to daily needs and struggles, and they give expression to hopes and dreams.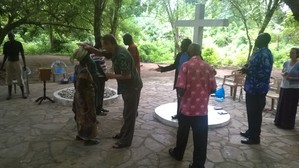 One thing that concerns me so much with healing and deliverance, though, is the claim many Christian leaders make that troubles only come when God has abandoned us, because of something we do wrong, or because someone else is using spiritual forces to harm us. In the world of healing and deliverance, problems are tied to the presence of demons or evil spirits. Both poverty and sickness are caused by evil spirits. If you aren't getting ahead in school or work, it's because of evil spirits. You can only reclaim God's love, church leaders teach, if you have these demons cast out.
For me this preoccupation with demons runs counter to the Biblical witness. I think of Romans 8, which says that nothing in all creation can separate us from the love of God in Jesus Christ—"neither death, nor life, nor angels, nor rulers, nor things present, or things to come, nor powers, nor height, nor depth." Nothing!
When I see people suffering from sickness or poverty, it in fact makes me angry that some church leaders are telling them God has abandoned them, and that only through fasting, tithing, pledging loyalty, and deliverance can they win back God's love. Honestly, I think that many church leaders who promote healing and deliverance are rather more concerned with their own fame and wealth and not the gospel of Jesus Christ.
These days when I'm asked to speak or preach I often find myself turning to passages like Isaiah 43:
Do not fear, for I have redeemed you; I have called you by name, you are mine. When you pass through the waters, I will be with you; and through the rivers, they will not overwhelm you; when you walk through fire you shall not be burned, and the flame shall not consume you. For I am the Lord your God, the Holy One of Israel, your Savior.
Or I talk about II Corinthians 12, where Paul speaks of the thorn that is in his flesh, which is tormenting him. Paul doesn't necessarily find physical healing, but he does find spiritual well-being: "Three times I appealed to the Lord about this, that it would leave me, but he said to me, 'My grace is sufficient for you.'"
As Christians I believe it's our duty to work to alleviate poverty, to care for and heal those who are sick, to bring an end to suffering. But we also need to let people know that God is with us, giving us strength, showing us love and compassion, in the midst of all our troubles. God hasn't abandoned us; rather, God is fully present in the midst of our problems, helping us to survive and thrive despite them.
Over time I hope to see services of healing and deliverance replaced by services of anointing, if I can give it this name. I think, in fact, this is what people really want—to experience the presence of the Holy Spirit in their lives.
During the recent meeting of the Ghana Mission Network in Ho, Ghana, visitors from the Presbyterian Church (U.S.A.) attended a service at the spiritual retreat center run by the Evangelical Presbyterian Church, Ghana. This center is a wonderful example of what our partner church is doing right. They are praying for people in their troubles, letting them know that God still loves them. Through song, dance, word, and sacrament they help people know that the Holy Spirit is present in their lives. Groups like this are a small voice in Ghana, but I hope over time their influence will grow and transform society.
I thank you again for the prayers and financial support you give me, which allows me to be present here in West Africa. I can't fully express to you how much both are needed. I ask for your continued generosity, which enables Presbyterian Church (U.S.A.) World Mission to walk side-by-side with our partners in the region.
Josh
The 2014 Presbyterian Mission Yearbook for Prayer & Study, p. 122
Read more about Josh Heikkila's ministry
Write to Josh Heikkila
Individuals: Give online to E200353 for Josh Heikkila's sending and support
Congregations: Give to D507520 for Josh Heikkila's sending and support
Churches are asked to send donations through your congregation's normal receiving site (this is usually your presbytery).



Topics:
Tags: