A letter from Josh Heikkila serving in Ghana as Regional Liaison for for West Africa
December 2014 - Thin Places
I'm writing this letter, not from one of my usual places in West Africa, but rather from the Scottish island of Iona, where I'm spending a few days of vacation after attending a program in Edinburgh. Just two weeks ago I was visiting our church partner in Niger, which is a sunny, hot, dry, and dusty place. And now I'm here on Iona, which is dark, cold, wet, and muddy. It seems perhaps impossible that these two vastly different places can in fact be on the same planet! But they are. Being in Niger and now here on Iona has gotten me thinking a lot about place—how our physical locations have an impact on our lives, and in particular on our faith and spirituality.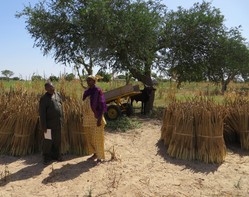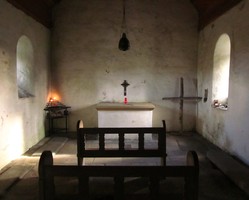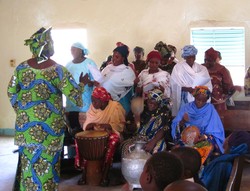 Whenever I'm in Niger I love the vast open spaces you see looking out over the dry terrain. It's amazing the transformation that takes place there over the course of the year. If you visit Niger in January, you see endless fields of sand. But in six months time the land becomes green fields of sorghum and millet, due to the hard work of the people living on it. When you see the backbreaking labor that goes into cultivating the arid land in Niger, you can't help but respect the people for the way they eke out a living in a very harsh environment.
During visits to Niger I always think of the Biblical passages that mention the desert. There are the words of John the Baptist, quoting the prophet Isaiah: Prepare the way of the Lord, make his paths straight. Every valley shall be filled, and every mountain and hill made low. … And all flesh shall see the salvation of God. Or those other words from the prophet Isaiah, which resonate deeply with the people of Niger who farm: The wilderness and dry land shall be glad, the desert shall rejoice and blossom; like the crocus it shall blossom abundantly, and rejoice with joy and singing. The desert also makes me think of Jesus himself, who after being baptized by John is led by the Spirit out into the wilderness, where he is tempted by the devil, helped by angels, and finally returns after 40 days to begin his public ministry. Although the desert reflects the struggles we have in life, it's also a symbol of hope.
I can't help but believe that living in this difficult terrain and working this arid land has shaped the people of Niger and the Christian church located there. Although the Christians are a very small presence in Niger, they are a light to the nation—peacemakers, bringing education and health to their communities, showing examples of justice, righteousness, and love. Beneath the quiet humility, there is a strong depth to their faith that has helped them survive and thrive despite great obstacles.
Here on Iona there's a small graveyard next to the main Abbey of St. Columba, and in it sits St. Oran's Chapel, a modest stone building with a simple whitewashed interior. Of all the places on the island, I think I've fallen in love with this spot the most. Kept lit by a burning candle, the chapel is a wonderful place to sit and pray in silence. And if you feel moved to sing, the walls do an excellent job of improving your voice! In Celtic spirituality, people refer to Iona as being a "thin place," one of these locations where heaven and earth are said to meet. Being here, this idea now makes sense to me. But really I think I've found such thin places in all the West African countries where the Presbyterian Church (U.S.A.) has partnerships.
One thing I love so much about worship in the Evangelical Church in the Republic of Niger (known by its French acronym EERN) is the women's choirs you find in the churches. Unlike the rest of West Africa, where drumming is reserved for men, in EERN churches it's the women who are the drummers. When the women sing, there is a piercing quality to their voices that always fills me with a deep sense of peace.
I love the churches in Ghana, especially in the north of the country, for the way in which they use their unique dance to make a joyful noise to the Lord. I've known many visitors to have tears of joy when they experience the beauty of this dancing. Or there's the Evangelical Presbyterian Church in Togo—when congregations join together in singing, you feel as if you have been united together as a single body, breathing and moving together, praising God with voice, heart, hands, and feet. And there's the evangelistic fervor of the Presbyterian Church of Nigeria—this palpable desire they have to make known to the world the love of Jesus Christ. For me, all of these are thin places, where I have felt heaven and earth meet.
As the year comes to a close I ask for your continued prayers for all the partners the PC(USA) has in West Africa. I am grateful for your support, which allows us to engage with them, help them, and especially learn from them. Thank you for your prayers and financial gifts that allow this work to continue. I look forward to our shared ministry in 2015.
Josh
The 2014 Presbyterian Mission Yearbook for Prayer & Study, p. 122
The 2015 Presbyterian Mission Yearbook for Prayer & Study, p. 131
Read more about Josh Heikkila's ministry
Write to Josh Heikkila
Individuals: Give online to E200353 for Josh Heikkila's sending and support
Congregations: Give to D507520 for Josh Heikkila's sending and support
Churches are asked to send donations through your congregation's normal receiving site (this is usually your presbytery).
Double Your Impact!
A group of committed donors has pledged to match all gifts sent by individuals for mission personnel support now through December 31, 2014, up to $137,480. This means your gift today will be matched by a gift to support mission personnel around the world, wherever the need is greatest. We invite you to take advantage of this wonderful opportunity to double the impact of your gift. Thank you!
Topics:
Tags: