Leadership Enhancement
Presbyterian Women provides an atmosphere that promotes personal growth and develops women's gifts of responsible and visionary leadership. Empowered to serve PW, many women also go on to lead in their churches, communities and the denomination.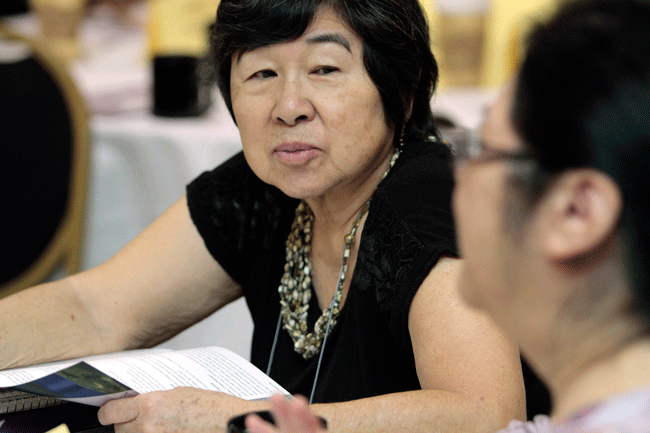 What is leadership?
"Leader" has such an official and authoritative ring to it. For some of us, the word fits perfectly. However, many of us hesitate to call ourselves leaders. In reality, each of us is a leader in some way—perhaps by delegating chores to family members, organizing the church garage sale or running a circle meeting. Learn more about the ways you may be leading without even knowing it!
Adaptive leadership
Adaptive leaders seek to solve challenges that defy traditional problem solving. Learn more about adaptive leadership and the ways that Presbyterian Women lives out this mindset. Order "PW Leaders Adapt" buttons through the PW marketing office (free as long as finances permit!). These buttons show Presbyterian Women's willingness to be flexible in the face of a constantly evolving society and church.
Spirituality and leadership
What does spirituality have to do with leadership? Unzu Lee shares some of her thoughts in Musings on Spirituality and Leadership.
---
Tools for Leaders
Leading a PW group
Find resources on planning or evaluating a PW event, workshops that outline the responsibilities of PW leaders, activities for community building or living out the PW Purpose, teaching tips and much more!
Quarterly Newsletter
Each quarter, PW staff creates a newsletter detailing notable projects, resources and events for Presbyterian Women. The mailing goes to PW moderators, leadership coordinators and the CCT, but is important information for everyone involved with Presbyterian Women. Get the most recent quarterly newsletter.
PW: Where we've been and Where We're Going
During the 2015 Churchwide Gathering in Minneapolis 2012–2015 PW Churchwide Moderator Mary Cook Jorgenson and PW Executive Director Susan Jackson Dowd led two sections of a workshop on the history, current work and future of Presbyterian Women. The presentation includes specifics on many of PW's programs and ministries and information about the PC(USA), including the change in the number of synods and how women can stay engaged in PW if their church leaves the PC(USA). Download the presentation.
Takin' It to the Congregations
PW leadership training for synod representatives includes workshops on a variety of ways to approach planning, organizing, managing and evaluating groups. Download the workshops and use them with your PW in the congregation, presbytery or synod. Please note that while these workshops do not always explicitly reference traditional PW structure and roles, they are excellent tools for any group. Download workshops here.
Tips to help Presbyterian Women SOAR to success
Download "20 Tips to SOAR in Leadership."
Sisters Stand and Walk Together
Sisters Stand and Walk Together is an initiative of PW to develop the leadership potential of racial ethnic women in the church. Originally initiated by the Synod of the Northeast in 2004, the Synod of Mid-Atlantic, the Synod of the Pacific and the Synod of the South Atlantic also have implemented this model. Voting representatives at PW's 2012 Business Meeting approved the a resolution to expand this program during the 2012–2015 triennium. LEC will be developing ways to provide support to move this initiative forward. Stay tuned for progress!
---
Culturally Proficient Leadership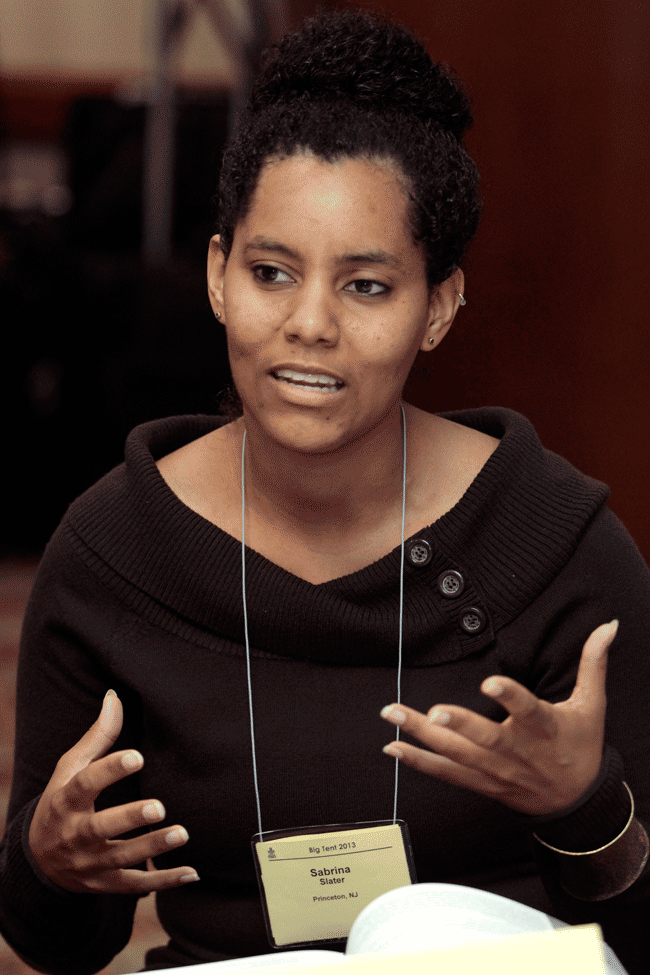 In its Purpose, Presbyterian Women commits itself to building an inclusive and caring community. However, doing this is not always as easy as it sounds. Many historical, structural and cultural barriers must be overcome. Making a commitment to becoming an inclusive, caring community requires us to exercise intentional leadership with this goal in mind. The following programs are in place to further PW's commitment to antiracism.
Antiracism Initiative
Antiracism training
PW Racial Ethnic Dialog
Racial Ethnic Dialog Groups in synods and presbyteries
Further, the Antiracism Committee of the Churchwide Coordinating Team is responsible for advocating and monitoring for racial justice in Presbyterian Women. Its membership includes six CCT members and two antiracism facilitators. The committee is responsible for advocating and monitoring for racial justice in Presbyterian Women. The committee produced Becoming the Beloved Community: An Antiracism Resource Packet to support the work of PW in antiracism.
---
Antiracism Initiative
In 2000, voting representatives to the PW Churchwide Business Meeting declared Presbyterian Women an antiracist organization and called for a review of its structure, programs and resources from an antiracist perspective. The structural review task group's report and recommendations were adopted in 2003. This document continues to guide the work of PW. In 2012, voting representatives reaffirmed PW's commitment to antiracism, commended PW groups who have taken antiracist work seriously in their mission and ministry, and urged PW groups in presbyteries and sysnods to read and study this report and make intentional efforts to implement the recommendations included in the report. Download the report and let its recommendations guide your PW group in working toward God's beloved community.
---
Antiracism Training
Presbyterian Women has a close relationship with the PC(USA)'s Office of Gender and Racial Justice, participating in and cosponsoring cultural proficiency and antiracism training events. Over the last 10 years, more than 200 PW leaders have participated in antiracism trainings through PW and the PC(USA). Presbyterian Women's antiracism facilitators are part of the PC(USA)'s growing network of antiracism facilitators. These facilitators work in teams of at least two people to lead antiracism training events, which range from one hour to one day in length, for congregation, presbytery and synod groups, as well as PW groups at all levels. Learn about additional educational opportunities in antiracism and multicultural ministry at the Montreat Conference Center and Princeton Theological Seminary.
---
PW Racial Ethnic Dialog
Officially organized in May 1998, the dialog grew out of discussions during the 1994–1997 triennium of Presbyterian Women in response to concerns raised by National Asian Presbyterian Women and National Black Presbyterian Women. Today the PW Racial Ethnic Dialog group, consisting of about 30 women of diverse racial and cultural backgrounds, meets for facilitated, meaningful conversation, which brings about learning. Participants serve a three-year term and meet annually for three days, usually on a PC(USA) racial ethnic school campus.
The PW Racial Ethnic Dialog seeks to
Honor the gifts, perspectives and heritage of all God's people and celebrate our oneness in the living Christ;
Work together towards developing a sanctuary where women of different racial ethnic backgrounds can speak the truth to each other and be heard;
Intentionally find ways to increase mutual understanding and work together as partners in ministry through dialog;
Develop racial ethnic women's leadership so that they may pursue their concerns and mission with confidence;
Serve as a vehicle of bringing about justice for women of all racial ethnic backgrounds and ages in Presbyterian Women and the Presbyterian Church (U.S.A.).
—Approved by the PW Racial Ethnic Dialog, January 24, 2009
Read a reflection on the 2008 Racial Ethnic Dialog by Larissa Kwong Abazia.
Read a reflection on the 2007 Racial Ethnic Dialog by Eveline Steele.
If you want to start a cross-racial/cross-cultural dialogue group, consult the resources listed below.
---
Racial Ethnic Dialog Groups in Synods and Presbyteries
Following the success of the Racial Ethnic Dialog at the churchwide level, PW at its 2003 Business Meeting approved a recommendation with funding to encourage PW groups in synods and presbyteries to start a Racial Ethnic Dialog group. Nine synods received $2,000 grants during 2003–2006, and some of the resulting dialog groups continue to meet.
Learn about the dialog held by the Synod of the Mid-Atlantic.
---
Resources for Cultural Proficiency
Becoming the Beloved Community: People of Faith Working Together To Eradicate Racism
A DVD produced by Presbyterian Women, accompanied by a study guide designed to encourage meaningful dialogue about racism, and equip people of faith to work together to eradicate racism and bring about the beloved community that God intends. The DVD has four 15-minute segments. The accompanying study guide includes questions for reflection and dialogue. ($20 plus shipping)
Building an Inclusive, Caring Community through Dialogue
A PW resource that guides learners the step-by-step process for beginning a dialogue group for building communities across differences (1–9 copies, $3.50 each; 10 or more, $2.50 each).
Facing Racism in a Diverse Nation: A Guide for Public Dialogue and Problem Solving
A 56-page resource developed by Everyday Democracy to help people to solve the problem of racism through a six-session community dialogue. It has excellent group exercises for participants and a facilitator's guide. (Available as free download or ordered for $5 plus shipping)
Becoming the Beloved Community Antiracism Packet (without DVD)
PW's antiracism resource packet is designed to help individuals and groups engage the issue of racism, both individually and collectively. It includes tools for understanding and dismantling racism, as well as other resources including a glossary and worship resources. This "lite" version does not include PW's Becoming the Beloved Community DVD. ($14.95 plus shipping)
Becoming the Beloved Community Antiracism Packet (with DVD)
PW's antiracism resource packet is designed to help individuals and groups engage the issue of racism, both individually and collectively. It includes tools for understanding and dismantling racism, including a glossary, worship resources, PW's award-winning Becoming the Beloved Community DVD, articles from The Thoughtful Christian's study pack, and other resources. ($24.95 plus shipping)
Excerpt from Becoming the Beloved Community Antiracism Packet
An excerpt of Becoming the Beloved Community Antiracism Packet is available here for download. This sample includes tools for understanding racism, a glossary and worship resources. The Thoughtful Christian pieces are not included.
---
Apply for a leadership grant
Leadership Development Grant Program
The Leadership Development Grant Program provides funds (in the form of a reimbursable grant) to allow women to attend training and events to develop and strengthen their leadership skills. Get information about the grants and download an application.
---
Leadership bibliographies
In addition to the PW leadership resources available for purchase and/or download, learn more about leadership resources in these downloadable bibliographies.
General leadership books and videos (from secular and religious publishers)
PW and PC(USA) leadership resources
Tags: