Thank Offering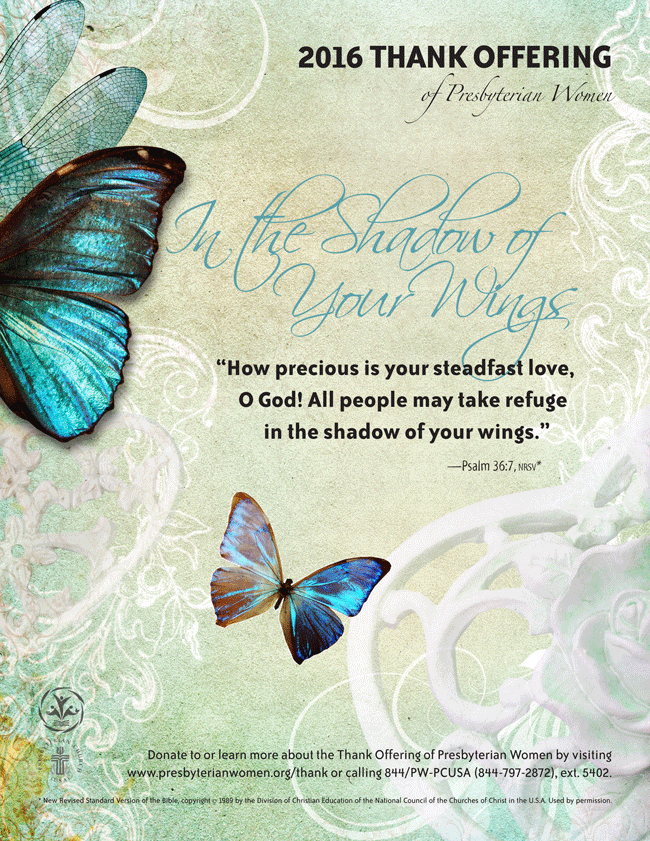 A Thank Offering packet is mailed to each PC(USA) congregation in August, attn: PW/Women's Group. If your group does not receive materials by the end of August, contact us. For downloadable resources, including bulletin inserts, a bulletin cover, placemat, poster and the booklet, click here. To order from Presbyterian Distribution Service, click here.
To download a Thank Offering grant application in Word format, click here.

To give now to the Thank Offering, click here. The goal for the 2016 offering is $900,000.
Give to the Thank Offering
What Is the Thank Offering?
2016 Grant Recipients
History of the Thank Offering
Thank Offering Grant Process
Thank Offering Application
2016 Thank Offering Resources
What is the Thank Offering?
The Thank Offering is a PW offering collected in the fall of each year that gives women a tangible way to express their gratitude for the special blessings in their lives. The offering funds projects such as agricultural development, child care, community organization, criminal justice, drug counseling, economic justice, elderly care, employment training, homelessness, literacy, violence and women's concerns. At least 40 percent of this offering supports health ministries throughout the world. The remaining 60 percent funds new creative ideas for mission. The goal for the 2016 Thank Offering is $900,000.
PW in the Congregations typically receive the Thank Offering in the fall and dedicate their offerings at fall gatherings. No giving guidelines are suggested other than "give as you are blessed." PWCs who receive the Offering should send their gifts to the treasurer of PW in the Presbytery (as a check made payable to Treasurer of Presbyterian Women) according to the giving procedures outlined by PW in the Presbytery . Email Presbyterian Women to find out the name and address of your PWP treasurer.
Each quarter, PW in the Presbytery treasurers should send the Thank Offerings gifts with all other gifts for PW Churchwide, using a remittance form. Quarterly deadlines are March 15, June 15, September 15 and December 15.
Grant Recipients
2016 Thank Offering recipients
Thanks to your generous giving to the 2015 Thank Offering, 22 projects (14 national and 8 international) will receive grants in 2016, allowing them to improve the lives of women, children and men in need. The recipients will provide an array of services in their communities—a food bank in a remote area of Colorado where employment opportunities are limited, expansion of an English as a Second Language program in Texas, a shelter for abused women in Mississippi, a women's agricultural program in South Sudan, a youth training program in Rwanda, and many more. At least 40 percent of the offering funds health ministries. Give generously so more meaningful projects can be funded in the future! The goal for 2015 is $500,000.
Learn about these projects and what your donation will provide.
History of the Thank Offering
The PW Thank Offering originated in the late 1800s with Eliza Clokey of Springfield, Ohio. Her plan was to ask each woman to give a gift in addition to her usual contribution to the Women's General Missionary Society of the United Presbyterian Church of North America as a "thank offering to our Lord." In 1888, the women designated a day for prayer and thanksgiving when this special offering should be received. These sacrificial gifts, it is said, saved the worldwide missionary movement of their denomination. Though the thrust of how and where the money was used changed over the years, the "thank offering to her Lord" continued to be an important part of United Presbyterian Women's giving.
Download a list of all the projects funded by the Thank Offering from 1988 through 2015.
Thank Offering Grant Process
Thank Offering grants range from $5,000 to $50,000. Grant requests come from a variety of sources, such as PC(USA) governing bodies, health agencies, overseas churches, ecumenical councils, community groups, educational institutions and church related groups. Projects must meet the criteria outlined in the grant application.
Download a Thank Offering grant application in Microsoft Word format.
Applications for grants must be postmarked by September 15. The Creative Ministries Offering Committee of Presbyterian Women meets in the spring to review applications and make selections. Projects will be notified in April and will receive 70 percent of the funds in May. Upon receipt of the Interim Report by September 1, the remaining 30 percent will be released by December 1.
Thank Offering Resources
Promotional materials are mailed to each congregation, attn: PW/Women's Group, in August. If you do not receive yours by the end of August, you may order from PDS or download resources by clicking on the links below.
Questions?
Email Presbyterian Women. For more information, see the July/August issue of Horizons each year.
Tags: