Think you know Presbyterian Women?
A new series of light-hearted and happily serious posters help show the range of what it means to be Presbyterian Women. Feel free to share (on bulletin boards or refrigerator doors, in newsletters or in circle meetings!). This (gentle) educational campaign will challenge everyone to rethink what it means to be a part of Presbyterian Women.
And, this wildly popular series inspired Mary Cook Jorgenson to write a skit about all that Presbyterian Women does and is. Download the skit.
Poster 9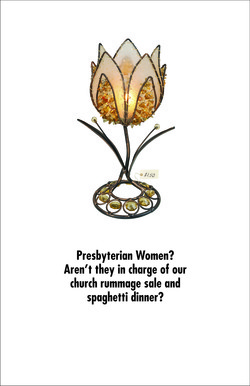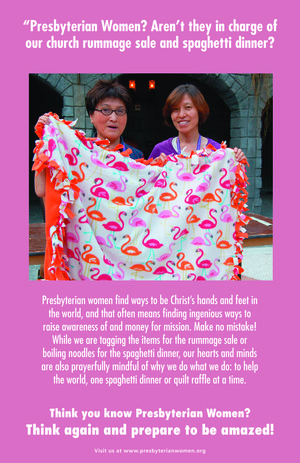 Presbyterian women raise money for mission through as many ways as we are gifted! So, yes, that means that we plan (and enjoy!) rummage sales, silent auctions, talent nights, chili suppers (with and without spaghetti*) and much more. Presbyterian women help the world. That's what we do. We're not just cleaning out our cabinets. We know that the t-shirts and trinkets sold in our rummage sales will raise money for life-changing mission. Or rather than money, we make blankets (like the one attendees of the 2012 Churchwide Gathering display above), hats, dresses or anything a mission partner requests. However we use our gifts, we stay mindful of the fact that our "work will help someone in need who lives somewhere else" and is a truly faithful way to "reach that person when we cannot visit in person."
*With and without spaghetti is a nod to Laura Hovland of Cincinnati, who is quoted in the above paragraph and who provided the idea for this poster. For those not acquainted with this lovely river city (just 75 miles from Louisville, for those who are attending the 2018 Churchwide Gathering!) Cincinnati boasts their own style of chili—served over spaghetti. Thank you, Laura!
Download Poster 9 as an
Poster 8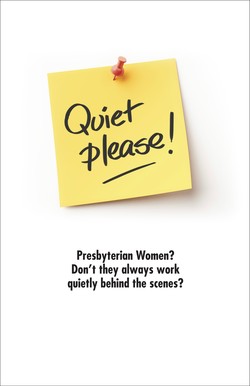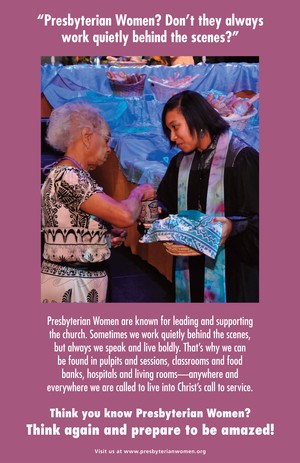 Presbyterian Women put our whole hearts (minds, hands, feet, voices) toward working for the good of God's realm. Sometimes that requires working quietly behind the scenes. Other times that requires speaking out and stepping out into the world. We are blessed to lift our voices in worship, protest, song, prayer and advocacy as we actively and devotedly serve Christ as Presbyterian Women. Here, Kathryn Threadgill, associate pastor at Government Street Presbyterian Church in Mobile, Alabama, serves Communion at the 2012 Churchwide Gathering of Presbyterian Women. Kathryn was part of a team who led worship at the 2012 Gathering, issuing a loving challenge to Presbyterian Women to trust God to lead them to the right places.
Download Poster 8 as an
Poster 7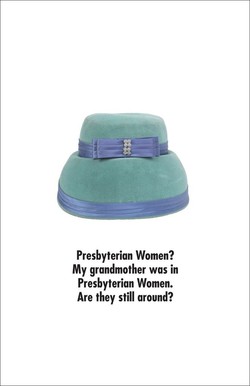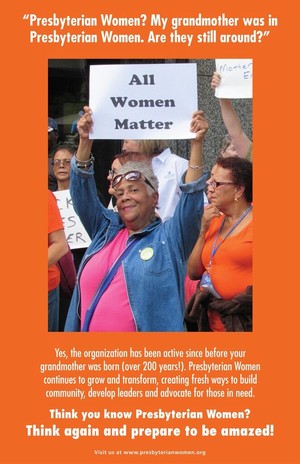 Today's Presbyterian Women—and yes, that means we Presbyterian Women are still around and still relevant—tip our hats (of the pillbox, baseball, sun, straw, safari, Derby, knitted, ski and other varieties) to the women of faith who have journeyed this road of faith before us. For some of us, that means our grandmothers. For some of us, that means our great-great grandmothers!
Well before United Presbyterian Women (UPW) of the United Presbyterian Church in the U.S.A. (UPCUSA) and Women of the Church (WOC) of the Presbyterian Church in the U.S. (PCUS) united in 1988 to form Presbyterian Women, women of the church were busy transforming the church and the world as Christ's servants, ready to speak truth and find solutions.
And we do so today, just like Alpha Brown, pictured here, as she reminds the world that "All Women Matter" during the Justice and Peace march during the 2015 Churchwide Gathering of Presbyterian Women in Minneapolis.
Download Poster 7 as an
Poster 6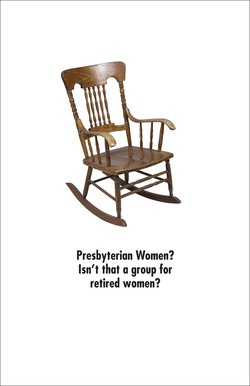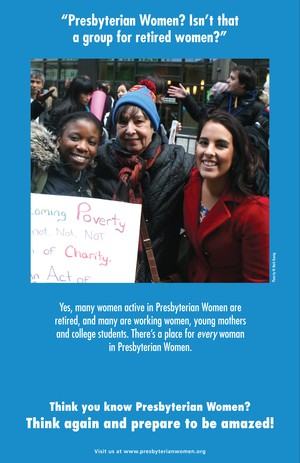 You might find a PW seated in a rocking chair. But chances are better that you'll find Presbyterian Women out of their seats, leading the way with advocacy, mission, Bible study and much more.
Some Presbyterian Women are retired, and may do occasionally do mission from a rocking chair. But Presbyterian Women also includes college-aged women, working women, women dedicated to service, newly retired women. Presbyterian Women includes women who crochet, but also women who crochet, play volleyball, tutor math and collect postage stamps. Presbyterian Women is diverse. We are diverse in age and ethnicity, interests and abilities. But together, we are united in a common purpose, the PW Purpose, which reads: Forgiven and freed by God in Jesus Christ, we commit ourselves to nurture our faith through prayer and Bible study, to support the mission of the church worldwide; to work for justice and peace; and to build an inclusive, caring community of women that strengthens the Presbyterian Church (U.S.A.) and witnesses to the promise of God's kingdom.
In this photo, Presbyterian women Lydia Tembo (left), Florence Vargas (center) and Lisiann Rodriguez (right) stand together during the 59th United Nations Commission on the Status of Women (CSW) in March 2015. These amazing Presbyterian women were called to attend CSW because faith demands that we find just solutions for all to live into God's intended abundance.
Download Poster 6 as an 11″ x 17″.
Download Poster 6 as an 8.5″ x 11″.
Poster 5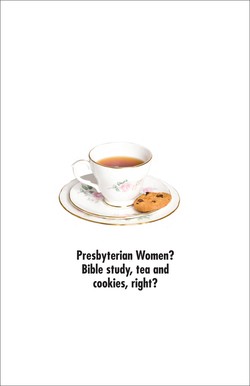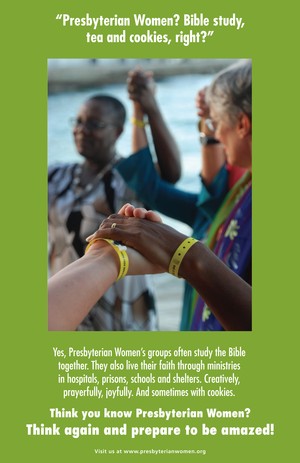 Of course, studying scripture is central to our lives of faith. In fact, "to nurture our faith through prayer and Bible study" is the first point of the PW Purpose, our mission statement. (Presbyterian Women is one of the few denominational women's organizations that chooses the theme, topic, and author of each year's shared Bible study, the PW/Horizons Bible study.) Being informed and transformed by scripture opens our hearts to live in celebration and connection, as captured in this vibrant closing worship service of the 2014 Global Exchange to the Caribbean. During their time together, U.S. and Caribbean women explored issues of shared concern, including violence and reconciliation, witness and evangelism and leadership development.
Download Poster 5 as an 11″ x 17″.
Download Poster 5 as an 8.5″ x 11″.
Poster 4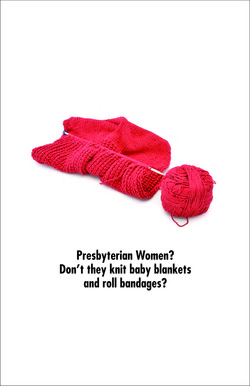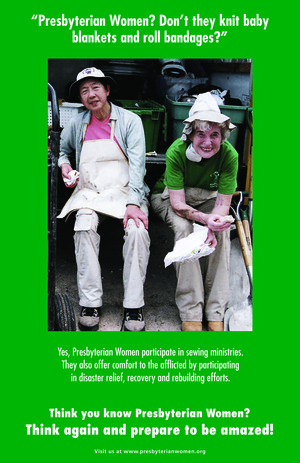 Of course many Presbyterian Women are skilled in the textile arts. We sew dresses out of pillowcases for children in Africa, knit prayer shawls to comfort people who are hurting and crochet soft caps to keep infants heads warm. For many years, hospitals around the world requested rolled bandages. So we rolled up our sleeves and, well, rolled thousands of bandages to provide relief to thousands around the world.
But Presbyterian Women's mission work isn't always done from a comfy chair. Sometimes we grab shovels and work boots, using not just our hands, but our arms, legs, backs and of course prayers. For example, Presbyterian Women Cindy Joe and Fran Anderson (left to right on this poster) went to New Orleans with a PW group to help clean out homes ravaged by Hurricane Katrina. Other Presbyterian Women wield pens and writing paper to tutor children. Regardless of the tools and muscles used, Presbyterian Women embody 1 Corinthians 12:4–7's "varities of gifts . . . varieties of services," directing those to co-creating God's vision of wholeness.
Download Poster 4 as an 11″ x 17″.
Download Poster 4 as an 8.5″ x 11″.
Poster 3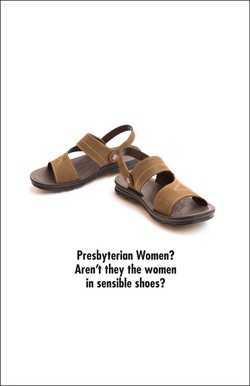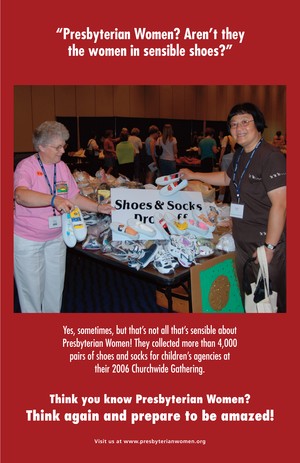 Of course Presbyterian Women wear sensible shoes. But Presbyterian Women proudly sport a range of footwear, sensible and not so—boots, heels, sneakers, loafers, oxfords, clogs, pumps, boat, sandals, wedges, orthotic, vegan, even work boots—as we venture into the world to be of faithful service.
No matter the make or style of shoe we choose, Presbyterian Women remember those who are in need, including who needs a pair of comfortable shoes and dry socks. That's why when we came together in 2006 for our Churchwide Gathering of Presbyterian Women, we filled a tractor trailer with shoes and socks for Louisville-area children. Here, Nora Harford and Jin Wei add to the more than 7,500 pairs of shoes and 40,000 pairs of socks that were donated by Presbyterian Women.
Download Poster 3 as an 11″ x 17″.
Download Poster 3 as an 8.5″ x 11″.
Poster 2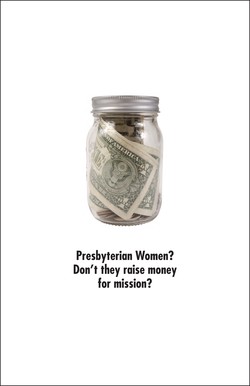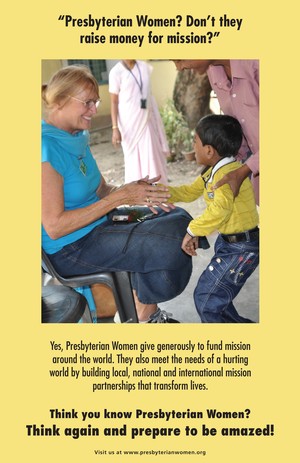 Of course Presbyterian Women raises money for mission! And we do so with unbridled enthusiasm! In fact, during the 2012–2015 triennium, Presbyterian Women gave more than $4 million to worthy recipients through our Birthday and Thank Offerings.
And Presbyterian Women raises more than change; we also change the world through Holy Spirit-led advocacy and presence—as illustrated in this photo of Kathleen Julian (from the Synod of Southern California and Hawaii) during a visit to the Arumina AIDS Hospice in Kolkata, India. During the visit to Arunima as a part of the 2011 Global Exchange to India, Presbyterian Women learned about the complex challenges faced by individuals who are living with HIV/AIDS and their families. The 23 Presbyterian Women who participated in the Global Exchange were a caring presence in India, determined to learn about the joys and challenges experienced by their sisters and brothers in Christ. Since this Exchange and subsequent interpretation on it, hundreds of Presbyterian Women have embraced this ministry through prayer, advocacy and financial support, bringing comfort to people in deep need.
A ministry of the Diocese of Kolkata in the Church of North India (CNI), the Arunima AIDS Hospice provides holistic care for individuals living with HIV/AIDS and their families. In addition to health care, the hospice offers educational programs and proper nutrition for residents and their families. Most of the residents have been sex workers whose shops were closed down. All are homeless and many flee to Arunima with their children for help.
Download Poster 2 as an 11″ x 17″.
Download Poster 2 as an 8.5″ x 11″.
Poster 1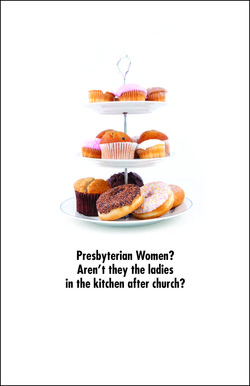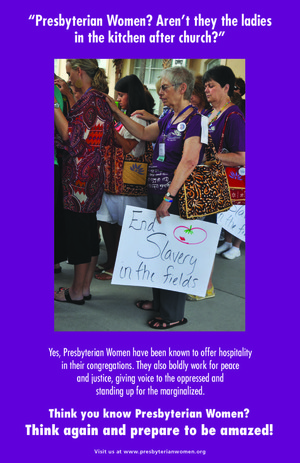 Although we wear the badge of "church lady" with honor, how many people in our midst truly realize that Presbyterian women are involved in the life of the church in myriad ways, not just in "church lady" ways? Yes, we can sometimes be found in the church kitchen preparing meals for Wednesday fellowship or providing cookies for a presbytery meeting. We can also be found sitting on the board of our local food banks, raising funds for clean water, speaking to our elected representatives about hunger in our communities, and advocating for justice and peace by standing in solidarity with farm workers during the 2012 Churchwide Gathering in Orlando as pictured here.
Download Poster 1 as an 11″ x 17″.
Download Poster 1 as an 8.5″ x 11″.
About the posters
Each poster in the series will be available for free download in two sizes:
small (8.5″ x 11″), which can be printed from most printers and makes a nifty insert in a newsletter or can squeeze onto a crowded bulletin board
large (11″ x 17″) makes a grander statement and can be printed at an office supply store to save your toner!
Education is essential to bring more awareness to Presbyterian Women and to draw new women into PW's ever-growing ministry! The posters are great conversation starters; here are just a few ways to use them!
Consider planning an event or a minute-for-mission around the theme "Think you know PW?"
We stand on the shoulders of Presbyterian women who came before us, and a look into the history of PW clearly shows that our foremothers were involved in mission, education, outreach, cutting-edge communication, and more. Ask your PW historian to lift up the work of generations past to bring their ministries to light. Then ask your PW moderator to issue an invitation to all women in the church to attend a PW meeting to talk about what PW's ministry could become in the future!
Print and display only side one (the mostly white side) for a few weeks, preferably posting it somewhere highly visible at your church. After letting the congregation's curiosity build, print and display side two, with an invitation to Presbyterian Women's next meeting or event.
Share your ideas of how to use these posters with Carissa Herold.