Theological Education
The Office of Theological Education is the liaison between your Presbyterian Church (U.S.A.) seminaries and the Presbyterian Mission Agency. Learn more about your Presbyterian seminaries.
Read inspiring stories related to theological education
View and download our Seminaries Viewbook to learn more about our theological schools, the Committee on Theological Education (COTE), and the Seminary Support Network (SSN).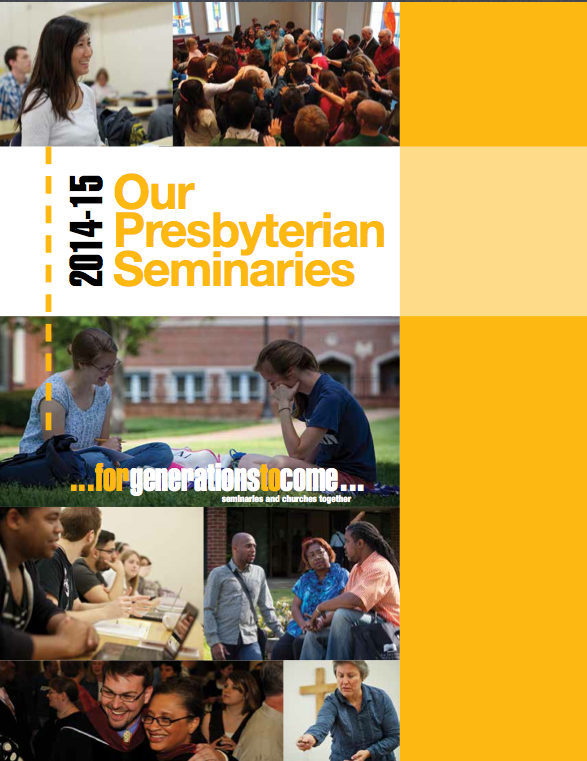 Seminary Support Network/Theological Education Fund
Churches funding seminaries: a valuable investment
Discover how your gifts impact lives in our seminaries and churches together, for generations to come
---

Theological Education/Seminaries Emphasis Sunday 2015
We are pleased to invite you to celebrate God's inspiring work in equipping our seminaries to educate and prepare Christian leaders to "do justice, love mercy, and walk humbly with our God" (Micah 6:8). May these liturgical resources assist you in preparation for worship, prayer, meditation, and reflection. The Presbyterian Planning Calendar specifies Sunday, September 20th as the Lord's Day for recognition of this mission emphasis, yet you may choose an alternative date as customs dictate or circumstances require.
Lectionary Resource: Click HERE to download the .pdf resource
Bulletin Insert: Click HERE to download a copy and/or order printed bulletin sets
---
Discover why PC(USA) seminaries matter
A thought provoking discussion with the Committee on Theological Education offers hope in the whirlwind of our changing times. Watch Video (below).
View additional videos on how PC(USA) seminaries prepare transformative leaders on our YouTube channel.
---
Stay connected
Stay connected to our dynamic PC(USA) seminaries through our monthly e-newsletter. You'll receive helpful resources for leadership development and read stories about our seminary students.
Read the latest issue or subscribe now
Involve your congregation with Theological Education
Inform your congregation about the rich diversity of theological institutions related to the PC(USA) by choosing one seminary to be highlighted each month during the year. Interpretive printed materials and videos are available from the schools.
Continue reading
---
Comments
Dear Friends, Mary and I teach at a theological school in the Philippines, founding primarily through the efforts of the Fund for Theological Education, the UCCP and efforts by the Presbyterian Church. We would love to share with you this history. Paul Matheny and Mary C. Nebelscik

Theological Education Sunday 2014 is on Sunday September 21st.

When is Seminary Sunday 2014?

after seeing the website i am very much impressed.if i get a chance to study it will be a great benefit for the Lord's ministry.

Theological Education Sunday 2012 is September 16th.