Modeling faith
How adults can make all the difference in the faith formation of youth
By Megan LeCluyse and Emily Chudy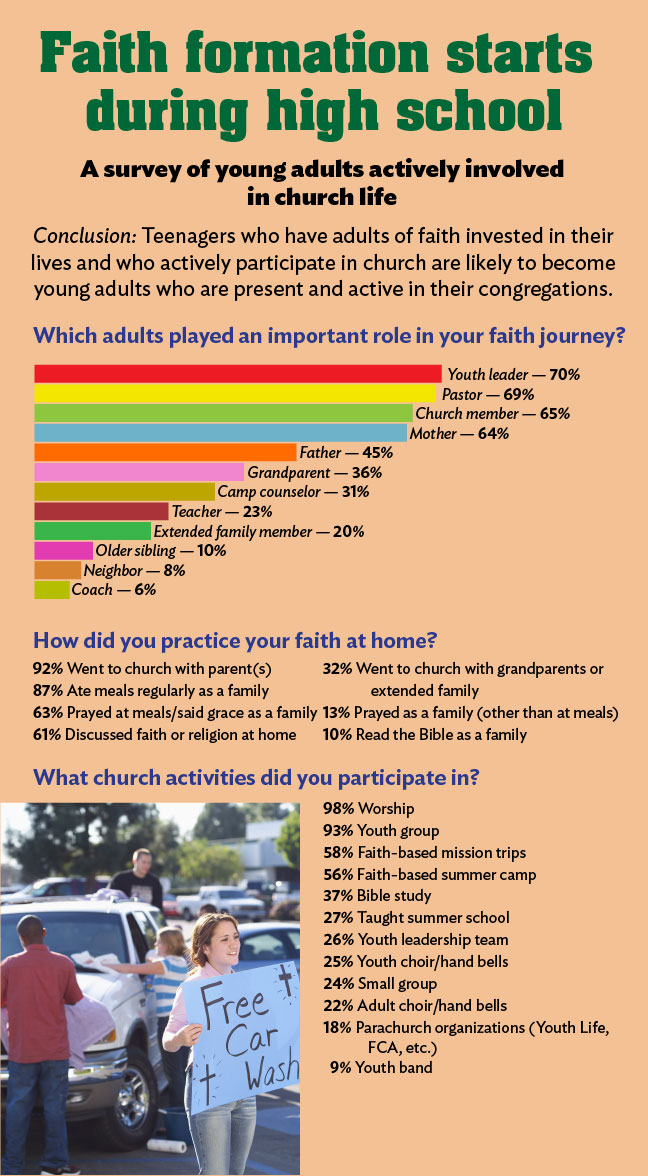 Before asking about the types of experiences that shape the faith of today's young adults, we need to recognize that faith development begins well before one's 20s and 30s. Childhood experiences at home and at church have a tremendous impact upon the faith and church participation of young adults. Often, these important experiences come through relationships with adults.
According to our research, youth who have adults of faith invested in their lives and who are involved in the church as teenagers are often the young adults present and active in our congregations today.
When asked what led the survey participants to develop relationships with particular adults, several characteristics emerged as important: The adults were kind, caring, friendly, and interested in conversation and dialogue. As youth, the survey participants appreciated when they could bring questions to the adults and when adults brought questions of their own. They desired to feel as though they were not being judged, and appreciated being treated as equals. Trust was important, in two senses: trusting the adult but also feeling that the adult had trust in them. Here are some quotes about what drew youth to these adults:
"Instead of being the future of the church, they saw me as a part of the present of the church right beside them." —19-year-old female

"I don't want someone who is necessarily going to tell me what I should think/believe but rather someone who will listen to what I have to say, tell me what they believe and how they came to believe it, and let me come to my beliefs on my own. . . . I don't want the answers just handed to me." —21-year-old male

"They were kind people who really showed a persistent interest in my life. . . . They impacted my life in such massive ways just by being there and setting an example." —19 year old female
Megan LeCluyse is the Campus Minister of the Christian Association at the University of Pennsylvania and serves as the Minister for Creativity, Learning, and Wonder at Arch Street Presbyterian Church. She received her M.Div and M.A in Christian Education from Princeton Seminary. Emily Chudy serves as Co-Pastor of Central Presbyterian Church, in Downingtown, PA, and serves in leadership with the Presbytery of Donegal. She received her M.Div and M.A in Youth Ministry from Princeton Theological Seminary.
---




order the special issue Guide to Young adult ministry and read more articles like this one
Tags: