Addressing the Root Causes of Global Poverty
CAMPAIGN: Promoting quality education for One million children by 2020
"If you pour yourself out for the hungry and satisfy the desire of the afflicted, then shall your light rise in the darkness and your gloom be as the noonday." Isaiah 58:10
By Frank Dimmock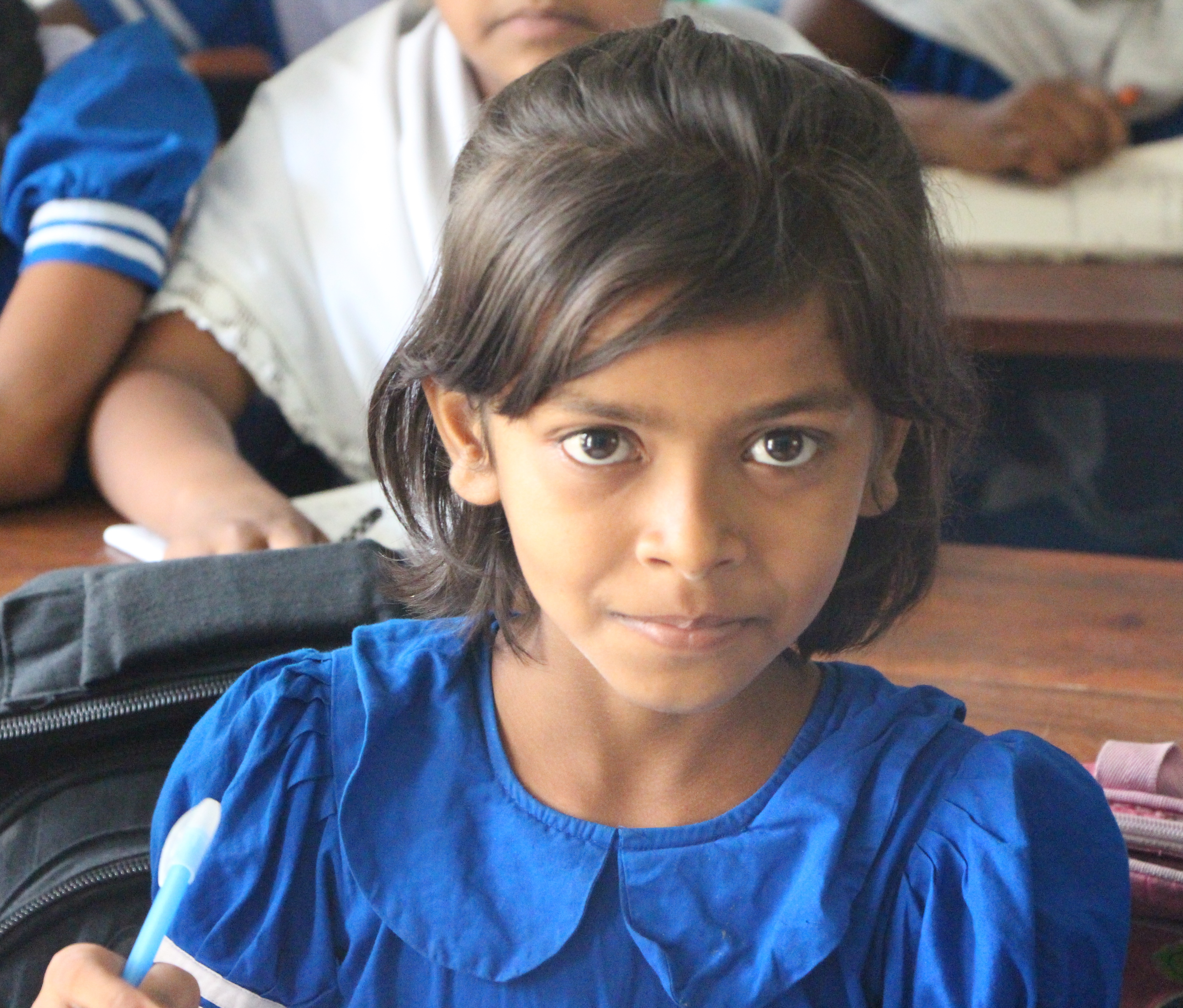 The elimination of poverty is the greatest challenge facing the world today and a prerequisite for sustainable global development. Following Christ's command to serve the least of these, World Mission of Presbyterian Church (U.S.A.) has chosen to address the underlying causes of poverty as one of three critical global issues for the church. Recognizing the scope of the challenge, the focus will be on causes that particularly impact women and children. The initial global poverty campaign of the World Mission community of mission practice will emphasize access to quality education.
Specifically, the goal of the World Mission Poverty Campaign will be "quality education for one million children by the year 2020."
Education promotes human development, and basic literacy is a gateway skill that empowers the poor to emerge from poverty. Extensive research has shown that a quality education (regardless of gender, wealth, location, ethnicity, or language) is the best pathway out of poverty. Nearly 59 million school-age children are not enrolled in school for a variety of reasons. For a majority of the world's children, academic learning is neither occurring at the expected pace nor supplying the essential life skills to succeed. We want to be a part of the solution for these children through our commitment and involvement, offering them a future and hope.
We will join together with partners throughout the US and globally
to support early childhood learning and development opportunities
to strengthen access to quality basic primary and secondary education
to build the communities capacity to support schools
to improve the training and resourcing of teachers at all levels
to make school environments more "girl-friendly"
to promote functional literacy programs.
What can you do?
We are providing this handy list of 10 things you or your congregation can do to partner with World Mission on addressing the root causes of global poverty. You may feel free to print this out and share it with your friends or your church.
You can also contact Frank Dimmock and get involved! Frank will have ideas for what you can do to help spread the love of God and how you can help promote this initiative with us around the world.
Contact: Frank Dimmock, World Mission Catalyst Addressing the Root Causes of Global Poverty, or call him at 502-569-5039. He is available to speak to Presbyteries, congregations, and groups of Presbyterians who are interested in learning more about how they can work towards this goal.
The Global Poverty blog is live! Subscribe to the blog to learn more about the campaign.
Like the PC(USA) Global Poverty Facebook page to keep up with all the latest information.
View the Webinar "Quality Education: Offering Children a Future of Hope."
Quality education is one of the strongest tools in overcoming poverty, both here in the US and around the world. Listen to the webinar and learn how you and your congregation can join the movement to transform situations of poverty through the power of education. Frank Dimmock will share how the Presbyterian Church (U.S.A.) and its members are doing just that. Guests include Alonzo Johnson, Mission Associate for Peacemaking with the Presbyterian Mission Agency, and Judy Nebrig of Western North Carolina Presbytery's mission partnership leadership team.
EDUCATE A CHILD, TRANSFORM THE WORLD

"I'm a believer in really big dreams and big visions, bold visions, says Rick Ufford-Chase, director of Stony Point Center, in New York, one of three PC(USA) conference centers. "The Educate a Child, Transform the World initiative excites me because it is a bold vision. I don't think we have enough of them in the church. I think we generally tend to program ourselves to death with little individual projects, all of which are meaningful and important, but which do not bring a sense of the adventure that I think we are called to as followers of Jesus." Continue Reading
DONATE TO THE "EDUCATE A CHILD, TRANSFORM THE WORLD" INTERNATIONAL FUND!
About Frank Dimmock
Frank Dimmock serves as Presbyterian World Mission's Catalyst Addressing the Root Causes of Global Poverty. Frank and Nancy Dimmock have been under appointment as PC(USA) missionaries since June 1, 1985. Prior to accepting the position of catalyst, Frank served in Lesotho as the Presbyterian Church (USA)'s Africa health liaison. Frank earned a BS in botany and zoology at North Carolina State University and an MPH in epidemiology and tropical medicine from Tulane University School of Public Health in New Orleans. He had previously served as a volunteer in mission and later as a mission specialist in public health in Zaire before being appointed as a full-term mission coworker. Frank and Nancy are members of Montreat Presbyterian Church in Montreat, North Carolina. They are the parents of eight children, Nathan, Moses, Jessica, Katie, Andrew, Alifa, Isaac, and Jackson.
---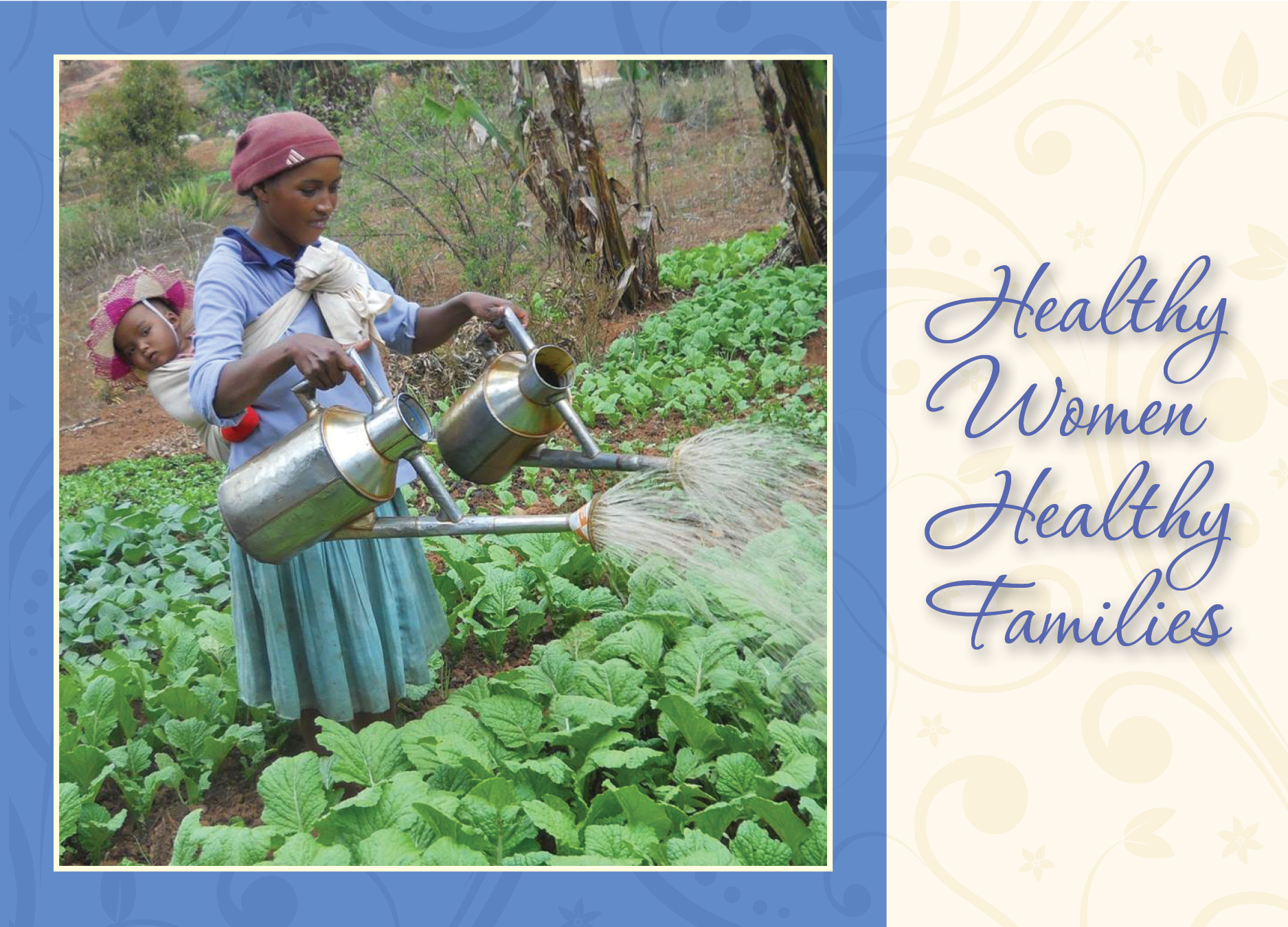 Healthy Women Healthy Families supports a range of programs of Presbyterian partner churches globally that promote health, education, and development of women and children. These programs are aimed at alleviating poverty and suffering of women and children, and include: primary and pre-primary education, prenatal and essential obstetric services, trauma healing and psychosocial support, early-childhood health and nutrition programs, health and hygiene education, food security, and fistula repair surgery. This fund enables global partners to implement programs that directly impact the lives of the most-vulnerable community members. It is a year-round, support ministry of the Global Poverty program of Presbyterian World Mission in collaboration with Presbyterian Women.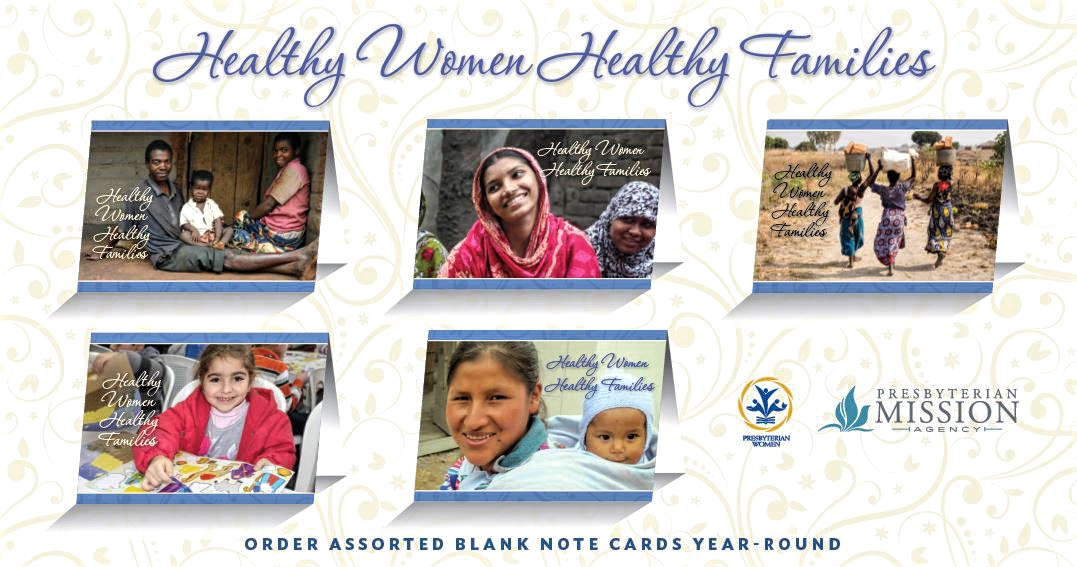 Mother's Day cards and assorted blank note cards are now available! Order them by contacting Stephanie Caudill at 800-728-7228 x5279, or stephanie.caudill@pcusa.org.
To download an information sheet that explains how the project works, click here.
Interested in giving a donation to the program? Click here. Thank you for your support!
Tags: