Evangelism
---
| | | | | | |
| --- | --- | --- | --- | --- | --- |
| | | | | | |
| | | | | | |
Oneness with God
Disciple Making conference presenter uses Trinity icon to draw Presbyterians into the presence of God More.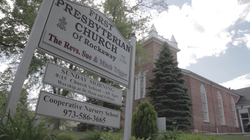 "DON'T LET FEAR CONSUME YOU."
Church hit by back-to-back hurricanes discovers new life through New Beginnings and Engage.
---
Evangelism curriculum engages the church in the gospel, discipleship, and mission
The final part of the three part Engage curriculum will help you experience worship, prayer, and spiritual practices, for engage in mission in your community.
Purchase Engage: Mission, Engage: Discipleship, and Engage: Gospel in English, Spanish, or Korean by clicking here.
Engage is about effective evangelism that helps create a disciple making church culture that emphasizes both the importance of social justice and faith sharing. It begins with the Jesus question, "who do you say that I am?". Order from church store or download the resource
Also Check out Engage short form video training
---
Engage now with our evangelism coaching network

Find out how you can learn to share your faith, follow Jesus and serve your community—with coaching help. On-site visits and regularly scheduled phone calls will help you reach people who will join you in God's mission in your neighborhood. Contact David.Loleng@pcusa.org for more information.
---