National Hispanic/Latino Presbyterian Ministries Directory
---
The Racial Ethnic Torch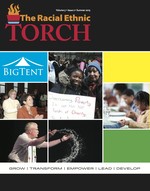 Summer 2015
In this issue of the Racial Ethnic Torch, we preview Big Tent 2015 and lift up the work that Racial Ethnic & Women's Ministries, and the Presbyterian Church (U.S.A.) as a whole, is doing as we strive to be more culturally humble. We explore the importance of using inclusive and expansive language, and the impact that power, privilege and justice have in our lives and in society, and in our antiracism work. Read online or download here.
---
Find Hispanic churches and leaders
Iglesias y Ministerios Presbiterianos Hispanos por Sínodos
Listado de Iglesias Hispanas
Download from resource archives
---
Going to Sow: Bilingual Handbook for New Church Developments
This book is a bilingual manual for Hispanic/Latino New Church Development. It was created with the vision that it would serve to educate church leaders and enable the effective development of new Hispanic/Latino congregations. Presbyteries, New Church Development committees and other people interested in the planting and development of new Hispanic churches will find in this document invaluable information that will greatly benefit the healthy development of churches.
PDS# 2750809001
You can buy these materials by calling (800) 524-2612 or going to http://store.pcusa.org/2750809001
---
Addressing Violence Against Women and Children on the Mexico-U.S. Border
Murdered women of Juarez
Just across the U.S. border in Juarez, Mexico, women have been abused, tortured, and murdered. In the following videos and study guides, you'll learn more about the plight of these women, the impact of violence on their children, and what YOU can do to help them. Find more Resources
---
Strategy
The strategy is for ministry with Hispanic/Latino constituency to address the development and ministry issues related to and with Hispanic\Latino-a in the United States and Puerto Rico. This document is intended to be an instrument for mission.
---
Tags: