The Racial Ethnic Torch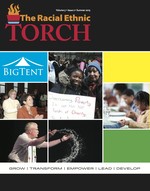 Summer 2015
In this issue of the Racial Ethnic Torch, we preview Big Tent 2015 and lift up the work that Racial Ethnic & Women's Ministries, and the Presbyterian Church (U.S.A.) as a whole, is doing as we strive to be more culturally humble. We explore the importance of using inclusive and expansive language, and the impact that power, privilege and justice have in our lives and in society, and in our antiracism work. Read online or download here.
---
To help
Find helpful information on engaging people of different races, cultures and ethnicities in these stories and resources:
Building an inclusive caring community is one of the commitments Presbyterian Women makes in its Purpose. It is also a commitment that voting representatives to PW's Business Meeting sought to keep by pledging to eradicate racism in 1997 and then by declaring Presbyterian Women an antiracist organization in 2006. Learn more about the Presbyterian Women Antiracism Initiative.
---
For further study
Study Guide on Developing Regional Racial Ethnic Ministries: Shifting Accountability for Racial Ethnic Ministries in the PC(USA) from Variety to Equity. View and download here.
Handbook for Hispanic/Latino New Church Development/Manual para el desarrollo de nuevas Iglesias hispanas/latinas, Item 27508-09-001, available at a cost of $4.00 from the Church Store.
Living The Vision-Hispanic Ministries booklet, PDS 72-430-03-001, free of charge from the Church Store.
A Field Guide to U.S. Congregations: Who's Going Where and Why, Cynthia Woolever and Deborah Bruce, Second Edition, Louisville: Westminister John Knox Press; available through The Thoughtful Christian or download online.
Read a short summary of results from racial-ethnic congregations that took part in the U.S. Congregational Life Survey in 2001.
In early 2012 there will be a Presbyterian Panel Summary and Report on a survey that is currently being conducted on immigrant ministries and immigration issues; when ready it will be posted on the Presbyterian Panel page.
This article in Presbyterians Today focused on diversity in the PC(USA).
The Wolf Shall Dwell with the Lamb: A Spirituality for Leadership in a Multicultural Community by Eric Law, St. Louis: Chalice Press, 1993
"Preaching in Multicultural Settings," In One Gospel, Many Ears: Preaching for Different Listeners in the Congregation by Joseph Jeter and Ronald Allen, St. Louis: Chalice Press, 2002
Tags: