Interfaith Art Exhibit 2013
What's Happening in the Office of Interfaith Relations?
---
How Our Church's Witness for a Just Peace Strengthened Our Relationships Within the Jewish Community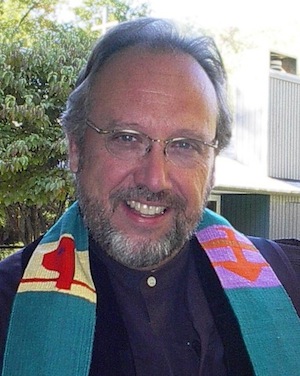 These days, it's common to hear the "conventional wisdom" that Presbyterian churches should be wary of taking bold public action on behalf of a just peace in Israel-Palestine. Why? Because, as the caution runs, it will damage long-running and hard-won interfaith partnerships with our Jewish friends and colleagues. According to the conventional risk-assessment, it's just too costly; better to bite your tongue and preserve the good working relationships. In my experience, it is painfully true that there is almost always harsh criticism from Jewish quarters when we exercise our conscience on this issue. But the story I have to tell is that the risk is well worth taking. This is the story of how our congregation's public witness helped take interfaith relations in our community to a deeper, more substantive level. Read More
---
Observe Interfaith Harmony Week
We live in an interfaith world. This brings challenges and opportunities.
Respectful Presence: An Understanding of Interfaith Prayer and Celebration from a Reformed Christian Perspective, a document commended to congregations and governing bodies of the Presbyterian Church (U.S.A.) by the 209th General Assembly (1997) affirms this when it says: "In a world of many bitter divisions to which, sadly, religious differences often contribute, there is an urgent call to all people of faith to seek understanding and cooperation. In response to this vocation, Christians should be eager to seek fellowship with people of other religions, work together with them, and celebrate our common concerns and values, all the while being alert to the great sensitivity this practice requires." Read More
---
Interfaith Art Exhibit
SEPTEMBER 19, 2013
In keeping with the Presbyterian Church (U.S.A.)'s commitments to interfaith relations and peace, the denomination will host an International Peacemaker's Day celebration and launch a month-long interfaith art exhibit on October 2.
"Pilgrimage to Peace: An Interfaith Celebration Honoring the Journey of Peacemakers" will take place from 6–7 p.m. at the Presbyterian Center Chapel in Louisville. It is sponsored by the PC(USA) Office of Interfaith Relations in Theology and Worship, in partnership with the Louisville-based interreligious nonprofit Interfaith Paths to Peace.
Hindus, Muslims, Buddhists, Sikhs, and people from a wide range of religious traditions have been invited to participate, and an opportunity for fellowship will be available in a reception following the event. Read More
---