Birthday Offering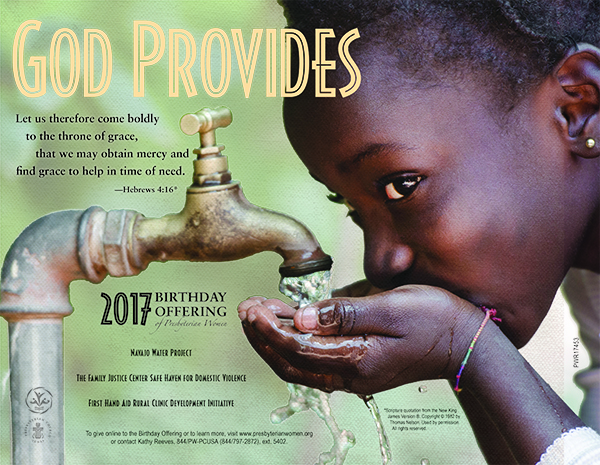 Download a 2017 Birthday Offering packet

Resources to help you celebrate the Birthday Offering are in the mail to all PC(USA) congregations, attn: PW/Women's Group. If your group does not receive the materials by the end of February 2017, visit the church store to order promotional materials, or download free materials—promotional booklet and order form—here.
Download a Birthday Offering grant application

Give to the Birthday Offering
What Is the Birthday Offering?
Grant Recipients
History of the Birthday Offering
Birthday Offering Grant Process
Birthday Offering Application
Birthday Offering Resources
What is the Birthday Offering?
The Birthday Offering is a PW offering received in the spring of each year to celebrate the blessings in the lives of Presbyterian Women. The offering funds up to five projects that are not included in ongoing General Assembly mission support, such as agricultural development, child care, community organization, criminal justice, drug counseling, economic justice, elderly care, employment training, homelessness, literacy, violence and women's concerns. In 1992, for example, the Birthday Offering funded three projects. In 2016, four projects received funding.
PW in the Congregations (PWCs) typically receive the Birthday Offering in the spring and dedicate their offerings at spring gatherings. No giving guidelines are suggested other than "give as you are blessed." PWCs who receive the Offering should send their gifts to the treasurer of PW in the Presbytery (as a check made payable to Treasurer of Presbyterian Women) according to the giving procedures outlined by PW in the Presbytery. Email Presbyterian Women to find out the name and address of your PWP treasurer.
Each quarter, PW in the Presbytery treasurers should send the Birthday Offerings gifts with all other gifts for PW Churchwide, using a remittance form. Quarterly deadlines are March 15, June 15, September 15 and December 15.
Grant recipients
2017 Recipients
After reviewing numerous proposals, the Creative Ministries Offering Committee chose three projects to receive grants from the 2017 Birthday Offering. Your gift to the 2017 Birthday Offering will allow three life-changing ministries to help families seeking shelter from domestic violence in South Carolina, provide marginalized citizens in rural Cuba with hope and health services, and provide water systems to more than 200 families in New Mexico. The goal for the offering is $500,000; please give now.
The Family Justice Center
Safe Haven for Victims of Domestic Violence
South Carolina

The Family Justice Center (JFC) currently operates an emergency shelter for victims of domestic violence in Georgetown and Horry Counties in South Carolina. With room for only 11 people, the center is frequently at capacity. The 2017 Birthday Offering Grant from Presbyterian Women will help FJC construct a new domestic violence shelter for victims of abuse living in these two counties of northeastern South Carolina.
Navajo Water Project
New Mexico

The Navajo Water Project will eventually provide water systems to 205 families at the Smith Lake Navajo Reservation in New Mexico. This Birthday Offering grant will provide a running water system for 40 families who do not have access to running water in their homes, who currently store their water in pots, pans and 55-gallon drums. The grant will provide each household with a cistern, pump, sink, shower and all pipes for their water system.
First Hand Aid
Rural Clinic Development Initiative
Cuba

First Hand Aid exists to diminish the suffering of the most marginalized Cuban citizens by providing them hope, dignity and the basic necessities of life and health. In rural Cuba, where people often do not have a means to get to, or the opportunity to benefit from, resources located in large urban centers like Havana, people turn to the church for their basic needs, including certain medical needs. The Rural Clinic Development Initiative will build, fund, stock and staff medical clinics in six established Presbyterian Churches in rural Cuba.
History of the Birthday Offering
In 1922, to celebrate the 10th anniversary of the Woman's Auxiliary (PCUS), it was decided that an offering should be made for a definite cause. That same year, Hallie Paxson Winsborough, superintendent of women's work, visited Miss Dowd's School for Girls in Kochi, Japan. Realizing the school's needs, she challenged members of the Women's Auxiliary to give one penny for each year of their life as a birthday gift to the school. Over the years, that tradition has become known as the Birthday Offering. Presbyterian Women have given more than $29 million in support of mission projects throughout the world.
Download a list of Birthday Offering recipients from 1988 through 2015.
Birthday Offering grant process
Birthday Offering grants range from $100,000 to $300,000. Grant requests come from a variety of sources including PC(USA) governing bodies, health agencies, overseas churches, ecumenical councils, community groups, educational institutions and church related groups. Projects must meet the criteria established by Presbyterian Women.
Download a Birthday Offering grant application in Microsoft Word format.
Applications for grants must be submitted by May 15. The Creative Ministries Offering Committee of Presbyterian Women meets in the fall to review applications and make selections. Up to five projects will be selected for funding. Projects will be notified in November and will receive the first payment in October; second payment will be made by May 1 if the interim report is received by February 1.
Birthday Offering resources
Visit the church store to order promotional materials, or download free materials—promotional booklet and order form—here.
Questions?
Email Presbyterian Women. For more information, see the January/February issue of Horizons each year.
Tags: