Confronting the horrors of human trafficking
Presbyterians step up efforts to end a global scourge that often occurs close to home.
by Krin Van Tatenhove
You may choose to look the other way, but you can never say again that you did not know. —William Wilberforce
Joe grew up in the Dorchester district of Boston, where unemployment, crime, and poverty made everyday life a challenge. None of us choose our families of origin, and the forces within Joe's home were corrosive. His father sexually and physically abused him before vanishing. Both his grandmother and mother engaged in prostitution. A constant supply of drugs and alcohol fueled this furnace of family dysfunction.
By the time he reached adolescence, Joe found it hard to relate healthily to anyone, especially role models. He longed to fill the vacuum left by his absent father.
Joe was a prime target. An older "friend" began to "groom" him, buying him expensive gifts, taking him to dinner and sporting events. Eventually that man made sexual advances, and Joe was immediately introduced to a shadowy network of predators.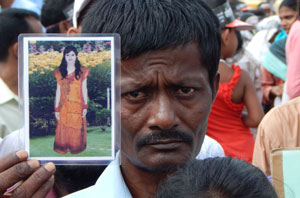 Joe is a victim of human trafficking, a criminal world in which victims are forced to work without freedom to leave. His name has been changed here to protect his privacy.
The sex trafficking that Joe got caught up in is only one face of an evil that has been present throughout history. Even as global human rights have advanced in many ways, trafficking has become, according to the US State Department, the fastest growing crime on the planet. The United Nations Office on Drugs and Crime estimates its total market value at $32 billion.
Estimates of the number of victims vary widely, but the International Labour Organization calculates that 21 million people are in forced labor.
The Presbyterian Church (U.S.A.), spurred by its General Assembly, is seeking to become more aware and involved at every level of the denomination.
"This is a kairos moment, a 'right time' for Presbyterians to engage human trafficking," says Shannon Beck, PC(USA) reconciliation catalyst. "Our national and international work is colliding and forming a network of Presbyterians committed to it. So it isn't so much about creating something new as much as channeling that work already being done to make it more effective. God's river of justice is already roaring. We are just grabbing hands to jump into it together."
The PC(USA)'s Human Trafficking Roundtable provides core leadership, resources, and partnerships with agencies around the globe. In addition, several presbyteries have hosted regional convocations on trafficking. A handful of congregations are now including trafficking as a primary mission focus. The momentum is growing.
At the same time, those seeking to end trafficking are stunned by the enormity and complexity of the problem, which includes: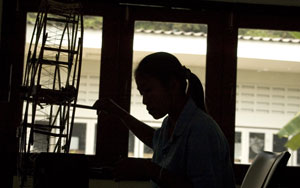 (1) Forced labor: The majority of human trafficking in the world takes the form of forced labor. Also known as involuntary servitude, forced labor may result when unscrupulous employers take advantage of gaps in law enforcement to exploit vulnerable workers. Often recruited through deception and coercion, men, women, and children find themselves held in slavery at jobs in agriculture, fisheries, construction work, hotels, and restaurants. They are kept enslaved through threats of violence, or as a way to work off exorbitant debts (also known as "bonded labor").
(2) Sex trafficking: Comprising a significant portion of overall modern slavery, sex trafficking is when a person is coerced, forced, or deceived into prostitution. Sometimes, women, men, and children are lured by promises of employment into leaving home and traveling to a "better life." Captors provide false documents, then funnel the victims into transportation networks. At the end, they face sexual slavery, inhumane living conditions, and constant fear. Sex trafficking can also occur alongside debt bondage, as a forced way to "pay back" unlawful debt incurred through their transportation and recruitment. According to UNICEF, as many as 2 million children are subjected to prostitution in the global commercial sex trade.
(3) Trafficking for tissue, cells, and organs: This happens in three ways. First, traffickers may force or deceive victims into giving up an organ. Second, victims formally or informally agree to sell an organ and are cheated by being paid less than promised or not at all. Third, vulnerable persons are operated on for an ailment, which may or may not exist, and organs are removed without their knowledge.
(4) Child soldiers: Child soldiering is a unique and severe form of trafficking. Perpetrators may be government forces, paramilitary organizations, or rebel groups. While the majority of child soldiers are between the ages of 15 and 18, others are as young as 7 or 8. Many are abducted to be used as combatants. Others are made unlawfully to work as porters, guards, servants, messengers, or spies. Young girls are forced to marry or have sex with male soldiers. Some children have been forced to commit atrocities against their families and communities. They are often killed or wounded, and survivors suffer multiple traumas and psychological scarring.
Unwitting complicity
Americans who get involved in fighting human trafficking soon realize that trafficking flourishes not only in other countries but also in the United States, often in plain sight. Many of us contribute to it unwittingly.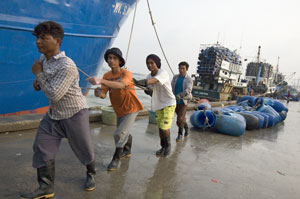 "We hate the idea that we may be complicit, but we often are," says Beck, "It can be by vacationing in hotels without policies to protect their workers. Or being unwilling to pay a fair market price for tomatoes or other produce. It can happen by purchasing cheap clothing made overseas, perusing pornography on the web, or remaining silent when we suspect someone in a restaurant or nail salon isn't being treated fairly."
Two years ago, Trinity Presbyterian Church in Woodbury, Minnesota, decided to form a Human Trafficking Task Force. Members of the task force began gathering resources, learning as much as they could about the subject.
"Many of us felt that because we live in a nice suburb of St. Paul that surely trafficking didn't happen here," says Kathie Wilkinson, task force leader. "It was not until Washington County's attorney and the St. Paul and Woodbury police departments joined forces and staged several stings that we began to learn how deep the problem went."
Trinity Church now partners with Breaking Free, a nonprofit in St. Paul that assists women who were trafficked as girls and who are seeking to turn their lives around. The agency provides safe houses, financial grants, and educational assistance. The church has a member on the organization's board and provides supplies to the homes.
Breaking Free works with women like Jennifer Gaines.
Raised in a home without a father, Jennifer, like Joe, desired male attention. At age 14 she was "recruited" by a 21-year-old man posing as friend, lover, and benefactor. She became so dependent on him that he began to push her to make money with her body. Initially she objected, so he set up a ruse, claiming that if he didn't pay off a debt, gang members would kill him. She could help him earn that money by spending just a prearranged hour with some friends. He would be nearby, and if she got in trouble, she could call his name. Fearful of losing him, she consented. When she called out for him, he never appeared.
That began 28 years in the sex trade, a life that took Jennifer to New York, Chicago, Las Vegas, and San Francisco. When her first handler went to prison, others soon found her, sensing her vulnerability. Even after she returned to Minnesota, raising four children, she made money by working dance clubs in the oil fields of nearby North Dakota. Using her body to make money was all she knew.
"By the end, I was literally used up," she says. "That's when I found Breaking Free. These women introduced me to Christ. They offered empathy with no judgment. They helped me understand the victim side of what had happened to me and that God had created me for so much more. They empowered me, helped me find a job, and now I live a life I'm proud of."
Hearing those long silenced
The confession A Brief Statement of Faith contains these challenging words: "In a broken and fearful world the Spirit gives us courage . . . to hear the voices of peoples long silenced."
Listening to persons who have been trafficked can mean not only recognizing our complicity, but also breaking down our stereotypes.
Steven Procopio is a social worker and adjunct instructor at the Boston University School of Social Work. He has been an adolescent therapist, director of a shelter for runaway youth, and a family reunification facilitator. But it wasn't until nine years ago that he discovered his deepest calling.
He was one of the experts at a conference on the commercial sexual exploitation of children (CSEC). During the gathering, one presenter stated that victimized minors are overwhelmingly girls. This did not jibe with Procopio's experience in the streets. He began to compile statistics, which indicate that a rising percentage of CSEC victims are boys.
Today he works almost exclusively in helping boys heal from complex traumas. He has become an advocate, awakening the public to the voices long silenced.
"As a social worker with victims of CSEC," says Procopio, "I can't help but ask: Why aren't boys more central to the discussion? I recently consulted with End Child Prostitution and Trafficking, a leader in the global fight against CSEC. We produced a report titled 'And Boys Too.' It explores the sociological reasons why boys are often overlooked. In our heterogenic, homophobic society, there is still shame and stigma about being gay or perceived as gay that keeps boys from self-identifying as sexually exploited. And while boys are not always forthcoming, they are often not even asked. There's a false belief that male victims can take care of themselves."
Joe is making great strides as Procopio and other advocates assist in his healing. Jennifer now works at Breaking Free as a trainer and group facilitator, freely giving back the grace and healing she received.
They are two recovering victims of a global phenomenon, reminding us to hear the voices and to see the faces of those who are suffering. Reminding us to never again look away. As Beck says:
"Outrage is great. Compassion is important. Presbyterians are good at that. But if our response is limited to a Sunday morning prayer or a Facebook rant, we have missed the point. We are called into the world as partners and advocates, and often as healers. That river of God's justice and reconciliation invites us to go deeper—deeper into our responsibility as global Christians, and deeper into the joy we can experience when we jump into that river together."
Krin Van Tatenhove is an honorably retired teaching elder in the Presbyterian Church (U.S.A.) who lives in San Antonio.
---
What to do if you suspect that someone is the victim of trafficking
Although the following is not a comprehensive list, these factors can indicate that someone is the victim of trafficking:
Unexplained absences from school for a period of time
History of running away from home or current status as a runaway
References to frequent travel to other cities
History or signs of emotional, sexual, or other physical abuse
Inexplicable appearance of expensive gifts
Communication with an older "boyfriend" or "girlfriend"
Withdrawal or lack of interest in previous activities
Significant substance abuse
Submissive or fearful behavior
Living with employer
Poor living conditions
Multiple people living in a cramped space
Inability to speak to you privately
Answers that seem scripted and rehearsed
Assuming you can speak with someone you suspect is a victim of trafficking privately and without jeopardizing that person's safety because the trafficker is watching, these sample questions can help you follow up on the red flags you become aware of:
Can you leave your job if you want to?
Can you come and go if you please?
Have you been hurt or threatened if you tried to leave?
Has your family been threatened?
Do you live with your employer?
Where do you sleep and eat?
Are you in debt to your employer?
Do you have your passport/identification? If not, who has it
If you think you have identified a victim of trafficking, do not attempt to rescue that person yourself. Instead, report it:
In immediate emergencies, call 911.
To report suspected trafficking crimes, call the National Human Trafficking Resource Center Hotline, which is open 24 /7: 888-373-7888. The center can help you determine whether you have encountered a victim of trafficking and can coordinate with law enforcement and social service agencies to help the victim. Another option is to contact the US Justice Department's Human Trafficking Office: 888-428-7581.
To report sexually exploited or abused minors, call the National Center for Missing & Exploited Children: 800-THE-LOST (843-5678).
Sources: US Department of State, US Department of Education
---
How to protect your child from becoming a victim of trafficking
One key way to keep your child safe is to provide a stable home life. Many victims of trafficking have a history of physical abuse, sexual abuse, or other serious problems at home.
When your child starts using the Internet and social media, help him or her understand that some people who use the Internet are dangerous, despite how they might seem. Traffickers are increasingly using social networking apps and sites to target and recruit children. Talk with your children about how dangerous people sometimes use Internet apps and social networking sites to start a conversation, identify children's or teenagers' vulnerabilities or needs, make false statements, and try to lure the children or teenagers
into situations that turn out to be extremely dangerous.
Emphasize that traffickers often hide their real appearance and their true intentions during this "recruitment" phase. Traffickers often create what seems to be a caring or even loving relationship with their victims to establish trust and loyalty. The trafficker's intention is to develop this manipulative online relationship before progressing to a real-life encounter.
Work to create an environment in which your children feel comfortable talking to you. Encourage them to let you know when they feel uncomfortable in any situation.
If your child—or a child you're the legal guardian of—goes missing, immediately call local law enforcement and make a report. Next, call the National Center for Missing and Exploited Children: 800-THE-LOST (800-843-5678).
Sources: National Center for Missing & Exploited Children, US Department of State, US Department of Education
Topics:
Tags: