Save the date for the 2018 Churchwide Gathering!
The 2018 Churchwide Gathering will be held August 2–5, 2018 in Louisville, Kentucky! Planning is underway, so stay tuned for the Gathering scripture, theme, logo, speakers, program highlights, opportunities for connection and renewal, and so much more!
And while those details are being worked out, follow along with Gathering emails (one a month!) with reflections, free downloads, fun ideas and more! (If you're not receiving PW emails, contact Patricia Longfellow to be added to the email list.)
Reflecting on light
These Gathering emails include reflections on light. This reflection is by Carissa Herold, PW marketing associate.
And there were in the same country shepherds abiding in the field, keeping watch over their flock by night. And, lo, the angel of the Lord came upon them, and the glory of the Lord shone round about them: and they were sore afraid. And the angel said unto them, Fear not: for, behold, I bring you good tidings of great joy, which shall be to all people. For unto you is born this day in the city of David a Saviour, which is Christ the Lord. And this shall be a sign unto you; Ye shall find the babe wrapped in swaddling clothes, lying in a manger. And suddenly there was with the angel a multitude of the heavenly host praising God, and saying, Glory to God in the highest, and on earth peace, good will toward men.—Luke 2: 8–14, KJV
Many can recite these words, not just from church, but because of a cartoon character: Linus Van Pelt, from Peanuts, who recites this scripture after Charlie Brown asks, "What is Christmas all about?"
In this season of twinkling lights, bringing sparkle and warmth to trees, posts, wreathes, and mantels, it's worth remembering that the shepherds spent their nights watching their flock bathed under God's original twinkling lights—that is, the non-LED lights of a million stars that have blanketed skies in bright glory for millennia. Can you imagine the intensity of the night sky in an age before electricity and pollution, when the splendor was a nightly awe-inspiring fact of life? But even under the glory of this magnificent sky, the shepherds were "sore afraid" with the light that heralded the coming of the good news through the birth of Jesus. And "the glory of the Lord shone all around them." The Light that had come into this world on that otherwise ordinary night continues to shine brighter than even the most awe-inspiring photos returned from the Hubble telescope.
During this season and all seasons, let's decide to notice. Let us fully engage our amazing senses to take in the glory of God's creation. Let's step outside and look up and around. Take in the warmth of the sun on our faces. Feel the give of steps taken on a sandy beach. Breathe in the salty sea air. Hear the music of the wind through tree branches. The season of Advent, with its sparkle and peace, confirms for us that the "glory of the Lord" is all around us; it's up to us to take notice. Just like shepherds tending their sheep on a hillside long ago, let's take notice. And like the angels, let us demonstrate with our words and lives, "Glory to God in the highest, and on earth peace, good will toward" all.
A little Gathering fun
Free downloads will be made available to publicize and raise excitement for the Gathering. Copy and share these PW-themed puzzles as widely as you wish!
Happy New Year, PW!
Gratitude word scramble
Letter tiles
Word wheel
Word search
Sudoku
Crossword puzzle
---
Explore "One Body, One Spirit"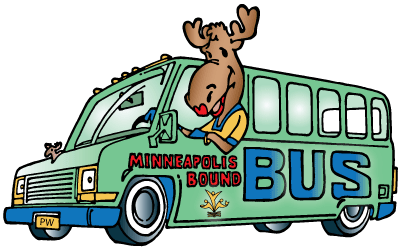 More than 1,700 women (from around the United States and the world!) went to Minneapolis June 18–21, 2015. Plenary speakers and workshop leaders interpreted the theme "One Body, One Spirit," and Gathering attendees welcomed God's powerful spirit to unite them into one body, empowered to embody Christ's love in the world.
Enjoy some of the stories and images from the Gathering. Then be sure to check in with your PW sisters when they return.
If you've never attended a Gathering, learn more about Gatherings (including history!). And mark your calendars for the 2018 Gathering: August 2–5, 2018 in Louisville, Kentucky!
---
Gathering news
Leaders and Legacies, Budgets and Bylaws
By Yvonne Hileman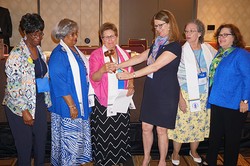 Presbyterian Women in the PC(USA), Inc. has a new slate of moderators and representatives, elected on the second day of the Business Meeting—a day of jubilation and sadness.
In the evening of Wednesday, June 17, the 2015 Business Meeting began with a prayer: "May the God of freedom, hope, compassion and strength fill us, and may we stand on a foundation of hope, made possible by the transforming power of the Holy Spirit." Read more.
Bringing Together "One Body, One Spirit"
By Yvonne Hileman
"What a beautiful sea of faces!" Shelda Wills, Gathering chair, exclaimed as she looked out over rows and rows of women in the opening plenary session to the 2015 Churchwide Gathering of Presbyterian Women. And a beautifully diverse sea of faces it was. Dozens of international guests, from 15 countries, and more than 1,700 Presbyterian women from all over the United States filled the plenary hall for the opening celebration on Thursday, June 18, 2015. Read more.
---
Gathering Resources
Update to Daily Horizons, Issue 1
Use this summary of the latest Churchwide Gathering news as a supplement to Daily Horizons 1. Print and slip it inside DH1 so you are prepared with the latest information.
Daily Horizons, issue 1
Learn everything you need to know about your first day(s) at the Gathering. This first issue of the almost-daily Gathering newspaper has information on what you should bring, leave at home and put on your schedule while you're in Minneapolis for the 2015 Churchwide Gathering.
Gathering registration booklet
Are you ready to start planning your Gathering experience? The Gathering registration booklet mailed with the November/December 2014 issue of Horizons, and is also available for download!
Use this resource to plan your arrival, worship, shopping, education, relaxation and inspiration during the 2015 Gathering. Plenary speakers will inspire you to live out your faith in new ways. Educational opportunities (workshops, forums and mission tours) will stretch your understanding and engagement with the world. Time with your Presbyterian sisters will remind you of the power of women committed to creating a more just world for everyone. In short, it's an incredible event that should not be missed!
Make Your own logo pin
Download instructions for making your own Gathering logo pin.
---
Step out for justice and peace!
Participate in the PW March for Justice and Peace at the Churchwide Gathering, Saturday, June 20, 2015, in Minneapolis. The march will be held from 5 to 6 pm. If you are attending the Gathering, gather in the courtyard at Westminster Presbyterian Church, just one block from the Hyatt Regency Minneapolis (where the Gathering is being held). If you won't be at the Gathering, sponsor someone who will be. Pledges will benefit CARE and Presbyterian Ministry at the UN. Download the pledge form here. Download a promotional flier here. Download ideas for signs here.
Get a taste of the Gathering
Watch this four-minute video that offers a look at the fun, worship and fellowship that you can have at the 2015 Churchwide Gathering of Presbyterian Women!
(Gathering images from the 2012 Gathering in Orlando, Florida.)
---
Comments
I LOVE CHURCH!

I am interested in obtaining the PW Gathering information to be held at St.Simons in 2013. Any information would be appreciated. Thank you.