Save the date for the 2018 Churchwide Gathering!
The 2018 Churchwide Gathering will be held August 2–5, 2018 in Louisville, Kentucky! Planning is underway, so stay tuned for the Gathering scripture, theme, logo, speakers, program highlights, opportunities for connection and renewal, and so much more!
And while those details are being worked out, follow along with Gathering emails (one a month!) with reflections, free downloads, fun ideas and more! (If you're not receiving PW emails, contact Patricia Longfellow to be added to the email list.)
Reflecting on light
These Gathering emails include reflections on light. This fourth reflection is from Mary Martin, chair of the 2018 Churchwide Gathering Planning Team.
One of the traditions in many church-related meetings—especially Presbyterian Women's—is to light a Christ candle at the beginning of the meeting. It reminds us that God is present with us as we gather to deliberate and work. Sometimes, a devotion at the beginning of a meeting says that the candle "invites" Christ into the meeting. I have never liked that slant on it very much. Would we be so presumptuous to invite Christ to be present in the meeting? We acknowledge that God is everywhere, and certainly with us as meet to be about the work of the church.
Scripture is full of imagery about light and darkness. In biblical times, people were dependent on much more rudimentary ways to generate light—mostly natural light, from the sun, moon and stars. Maybe candlelight? But, today, artificial light comes from everywhere; if we started making a list, it would never end. So, it is very unusual for us to be in total darkness.
Can you think of a time you have been in total darkness? It's very rare—maybe in a cave; but even in a dark room, moonlight will seep in around the windowshade, or under the door. It seems to me that the light of Christ is the same way. No matter how dark the circumstances—the depth of depression, a dead-end job or family situation, a life-threatening illness—the light of Christ slips in. And this list is just about personal situations. Think of all the dark situations made bearable, made brighter by Christ's love.
Jesus makes this promise to his disciples and to us, as recorded by John (8:12): "Again Jesus spoke to them, saying, 'I am the light of the world. Whoever follows me will never walk in darkness but will have the light of life.'" And in 9:5, "As long as I am in the world, I am the light of the world." And in the beautiful first chapter of John, " . . . in him was life, and the life was the light of all people. The light shines in the darkness, and the darkness did not overcome it."
The difficulty comes in connecting this promise of light to real world situations. Jesus did that as he spoke to his disciples. Jesus called not only himself "light," but also his followers ("You are the light of the world; a city built on a hill cannot be hid" (Matt. 5:14).)
Light creeps into the dark places through us. In our troubled world, we have plenty of opportunities to be light. How can we use our talents, passions, programs, communication, interaction and giving to shine the light of Christ in the world?
Prayer
As you have made this day, O God, you also make the night. Give light for our comfort. May we listen for the whisper of your Spirit and be attentive to your nearness in our waking and in our dreams. Empower us to rise again in new life to proclaim your praise and show Christ's light to the world, for he reigns forever and ever. Amen.
Thank you, Mary, for sharing this! And, dear reader, if you would like to share a short reflection on light for this series, contact Carissa Herold.
A little Gathering fun
Free downloads will be made available to publicize and raise excitement for the Gathering. Copy and share these PW-themed puzzles as widely as you wish!
Letter tiles
Word wheel
Word search
Sudoku
Crossword puzzle
---
Explore "One Body, One Spirit"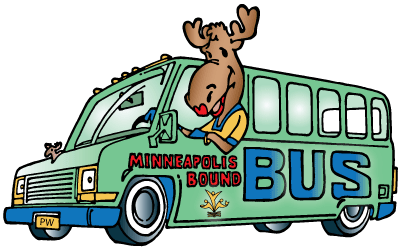 More than 1,700 women (from around the United States and the world!) went to Minneapolis June 18–21, 2015. Plenary speakers and workshop leaders interpreted the theme "One Body, One Spirit," and Gathering attendees welcomed God's powerful spirit to unite them into one body, empowered to embody Christ's love in the world.
Enjoy some of the stories and images from the Gathering. Then be sure to check in with your PW sisters when they return.
If you've never attended a Gathering, learn more about Gatherings (including history!). And mark your calendars for the 2018 Gathering: August 2–5, 2018 in Louisville, Kentucky!
---
Gathering news
Leaders and Legacies, Budgets and Bylaws
By Yvonne Hileman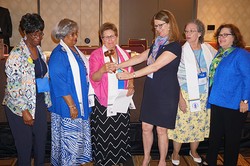 Presbyterian Women in the PC(USA), Inc. has a new slate of moderators and representatives, elected on the second day of the Business Meeting—a day of jubilation and sadness.
In the evening of Wednesday, June 17, the 2015 Business Meeting began with a prayer: "May the God of freedom, hope, compassion and strength fill us, and may we stand on a foundation of hope, made possible by the transforming power of the Holy Spirit." Read more.
Bringing Together "One Body, One Spirit"
By Yvonne Hileman
"What a beautiful sea of faces!" Shelda Wills, Gathering chair, exclaimed as she looked out over rows and rows of women in the opening plenary session to the 2015 Churchwide Gathering of Presbyterian Women. And a beautifully diverse sea of faces it was. Dozens of international guests, from 15 countries, and more than 1,700 Presbyterian women from all over the United States filled the plenary hall for the opening celebration on Thursday, June 18, 2015. Read more.
---
Gathering Resources
Update to Daily Horizons, Issue 1
Use this summary of the latest Churchwide Gathering news as a supplement to Daily Horizons 1. Print and slip it inside DH1 so you are prepared with the latest information.
Daily Horizons, issue 1
Learn everything you need to know about your first day(s) at the Gathering. This first issue of the almost-daily Gathering newspaper has information on what you should bring, leave at home and put on your schedule while you're in Minneapolis for the 2015 Churchwide Gathering.
Gathering registration booklet
Are you ready to start planning your Gathering experience? The Gathering registration booklet mailed with the November/December 2014 issue of Horizons, and is also available for download!
Use this resource to plan your arrival, worship, shopping, education, relaxation and inspiration during the 2015 Gathering. Plenary speakers will inspire you to live out your faith in new ways. Educational opportunities (workshops, forums and mission tours) will stretch your understanding and engagement with the world. Time with your Presbyterian sisters will remind you of the power of women committed to creating a more just world for everyone. In short, it's an incredible event that should not be missed!
Make Your own logo pin
Download instructions for making your own Gathering logo pin.
---
Step out for justice and peace!
Participate in the PW March for Justice and Peace at the Churchwide Gathering, Saturday, June 20, 2015, in Minneapolis. The march will be held from 5 to 6 pm. If you are attending the Gathering, gather in the courtyard at Westminster Presbyterian Church, just one block from the Hyatt Regency Minneapolis (where the Gathering is being held). If you won't be at the Gathering, sponsor someone who will be. Pledges will benefit CARE and Presbyterian Ministry at the UN. Download the pledge form here. Download a promotional flier here. Download ideas for signs here.
Get a taste of the Gathering
Watch this four-minute video that offers a look at the fun, worship and fellowship that you can have at the 2015 Churchwide Gathering of Presbyterian Women!
(Gathering images from the 2012 Gathering in Orlando, Florida.)
---
Comments
I LOVE CHURCH!

I am interested in obtaining the PW Gathering information to be held at St.Simons in 2013. Any information would be appreciated. Thank you.