Adult curriculum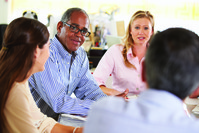 Engage the adults in your congregation with one of our many resources for adult study. These resources from CMP celebrate the human spirit, while remaining grounded in our wonderfully Reformed tradition.
Shop all PC(USA) adult curriculum at pcusastore.com.
---
Being Reformed

Being Reformed: Faith Seeking Understanding is a series of biblically based studies that provides adults with a foundational understanding of the Reformed faith. Each six-session study—written by well-known and respected scholars—features Scripture, a prayer, in-depth commentary, and questions for reflection.
Order Being Reformed.

Download a sample session:
Worship as Evangelism, Participant's Book
Worship as Evangelism, Leader's Guide
Click here for a complete list of studies.

---
Engage
Based on the well-loved PC(USA) program of the same name, Engage curriculum inspires a journey of prayer and faith-sharing, equips members to live out and share their growing faith, and connects the church with its community. Each seven-session curriculum resource—Engage: Gospel, Engage: Discipleship, and Engage: Mission,—was developed in partnership with the Office of Evangelism, PC(USA), and Congregational Ministries Publishing.
Order Engage.
Download a sample from Engage: Mission, Gathering 7.
Learn more about the Engage program.
Engage is also available in Spanish and Korean.
---
The Present Word
Through the exploration of biblical text, adult study groups are invited into a deepened relationship with God. The Present Word engages participants in an experiential style of learning—connecting faith and life. This quarterly resource features an Adult Leader's Guide and an Adult Student's Book.
Order The Present Word.
Download the Table of Contents and samples here.
---
Feasting on the Word Curriculum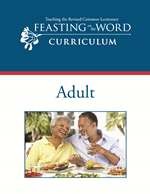 Feasting on the Word Curriculum will engage adults in a deeper exploration of biblical texts. Christian faith will be enhanced when the Scriptures read and proclaimed in worship are reinforced and expanded on what they have been considering in their educational time. Education and worship can be mutually supportive in helping God's word in Scripture come alive in the Sunday morning experience.
Order Feasting on the Word Curriculum.
Download a sample session.

Tags: