Iraq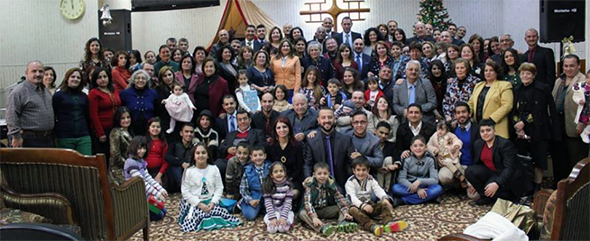 For information about Presbyterians serving in Iraq, please contact the office for the Middle East and Europe.
Crisis in Iraq
Updated June 9, 2015
The Conflict with the "Islamic State" (ISIS): A visual guide to the crisis in Iraq and Syria —New York Times
Chaldean Church in Erbil embraces Mosul refugees
Iraqi church transforms its property to host displaced persons
With Mosul's Christians gone, Islamic State troops take over 4th-century monastery

WCC expresses concern over "tragic exodus" of Christian community in Mosul, IraqOctober 2014 'Winter Is Coming'
PC(USA) delegation visits with refugees in Iraq. The group spent three days meeting with church leaders, Kurdistan officials, and displaced families. Each group that they met with said they feared that the worst was yet to come for the thousands of refugees crowded into churches, schools, and tents as a result of the recent ISIS attacks. Read more
PC(USA) leaders travel to the Middle East to support churches amid crisis
Kneeling in prayer with Christian partners, they called out for healing and hope
Support PC(USA) partners in Iraq as they continue to minister to those affected by the current conflict.
53 National Religious Groups, Academics, and Ministers Urge Alternatives to U.S. Military Action in Iraq
Watch the video "Iraqi Christians in Peril"

Other News
Iraqi minister to share harsh realities facing Christians in his country
International peacemaker to visit U.S. churches this fall (2015)
Hope Incarnated: The Church in Iraq, Syria, and Lebanon
Resource
Iraq: Our Responsibility and the Future
This study stimulates reflection and discussion on just war and other principles of conscience concerning the military action in Iraq. Download PDF. http://www.pcusa.org/resource/iraq-our-responsibility-and-future/
---
Background
Christianity in Iraq dates back to the apostolic era. Iraq contains some of the oldest organized churches in the world. Iraqi Christians were pioneers in spreading the gospel to China, India, Persia and Arabia. However, in modern times, political changes, social changes, two major wars, and persecution have led many Iraqi Christians to emigrate from the country. Since the 8th Century Christians have been a minority in Iraq, but the precipitous decline of Christians in Iraq over the last 25 years—especially since 2003—now threatens the very existence of Christianity in Iraq.
Presbyterian, Congregational, and Reformed mission personnel have been working in Iraq since the early 1800s. They eventually partnered together to form the United Mission to Iraq (UMI) in 1924. The United Mission in Iraq worked actively in evangelism, education, health care, and church development, working with several Protestant congregations. The UMI's work changed dramatically after the 1958 coup replaced the monarchy with military rule. Evangelists were expelled and a mission hospital in Amarah was nationalized. Only the girls' high school in Baghdad and the boys' and girls' schools in Basrah continued.
The UMI's work was halted in 1969, when the Iraqi government nationalized the mission schools. The Iraqi congregations have continued their ministry to their own people. But due to the social realities within Iraq, these churches have been able to do very little outreach. Only recently have the five congregations joined together as the Assembly of the Presbyterian Churches of Iraq. As a result of this coalition, these congregations have been formally recognized by the Iraq Government and given equal legal standing with other churches in Iraq (Roman Catholic, Armenian Orthodox, Assyrian Orthodox, Syrian Orthodox, etc.).
The Presbyterian Church (U.S.A.) endeavors to continue to partner with and support the congregations in Iraq. PC(USA) currently has two mission personnel serving in Iraq, and a regional liaison who visits there regularly. Many PC(USA) congregations and individuals coordinate their efforts through the Iraq Partnership Network. Financial support can also be sent through the Peace Fund for Solidarity with the Iraqi Churches. The PC(USA) also helps Iraqi churches connect with other Presbyterian churches in the region, such as the Evangelical Presbyterian Church of Egypt, the National Evangelical Synod of Syria and Lebanon, and the Reformed Church in Kuwait.
Iraq Partnership Network
For more information contact Amgad Beblawi

The Iraq Partnership Network continues the long history of Protestant activities that began in 1830 with European and American Christians living in the areas of the Ottoman Empire known as Mesopotamia. During the twentieth century Presbyterians, together with the Reformed Church in America and the United Church of Christ, cooperated in the United Mission in Iraq. The network's vision is to continue this tradition of cooperation with the RCA and UCC by raising the voices of Reformed churches to work toward God's just peace in Iraq.
The Iraq Partnership Network is among more than 40 mission networks that connect Presbyterians who share a common mission interest. Most participants are involved in mission partnerships through congregations, presbyteries or synods. Network members come together to coordinate efforts, share best practices and develop strategies.
"Mission is more than a matter of sending and giving. It is also a matter of learning and receiving. And sometimes this can be more difficult."
—G. Thompson Brown, Presbyterians in World Mission
PC(USA) Mission History in Iraq
Overview
At one time Iraq was referred to as a "graveyard" of mission personnel.[1] For the first 100 years of mission activity in Iraq (1840-1940), the hardships were numerous: primitive living conditions, inadequate medical care, searing heat, persecution, suspicion and hostility. Several mission personnel died and some of their children died. The Iraqis who chose to follow Jesus as Protestants faced persecution, even martyrdom. Yet through these and other heart-rending hardships, the body of Christ in Iraq bravely proclaimed the good news of Jesus Christ through worship, medicine, service, and education.
Today Iraqi Christians face violent persecution, causing tens of thousands of Christians to flee the country. There are now more Iraqi Christians outside of Iraq than inside Iraq. Those who remain in Iraq plead with the worldwide body of Christ for prayer, encouragement, advocacy, and support.
History
In 1841, eight mission personnel from the American Board of Commissioners for Foreign Missions moved to the city of Mosul in "Eastern Syria" (modern-day Iraq). Within five years, five of those eight mission personnel had died from poor health conditions. As a result, the mission work in Iraq was halted temporarily.[2]
A second venture was undertaken from 1850 with another eight mission personnel. Primitive living conditions, opposition to foreigners, and persecution of the new "Evangelical" Iraqi Christians made the work exceedingly difficult. (In that region "Evangelical" is the name for Protestants.) In 1860, the "Eastern Syria" mission was absorbed into the Eastern Turkey Mission.
American Presbyterian mission personnel began yet another effort in 1890, this time focusing on northern Iraq (Mosul and Kurdistan). Twelve Americans were a part of this venture to spread Christ's love and truth to the surrounding people. But health issues plagued these mission personnel as well. Two children died, many of the adults had serious illnesses, and everyone found the severe heat and rigorous living conditions exhausting. In 1898, considering the health issues and in response to pointed local opposition (local officials forbade the Americans to construct buildings on the land the Americans had purchased), the decision was made to withdraw the mission personnel from Iraq.[3]
Various European and other denominations started other mission efforts in Iraq during those years. By 1925, however, it was obvious that the various small mission efforts in Iraq were not expanding. In order to bolster the mission work in central and northern Iraq, the PC(USA), the Reformed Church in America (RCA), and the United Church of Christ (UCC) formed the United Mission in Iraq (UMI). The RCA also continued its work in southern Iraq, begun in 1889. With eleven mission personnel, the UMI set about its work in three Arabic schools (one boys' school in Baghdad, one girls' school in Baghdad, and one girls' school in Mosul), as well as work among Kurdish populations in the north.[4] By 1929, the UMI had grown to 19 mission personnel.
With the onset of the Great Depression, however, a decline in contributions made the UMI's plans for expansion impossible to pursue. The years 1933-41 were so troubled for the UMI they became known as "The Era of Difficulties." During this period, one of the mission personnel, Rev. Roger C. Cumberland, was martyred in his home by a strange gunman (June 12, 1938). Political changes swept through the region, and the Arab public became hostile to foreigners. Few mission personnel came to reinforce the dwindling numbers of workers in Iraq. Nevertheless, the work carried forward, with local churches slowly growing in depth and breadth.[5]
As mission personnel were fewer, and funds were in decline, conditions were favorable to promote local self-reliance in the Iraqi churches. Self-reliance is a core belief of PC(USA) World Mission, as G. Thompson Brown states in Presbyterians in World Mission, "The church must be free to develop its own self-identity, becoming truly indigenous to its own culture. It must not become a satellite of the church at home."[6] The church in Iraq became more genuinely indigenous during this time. James Willoughby comments, "It cannot be said that local churches developed gloriously, or undertook wide activity, but they did much that had seemed to them impossible twenty years before."[7]
From 1948 to 1958, there was a welcome increase in the appointment of new mission personnel. With improved living conditions, medical care, and infrastructure, the mission personnel were able to set about the work with new energy and hope. Work in various schools and churches and other ministries proceeded more fruitfully than ever before. At this point in time there were several hundred "communicant members" of the Presbyterian ("Evangelical") church in Iraq, worshiping in four congregations and at a few other meeting points.[8]
A revolution in Iraq in 1958 sparked widespread anti-foreigner sentiments. As a result, the mission personnel had to come up with entirely new ways to continue their work. They focused their work more narrowly upon education. The RCA Arabian Mission transferred the "Basrah Station" and its two schools to the UMI in 1961. The changing environment required a change in names and terminology: the "United Mission in Iraq" changed its name to "Iraq Fellowship" and "The American School for Girls in Baghdad" became "The Baghdad High School in Mansour." By God's grace, the mission personnel were able to adapt successfully to the new realities, deepening and expanding their educational work throughout the 1960's.
The "6-Day War" of 1967 further increased anti-American sentiments. In July 1968 the Ba'athists, a secular government, took control of the Iraqi government. Within a few months all mission personnel were required to leave the country. The government froze UMI's bank accounts and seized control of the UMI's facilities.[9] In 1969 the UMI's efforts in Iraq came to an abrupt end.
There was little on-going contact with the Iraqi Christians after the expulsion of the mission personnel from Iraq. Lawrence H. Richards notes that due to "rising secularism, nationalism, and anti-American sentiments within Iraq," the local Iraqi Protestant ("Evangelical") Christians were "very cautious about relationships with foreigners." In fact, "no formal ties existed between UMI and these congregations, other than cordial personal relationships. The UMI had almost no history or opportunity to work as partners with or under local church leadership."[10] But over the years the seeds of the gospel had been sown, and the Presbyterians ("Evangelicals") in Iraq carried on without any direct partnership with the PC(USA).
Another pivotal moment in Iraq came in 2003, when the Ba'athists, along with their leader Saddam Hussein, were forced from power there. Since that time, a violent, systematic persecution has targeted the Christians of Iraq. In an effort to support the remaining Christians in Iraq, the PC(USA) formed a mission network for Iraq known as the Iraqi Partnership Network (IPN). The IPN has been instrumental in training, comforting, and supporting the Christians in Iraq, as well as connecting Iraqi Christians with other Christians in the region (Syria, Lebanon, Egypt, Kuwait, and beyond).
Noteworthy Individuals
Mrs. E Warner Lentz—in 1925, while both she and her husband were en-route to Iraq, her husband was killed in a car accident near Jerusalem. Nevertheless, she proceeded on to Baghdad and served two years there at the School for Girls.[11]
Rev. Roger C. Cumberland – he was martyred in 1938 when a gunman entered his home and shot him. He was a widely respected and esteemed man.[12]
Miss Lynda Carter—head of the Baghdad School for Girls (BSG) in the 1950's, she bravely brought the school up to the standards of other schools without compromising BSG's Christian character. The BSG became the center of Presbyterian efforts in Iraq.[13]
Zaki Zeito—a businessman and an elder in the Evangelical Church in Basrah, in December of 1968 he was martyred (by a public hanging which was broadcast on TV) for his faith. He was accused of being a spy.[14]
Rev. George and Christina Gosselink—this American couple served in Basrah from 1929-1965. Their faithful service to Christ in Iraq continues to inspire and bless people to this day.
Munther Assaqa—a leading elder in the church of Mosul, this man represented the Iraqi Christians to the Iraqi government. In 2005 he was kidnapped then assassinated.
---
Learn more about Iraq
Visit the BBC country profile.
Read about Christians in the Middle East (from the BBC)
---
[1]
Willoughby, James W.,
Iraq: United for Mission
, New York: Joint Office for Upper Nile and Iraq, 1962, p 13.
[2]
Ibid., p 4.
[3]
Ibid., 5.
[4]
Ibid., 7-8
[5]
Ibid., 9-12
[6]
Brown, G. Thompson,
Presbyterians in World Mission,
Decatur, GA: CTS Press, 1995, p 40.
[7]
Willoughby, 13.
[8]
Sunquist, Scott W. and Becker, Caroline N., ed.,
A History of Presbyterian Missions: 1944-2007,
Louisville, KY: Geneva Press, 2008, p. 221.
[9]
Sunquist, 226.
[10]
Richards, Lawrence H.,
The United Mission In Iraq: 1960-1969 The End of an Era,
2006, p. 27
.
[11]
Willoughby, 9.
[12]
Ibid., 11.
[13]
Sunquist, 218.
[14]
Richards, 23.
Tags: