Human Trafficking = Modern Slavery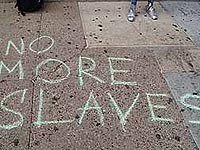 An estimated 800,000 people, of which approximately 80 percent are women and up to 50 percent are minors, are trafficked across national borders. This number does not include the tens of millions of people who are trafficked within their countries of origin (See Trafficking in Persons Report, U.S. Department of State, 2015). Human trafficking is the recruitment, harboring, transporting, providing or obtaining by any means any person for forced labor, slavery or servitude in any industry or site such as agriculture, construction, prostitution, manufacturing, begging, domestic service or marriage.
Affirming that Jesus Christ came that "they may have life, and have it abundantly" (John 10:10b), the General Assembly of the Presbyterian Church (U.S.A.) has convened a roundtable from among its ministries to address human trafficking together with synods, presbyteries and local congregations. The roundtable includes representatives from the Advocacy Committee for Women's Concerns, Office of the General Assembly- Immigration Issues, Office of Public Witness, Presbyterian Disaster Assistance, Presbyterian Men, Presbyterian Ministry at the United Nations, Presbyterian Peacemaking Program, Presbyterian Women, Self Development of People, World Mission.
Safe housing ministry receives Thank Offering grant
A Thank Offering grant from Presbyterian Women in the PC(USA) has been awarded to LifeWay Network, a safe housing ministry for survivors of human trafficking located in the Synod of the Northeast. Working in the New York metro area, LifeWay Network has offered short-term emergency safe housing since 2009, and in 2012 opened its first long-term transitional safe house for women who have suffered the experience of human trafficking (sex trafficking or labor trafficking). LifeWay goes beyond offering shelter by welcoming each woman into a supportive, caring environment that helps them recover from their trauma, regain their sense of self-worth, and move from isolation toward independence. Follow Lifeway on Facebook.
Seven Days of Prayer and Action to End Human Trafficking
Pray and take action during National Slavery and Human Trafficking Prevention Month and every month. Here is a seven-day program that you can use any time to raise awareness and work to end this form of abuse.
Day One—Building Awareness
Day Two—Looking Ahead

Day Three—At Risk

Day Four—Commercial Sexual Exploitation of Children

Day Five—Child Soldiers

Day Six—Working with Partners

Day Seven—Labor Exploitation

Click here to download the entire seven-day program.
Additional resources
A Toolkit for Action: Modern Slavery—Use the resources in this packet from the PC(USA)'s Human Trafficking Roundtable to examine the issue of human trafficking and develop a response. Download
"Together in Action" bulletin insert. Download
Freedom Network USA provides human trafficking awareness trainings among interested presbyteries.
U.S. State Department's Trafficking in Persons Report 2015
---
A Violation of Human Rights
Violations of human rights are both a cause and a consequence of human trafficking. Trafficking is a grave violation of human rights, the right to liberty and human dignity and the right not to be held in slavery or involuntary servitude. But trafficking is related to a wide range of other human rights violations as traffickers prey on those who are poor, under- or unemployed or who face discrimination. The PC(USA) promotes the integration of a human rights perspective into all antitrafficking laws, policies and procedures, domestic and international, so as to ensure the rights and well-being of children, women and men who have been trafficked. To learn more about how human trafficking is a violation of human rights, download the most current report from the U.N. Special Rapporteur on Trafficking in Persons, Especially Women and Children.
---
National Human Trafficking Awareness Day
Presidential Proclamation ——National Slavery and Human Trafficking Prevention Month, 2014
---