Beirut teens find pathway out of poverty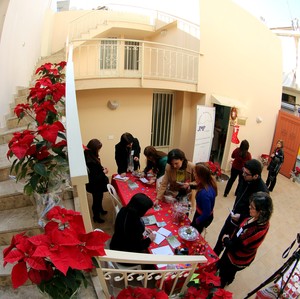 Unable to focus on their education while they work long shifts for below minimum wage, teenagers in Beirut are vulnerable to abuse, with little hope of escaping generational poverty.
The Jinishian Memorial Program in Lebanon has created a safe space where teens can study, get counseling and take part in vocational training to work toward their dreams. The Teen Development Program aims to empower girls who have been unable to complete their high school education because of social and financial hardships, thus paving a way through these challenges as they enter adulthood. Most importantly, the young women who participate grow in the confidence of knowing they are loved by God.
Having a peaceful space for this transformative work is a blessing made possible by the generous donation of Mr. and Mrs. Hovig and Maral Kurkjian, in memory of their parents Kevork and Varsenig Kurkjian. A complete renovation of otherwise condemned property in 2014 created a bustling annex to JMP operations in Beirut. Rotating student groups use the space alternately with gatherings for senior citizens, preventative women's health programs and more.
Three years ago, Anoush* had just completed a JMP chocolate-making training in an effort to help support her family when she came to the social worker, still desperately unable to make ends meet. Her family's debts had accumulated so much that they could no longer send their children to school. Unpaid and overdue rental and tuition payments, and missed installments on her husband's taxi license had overcome an otherwise healthy and able family.
Anoush had a dream of seeing her daughter Suzy* complete high school, attend university and get a degree. On the other hand, the family had lost hope for their son to go on even to 8th grade.
Suzy joined the Teen Development Program. Around the same time, JMP partner "Happy Childhood Foundation" provided an unexpected grant for children not attending school because of financial hardship. The social worker intervened on behalf of Anoush's children, and the school accepted both of them into the technical school program, giving a major discount on school fees and the opportunity to pay further discounted debts gradually. Through JMP's networking and grant access, Anoush's son will continue in technical school. Suzy completed her studies, passing the government exams and receiving the BT3 certificate. Now she is studying psychology at the Lebanese University.
Anoush is seeing her dreams for her children come true. With renewed hope and motivation, and she found a full-time job, uplifting her whole family.
By God's grace, JMP and the social worker's careful and persevering follow-through, Suzy along with others in the Teen Development Program at the Kurkjian Wing Youth Center are being enabled to move from poverty and despair to self-sufficiency and hope. Through group sessions and personal consultation, girls share about persevering in their studies, relating to their parents, siblings and peers, and meeting their financial needs while engaging core themes of truth, love, respect, fear and faith. Passionate educators work to give the girls not only knowledge and a secure environment but also love, hope and vision. As they look back at the end of the school year, teens are comforted and strengthened to see how they have grown, step by step--in their faith, education and relationships--along a new life path.
* Names changed for privacy.
Tags: