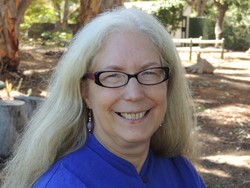 Read letters from Debbie Blane
Subscribe to Debbie Blane's letters
2015
May - Back in South Sudan!
February - An Easter Parable

2014
December - Egyptian, Sudanese Christmases
September - In Limbo
Summer - Interpretation Assignment
Winter - Heartbreak

Older Letters
Fall 2013
April 2013
March 2013
February 2013
January 2013
November 2012
October 2012
September 2012
June 2012
March 2012
February 2012
January 12, 2012
October 2011
September 4, 2011
August 2011
July 2011
June 2011
May 3, 2011
April 28, 2011
March 23, 2011
February 22, 2011
November 20, 2010
September 1, 2010
August 22, 2010
July 2010
May 14, 2010
April 24, 2010
March 7, 2010
February 15, 2010
January 17, 2010
December 17, 2009
November 25, 2009
For even older letters, contact Mission Connections
The 2015 Presbyterian Mission Yearbook for Prayer & Study, p. 139
Rev. Debbie Blane
Mission co-worker in South Sudan since 2009
Serving at the Nile Theological College
at the invitation of the Presbyterian Church of South Sudan
Blog: Debbie's Journey Continues
Give to Debbie's MinistryMeet Debbie in a VideoDownload Debbie's Prayer Card
Contact: Debbie Blane (debbie.blane@pcusa.org)
Debbie is periodically in the U.S. and available to visit with congregations. Email her to learn about her schedule and invite her to visit your ministry.
About Debbie Blane's ministry
Debbie serves as a lecturer in theology at the Nile Theological College (NTC) in Malakal, Republic of South Sudan. She teaches a wide range of programs to prepare pastors to serve in Presbyterian churches.
After Sudan gained independence in 1956, conflict gripped the nation until—through the courageous struggle of the Sudanese people—the Comprehensive Peace Agreement was signed in 2005. This agreement gave the people of South Sudan the chance to determine whether they wanted to become a separate nation; they voted overwhelmingly to do so in January 2011.
NTC was founded in 1991 by two Presbyterian churches, the Sudan Evangelical Presbyterian Church, which has its roots in Egypt, and the Presbyterian Church of the Sudan. Together they provide a Christian witness of hope to this deeply troubled area, now two nations. NTC provides training and education in both Arabic and English for the churches of Sudan, principally in the northern region of Sudan. It is now one college with two campuses, continuing its Arabic track in Khartoum in the North and the English track, relocated from Khartoum to Malakal, in South Sudan, where Debbie teaches.
Country context
In 2005 a peace accord was signed that ended a bloody 50-year civil war between rebels in the mostly Christian and animist south (mostly black Africans) and the predominately Muslim government based in the north (mostly Arabs). This fragile peace is holding, but conflict continues in the country's western region where government-backed Arab militia have killed thousands of fellow Arabs living in Darfur. Amid adverse circumstances caused by war and poverty, Christianity in Sudan is vibrant and growing. The PC(USA) has longstanding relationships with our two partner churches, the Sudan Presbyterian Evangelical Church, which serves northern Sudan, and the Presbyterian Church of Sudan, based in southern Sudan. The PC(USA) joins its partners in a holistic approach to ministry that includes education and leadership development, community development, evangelism, and new church development.

About Debbie Blane
Prior to accepting the call to serve in Sudan, Debbie worked for two years (2007–2009) with the Amity program in China. She was assigned to the China Pharmaceutical University in Nanjing, China, where she taught oral English to first- and second-year English majors.
"I did not see China coming," writes Debbie. "I felt called to international ministry and to college campus ministry. Teaching English is a bit off the beaten path for a minister, but what I found in my student teaching experience at St. Michael's College is that when I am with the students it feels as it did when I was at Trinity Lutheran College in a pastoral role—natural and fulfilling. I do not stop being a minister while teaching English; I am just doing God's work in a different setting."
Watch: Tender Transformations in South Sudan
Read: Mission co-worker pursues women's rights in war torn South Sudan
Prior to her departure for China Debbie held an uncompensated position at Trinity Lutheran College as assistant in the Biblical Studies Department, where she did pastoral care, mentoring and vocational counseling for pre-seminary students. Prior to this call, Debbie describes herself as a "full-time mom and student," having returned to college in 1992 and to seminary in 1997.
Debbie has a Master of Divinity from Fuller Theological Seminary in Seattle, Washington, and a bachelor's in Biblical studies from Trinity Lutheran College in Issaquah, Washington. To prepare for her work with Amity, she studied in the Applied Linguistics Department at St. Michael's College in Burlington, Vermont, in the English as a Second Language diploma program.
Debbie was ordained to the ministry of Word and Sacrament on September 29, 2002, by the Presbytery of Cascades.
She is the mother of two adult children, a son, Andrew, who works for a cell phone company in Sammamish, Washington, and a daughter, Elizabeth,who was married to James Fischl two days before Debbie left for her ESL training in Vermont. Debbie co-officiated at Elizabeth and James' wedding.
Birthday: August 26
Topics:
Tags:
Comments
Praies God, I am a student at westminster theological college in uganda. I am graduating for my bats in may 2013, i would like to lecture at nile theological college, malakal. how can i get in touch with the principal or any dean