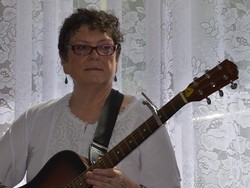 Read letters from Liz Searles
2015
March - Making the Invisible Visible

2014
Winter - NOROC Newsletter (PDF)
Christmas - Wait. Relate. Incarnate.
October - A Sorrow and a Success Story
September - Learning Center Opens
Lent - Character building
Winter- Big Hearted Grannies
February

Older Letters
Fall 2013
September 2013
August 2013
The 2015 Presbyterian Mission Yearbook for Prayer & Study, p. 320

Liz Searles
Mission co-worker in Romania 2013 - 2015
(previously in Poland)
Liz ended her mission service with PC(USA) in 2015 Thank you for your support of her service
About Liz Searles' ministry
NOROC, which means "God bless" or "good luck" in Romanian, was organized in 1997 to serve "the least of these." NOROC seeks to address root causes of poverty and stigmatization by offering orphaned children in the state institutions of Romania opportunities for education, life skills development, job training, and physical, spiritual, emotional and psychological nurture, including treatment for trauma and stress. NOROC requested a mission co-worker to assist its activities and programs for orphans and those leaving the orphanage system. Liz Searles was called to fill this position and is serving as an advisor to NOROC Foundation and children/youth worker. She will advocate for children's rights, develop and support programs, and work directly with institutionalized orphans, at-risk children and women. NOROC's goal is to help them gain access and inclusion in society, adequately care for themselves, and be contributing members of their communities.
Read: Living Missionally - Energizing Partnerships
Country context
Romania is a southeastern European country that borders the Black Sea and has a population of approximately 22 million. In its history Romania has seen many empires come and go, from the Roman to the Ottoman to the Austro-Hungarian. After the Soviet Union overran the country during World War II, it deposed the king and installed a Communist "people's republic" that controlled the nation for decades. The infamous dictator Nicolae Ceausescu came to power in 1965 and governed until he was toppled in 1989. Nevertheless, former Communists dominated the government until 1996, when they were removed from power. In recent years Romania has strengthened its ties with the European community, joining NATO in 2004 and the European Union in 2007. Still, Romania is a relatively poor country that has more than 70,000 orphans. Child abandonment is one of the unfortunate legacies of the Ceausescu period that lingers. Under Ceausescu, families were denied birth control and encouraged to have many children, then offer those they couldn't support to serve the state. State-run orphanages sought to raise children who had no family or religious loyalties—no loyalties to anyone but Ceausescu and the state.
About Liz Searles
Since growing up as the daughter of Presbyterian missionaries in Egypt and Palestine, Liz has sensed a call to a ministry of inclusion.
"My life's work has been driven by the desire to widen the circle gathered around Christ's welcome table," she says.
Liz's calling to bring people together led her to international service. Yet she says that every Christian, wherever they live, should be about shattering barriers that divide people. "All who call themselves 'Christian' are called to cross boundaries and to recognize our interdependence and common life," she says.
In Romania, Liz is striving to demonstrate God's love among people who experience widespread exclusion—the children living in state-run institutions in Tulcea County. "These are the 'least of these'—stigmatized and raised to accept a status that makes them less than integrated whole people," Liz says. "In addition, a disproportionate number of the institutionalized children in Romania are of Roma (Gypsy) ethnicity, and so have a second stigma, along with reasons to fear an ever more xenophobic Romania and Europe as a whole."
Against this backdrop, Liz says she will look to Deuteronomy 10:18 as a reminder of God's care for the disenfranchised. That passage says that God "defends the cause of the fatherless and the widow, and loves the foreigners residing among you, giving them food and clothing."
Liz will be accompanied by her husband, Doug, a retired pastor and former Presbyterian mission co-worker. They began international service together in 1997 and have worked in India, China, and Poland. They served in a variety of teaching, youth, and congregational ministries.
While experienced in cross-cultural ministry, Liz says that every context brings opportunities for growth as well as a new set of joys and challenges. "I hope to be stretched by new understandings of what it means to be human, to be a Christian and—working with Romanian Orthodox—to be church," she says. "The joy of international ministry is most often in the challenges—the daily challenges of learning how to build relationships and develop ministries in a new and unfamiliar culture, context, and tradition of being church."
Before discerning a call to international ministry, Liz worked as a college professor, writer, theatre company founder and administrator, radio station account executive, and paralegal. She holds a Ph.D. from Loyola University in Chicago and a B.A. and an M.A. from another Chicago institution, DePaul University.
Liz is a member of Schleswig United Church of Christ in Schleswig, Iowa.
Birthdays:
Liz - May 9

Topics:
Tags: