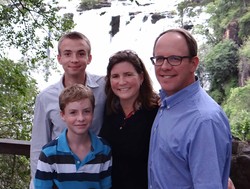 Read letters from Dustin and Sherri Ellington
Subscribe to Dustin and Sherri Ellington's letters
2016
March - We Are Not Our Own

2015
November - Be Cautious about Prophets
October - Challenges
June - Young Pastors, Big Challenges
March-Living 24/7 in a Culture not Her Own


Older Letters
December 2014 - Scholarships, Train Pastors
November 2014 - Jubilee and Mourning
September 2014 - Jump-Starting Life
June 2014 - Eager to Return to Zambia
March 2014 - Beyond What's Required
December 2013
October 2013
May 2013
March 2013
December 2012
November 2012
August 2012
May 2012
February 2012
December 2011
October 2011
September 27, 2011
September 19, 2011
May 31, 2011
January 31, 2011
November 25, 2010
September 19, 2010
August 17, 2010
August 6, 2010
April 27, 2010
The 2015 Presbyterian Mission Yearbook for Prayer & Study, p. 154
Rev. Dustin and Sherri Ellington
Mission co-workers in Zambia since 2010
Serving at the invitation of Justo Mwale Theological University College
Give to Dustin and Sherri's MinsitryDownload Dustin and Sherri's Prayer Card
Watch: A Shortage of Trained Pastors
Contact: Dustin Ellington (dustin.ellington@pcusa.org)
Contact: Sherri Ellington (sherri.ellington@pcusa.org)
Dustin and Sherri next be in the U.S. and available to visit congregations for two months during 2016. Email them to extend an invitation to visit your congregation or organization.
About Dustin and Sherri Ellington's ministry
Though the Bible isn't fragile, Dustin and Sherri Ellington believe it should be interpreted with care. Well-trained pastors who can faithfully proclaim the Scriptures is a growing need in southern Africa, and it drew the Ellingtons to Justo Mwale Theological College. This current assignment comes after serving for five years in theological education in Egypt.
"I would like to make an impact through investing myself in current and future leaders of the church in Zambia and surrounding countries," Dustin says. "As I teach people to interpret Scriptures for themselves and their ministries, my goal is to give them a skill that can make a difference in keeping them encouraged and sustained in their ministries."
The Ellingtons moved to Zambia with two sons, Clayton and Christopher, who have spent much of their growing up in Egypt.
Country context
Zambia has a population of 12.9 million people, which includes some 70 ethnic groups. An estimated 50 to 75 percent of the population identify themselves as Christian. Most other Zambians are either Muslim or Hindu. Presbyterianism was introduced into Zambia by Scottish missionaries in the 1860s. The churches in Zambia, like those in other parts of Africa, struggle with leadership needs because of fast growth. Zambia has a per capita gross domestic product of $1,500, which ranks it 200th among 227 countries of the world. In addition to poverty, Zambia struggles with the burdens created by the rapid spread of infectious diseases, including HIV/AIDS. According to a 2007 estimate, about 15 percent of the adult population is living with HIV/AIDS.
Read: Church leaders in Africa answer God's call - Dustin teaches biblical interpretation, his students teach him about faith
About Dustin and Sherri Ellington
"The reason we are living out our callings in mission service is that, although Dustin could teach and train leaders for the church in the United States, we see a more deeply felt need overseas," Sherri says." We are happy to be among those meeting it and having our own lives enriched in the process."
In mission service, Sherri has sensed a call to be a "soil preparer," who through prayer, friendship, teaching (both at church and school), conversation and writing helps people be ready to receive the Word and bear fruit. It's a role that she draws from the parable of the sower and the seed in Mark 4.
"Learning to live cross-culturally as a family is a challenge that demands patience, energy and imagination," Dustin says. "It also brings many of the deepest joys of cross-cultural ministry as we learn together and take on countless adventures."
Before their departure for Zambia, Sherri said she knew it would be challenging to live as a privileged American among people in deep poverty. Their dreams for affluence, she points out, may be a lifestyle that she would consider a nightmare. "The disparity challenged me in Egypt, and the challenge will probably be compounded many times over in this much poorer country."
Nevertheless, the Ellingtons headed to Zambia with a hope that is grounded in the good news of Jesus Christ.
"I am inspired by the opportunity that African believers have to give witness to the gospel while responding to the challenges of their continent," Dustin says.
Sherri sees her husband's ministry of training pastors as an important part of the Zambian church's ongoing growth and development. "However, I also look forward to learning more about the various development issues in Zambia," she adds. "I want to remain open to any ways the Lord might eventually guide me personally to be involved beyond my main call of helping our family adjust to and thrive in our new life."
Since the birth of their first child Sherri has been a homemaker. Prior to that, she taught in the Visalia Unified School District in Visalia, California, from 1995 to 1998. She was a teacher in San Mateo and San Francisco from 1992 to 1994.
Dustin holds a Ph.D. in New Testament from Duke University and an M.Div. from Princeton Theological Seminary in Princeton, New Jersey. He has a Bachelor of Arts in religious studies from Stanford University. Sherri also has a Bachelor of Arts from Stanford—hers is in human biology with an emphasis in child development. She is credentialed to teach elementary education.
Dustin was ordained to the ministry of Word and Sacrament in March 1995 by the Presbytery of San Joaquin. Sherri is a member of Triangle Presbyterian Church in Durham, North Carolina.
Birthdays:
Dustin - September 6
Sherri - May 5
Clayton - December 28
Christopher - June 6
Topics:
Tags: