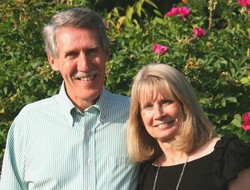 Read Letters from Rich and Marilyn Hansen
2014
August - The Impact of a Seminary
July - Four Years Under Construction
Spring - A Major Problem for Women

Older Letters
Christmas 2013 - Health care in Ethiopia
November 2013
October 2013
September 2013
Summer 2013
April 2013

March 2013
February 2013
November 2012
October 2012
September 2012
August 2012
June 2012
April 2012
March 2012
February 2012
December 2011
October 2011
August 2011
July 2011
June 2011
March 2011
February 2011
January 2011
December 2010
November 2010
October 2010
September 2010
Rev. Richard and Marilyn Hansen
Mission co-workers in Ethiopia since 2010
Serving at the Ethiopian Graduate School of Theology at the
invitation of the Ethiopian Evangelical Church Mekane Yesus
Blog: Meskel Musings
Richard and Marilyn ended their mission work in Ethiopia in summer 2014. Thank you for your support of the Hansen's ministry.
Marilyn and Richard are periodically in the USA. Email them or the Mission Connections office (Rachel.Anderson@pcusa.org) to extend an invitation to visit your congregation or organization.
About Rich and Marilyn Hansen's ministry
Rich Hansen is professor of systematic theology at the Ethiopian Graduate School of Theology (EGST) in Addis Ababa, serving at the invitation of the Ethiopian Evangelical Church Mekane Yesus (EECMY). EGST is the first graduate theological school in Ethiopia to offer master's level training in systematic theology, biblical studies and church history. It is supported by two denominations, the Ethiopian Kale Heywet Church and the Ethiopian Evangelical Church Mekane Yesus, and the Ethiopian Evangelical Churches Fellowship, an umbrella group for evangelical churches in Ethiopia. In addition to teaching systematic theology Rich serves as a role model and mentor for students. He is assisted by his wife, Marilyn, in this ministry. The school produces students who will be leaders in the fast-growing Protestant churches in Ethiopia. The groups that support the school represent approximately 9.2 million members.
Country context
Ethiopia is the second most populous country in Africa. It has been an independent country since ancient times, and unlike other African countries, it maintained its freedom from colonial rule except for a brief period of Italian occupation from 1936 to 1941. Its monarchy was overthrown in 1974 and the country is now a democratic republic. More than half of the population is Christian and a third is Muslim. While Ethiopia has struggled with severe poverty and hunger issues, it currently boasts one of the fastest-growing economies on the African continent.
About Rich and Marilyn Hansen
The needs of the world and the nudge of the Holy Spirit have sent Rich and Marilyn Hansen into mission service in Ethiopia.
"Serving in international mission has been in the back of my mind for a long time, but it became more and more of a call," Marilyn says. "Our exposure to living and serving in a different culture increased greatly through visiting our church's mission activities abroad and by visiting two of our children when they lived abroad. This stirred in us the sense that God was calling us for service outside the United States."
Rich is excited to pursue a teaching vocation outside the United States. As a seminarian, he thought he would spend his ministry as a college or seminary professor. "The Lord redirected me during a 'break' from academia, and I ended up spending 30 years as pastor," he says. He sensed it was time for another redirection, and he brings rich experience in pastoral ministry to the classroom. "It is the right time in our lives to pursue a new adventure, and our many positive experiences outside the United States prompted us to seek to serve the worldwide church," Rich explains.
The Hansens began looking toward international mission with an openness to serve anywhere God might lead. Nevertheless, they were eager to experience the life and ministry that awaited them in Ethiopia. "I value the faith of the Ethiopian Christians amid the poverty and other problems they face," Marilyn says.
Rich says his initial attraction to Ethiopia was the opportunity to teach systematic theology. "The more we learned about Ethiopia and the role of the Evangelical Graduate School of Theology within the Ethiopian church and nation, the more excited I was about the possibilities of making a significant impact in such a pivotal region in Africa," he says. "Many EGST graduates take up influential positions as leaders of denominations, secondary schools and other Christian institutions."
The Hansens' life in a developing country is a drastic change from life in the Central Valley of California, where Rich served for 22 years as senior pastor of First Presbyterian Church of Visalia. Still, they looked forward to developing relationships with students and faculty members at EGST and learning from them. "I was also excited about seeing God at work in a totally different setting than the one with which I am familiar," Marilyn notes.
Rich sees these relationships as providing a foundation for spiritual and personal growth. "I'm excited about slowly becoming immersed in a very different culture from my own and look forward to seeing my own culture, viewpoints and life in fresh ways as a result of these friendships."
In addition to his pastoral ministry, Rich has been an adjunct professor at Mennonite-Brethren Theological Seminary in Fresno, California, where for 10 years he has taught contemporary theology, Reformed theology and helped prepare Presbyterian students for their ordination exams. Prior to his pastorate in Visalia he was senior pastor at Palos Park Presbyterian Community Church in Palos Park, Illinois, and associate pastor of First Presbyterian Church in Greenville, Pennsylvania.
Rich holds a bachelor's degree from Iowa State University, a Master of Divinity degree from Bethel Theological Seminary, a Master of Theology degree from Princeton Theological Seminary, and a Doctor of Ministry degree from Fuller Theological Seminary.
Before their appointment Marilyn most recently was an English and math tutor for students at Sylvan Learning Center in Visalia. Previously she taught marketing and worked in marketing research. She holds a bachelor's degree from Iowa State and a Master of Business Administration degree in marketing from Youngstown State University.
Rich and Marilyn have three grown children, Nathan, Megan and Lauren. Their older children lived overseas for a considerable time after college graduation. Nathan and his wife spent a year in Cairo, Egypt, working for a Christian social service group, and Megan taught English at Chiang Mai University in Chiang Mai, Thailand.
While the Hansens developed deep roots in California's Central Valley over the past two decades, both Rich and Marilyn are native Midwesterners. Marilyn is from Iowa and Rich is from Nebraska.
Birthdays
Marilyn - October 20
Rich - December 20
Topics:
Tags:
Comments
Hey Rich I really miss our breakfasts at Denny's and the wonderful friendship. God has truly used you, but that's no surprise to me. God bless you. David