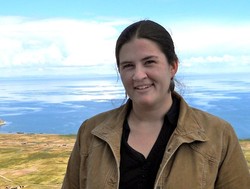 Read letters from Sarah Henken
2016
March - In the Household of God

2015
July - The Cost of Discipleship
March - Climate Justice


Older Letters
November 2014 - Seeing Anew
June 2014 - People vs. Profits
Winter 2014 - Voices in Ministry
October 2013
June 2013
December 2012
October 2012
June 2012
March 2012
December 2011
October 2011
May 2011
December 2010
October 28, 2010
The 2015 Presbyterian Mission Yearbook for Prayer & Study, p. 44
Rev. Sarah Henken
Mission co-worker in Colombia
Serving as World Mission's regional liaison for the Andean region, South America—Bolivia, Colombia, Ecuador, Peru and Venezuela
Blog: Andean Journey
Give to Sarah's MinistryDownload Sarah's prayer card
Contact: Sarah Henken (sarah.henken@pcusa.org)
Sarah periodically visits the USA. Email her to learn her schedule and extend an invitation to visit your congregation or organization.
About Sarah Henken's ministry
Sarah Henken was appointed regional liaison for the Andean region in July 2010. She provides support for partner ministries, implements regional strategies, and strengthens the work of mission personnel by providing guidance and assistance. She also facilitates the work of grassroots Presbyterians from the United States who are directly involved in mission in the region—Bolivia, Colombia, Peru and Venezuela.
Regional context
The Presbyterian Church (U.S.A) works with church partners in each country of the Andean Region. The partner churches include the Presbyterian Church in Bolivia, the Presbyterian Church of Colombia, the Evangelical Presbyterian and Reformed Church in Peru, and the Presbyterian Church of Venezuela. There are significant linkages between PC(USA) congregations and the region's churches and other groups through the Joining Hands program of the Presbyterian Hunger Program. Joining Hands is active in both Bolivia and Peru and seeks to address the root causes of poverty and injustice. The Andean Region has abundant natural resources, but unfortunately the wealth generated from these resources benefits a small percentage of the population.
Read: Uprooted by force: Displacement and eviction in Colombia
Read: The Mission Example of the Colombia Accompaniment Program -Dallas II: Better Together
Read: Putting faith into action, about Sarah's life and call to mission service
About Sarah Henken
Sarah's appointment represents the continuation of a journey of ministry in Latin America that she began as a new college graduate in 2002. She served for a year in the PC(USA)'s Young Adult Volunteer program in Uruguay and in 2004 was invited to serve for one year as the interim Young Adult Volunteer site coordinator in Argentina. "My years in Argentina and Uruguay with the YAV program helped me develop a fluency in both Spanish language and Latin American culture," she says. "I view this as a gift from God, which I want to honor with my life and ministry."
After leaving Argentina, Sarah completed an M.Div. degree at McCormick Theological Seminary in Chicago and served for three years as coordinator of the PC(USA)'s ministry of accompaniment in Colombia. This program sends Presbyterian volunteers from the United States to Colombia to accompany church leaders and human rights workers amid the violence of that nation's civil war. Clergy and others who speak out against violence are often the targets of threats. The presence of U.S. citizens and other people with connections to the international community tends to discourage threats. The accompaniment program is a partnership between the Presbyterian Peacemaking Program, Presbyterian World Mission, and the Presbyterian Peace Fellowship.
Sarah's experience in Latin America has taught her the value of sharing the journey of life with others. This is a trait that serves her well as she works with diverse constituencies as regional liaison. "Accompaniment is an important model for the life of the church," she says. "When we walk together, we are not divided into leaders and followers, helpers and people in need. We walk together because it is not good for us to be alone. And by walking together, we learn what it means to be one community called to a common journey, following Christ."
Sarah approaches her present role realizing that her effectiveness hinges on both the tasks she performs and the life she leads. "I am committed to modeling the pursuit of peace in my own life and relationships," she says, "and I thrive on encouraging others to join me in seeking to be a faithful disciple of our Lord Jesus in responding to our communities and world as we strive to be, in word and deed, the one body of Christ."
As Sarah began the latest chapter in her life of mission service, she said she wants to bear in mind Jesus' approach to ministry when he encountered the two blind beggars calling out for mercy. Matthew 20:32 notes that Jesus listened attentively and asked an important question: "What do you want me to do for you?" The story demonstrates that love of neighbor depends on getting to know your neighbor, Sarah says. "We might see in this story that Jesus was willing to stop and take time out from his agenda in order to listen to the request of those in need. Or perhaps we might see that Jesus' agenda was not interrupted but advanced by this apparent detour of compassion."
Sarah readily embraces her new assignment as being an opportunity to live out her calling. "The Christian life is a journey to be shared, and I find a new fruitfulness and vitality spring forth when I am involved in life and ministry in Latin America."
Sarah was born and raised in Los Angeles, California, and grew up in First Presbyterian Church of Gardena. She joined Shadow Hills Presbyterian in Sunland, California, in 1997 and was ordained as a minister of Word and Sacrament by San Fernando Presbytery on September 12, 2010, before moving to La Paz, Bolivia. In addition to her seminary degree from McCormick she holds a bachelor's degree in music and Spanish literature from Occidental College in Los Angeles.
Birthday: February 3
Topics:
Tags: