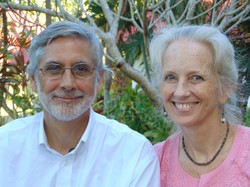 Read letters from Les and Cindy Morgan
Subscribe by RSS feed to their letters
2015
March - The Gospel of Caring

2015
December - Begotten, Not Made
August - Out of the Boat, Into the Waves
May - Empowered for Mission
January - 2014: Service and Encouragement

Older Letters
October 2014 - Waiting, Patient Expectation
July 2014 - Learning Healing, Finding Peace
May 2014 - The Journey to Symon's Place
Late Winter 2014 - A Year of Connecting
Winter 2013
September 23rd 2013
June 25th 2013
March 2013
November 2012
September 2012
June 20, 2012
April 2012
August 31, 2011
March 14, 2011
July 30, 2010
December 16, 2009
September 19, 2009
April 17, 2009
For older letters, contact Mission Connections
The 2015 Presbyterian Mission Yearbook for Prayer & Study, p. 232

Les and Cindy Morgan
Mission co-workers in Bangladesh since 1989
Serving at the invitation of the Church of Bangladesh
Mailing address:
HC 33 Box 53A
Pettigrew, Arkansas 72752
Give to Les and Cindy's ministryDownload the Morgans' prayer cardVideo: Learn about the Morgan's ministry
Contact: Les Morgan (leslie.morgan@pcusa.org)
Contact: Cindy Morgan (cindy.morgan@pcusa.org)
Cindy and Les will next be in the USA April - September 2016. Email them to extend an invitation to visit your congregation or organization.
---
About Les and Cindy Morgan's ministry
Les and Cindy Morgan help the Church of Bangladesh grow its capacity to carry out its ministry of healing in the name of Christ. At the denomination's St. Andrews Theological College, Les teaches classes on the physical, psychological, social, environmental, and spiritual dimensions of health and equips future church leaders to engage these issues with theological understanding. Cindy teaches a course on spiritual formation and leads quarterly retreats for students. Les and Cindy also advise and train workers for the church's 15 community health programs, which serve people with the most marginalized lives in Bangladesh in settings ranging from the remote rural communities to crowded inner city neighborhoods. In addition, they offer consultation and training to the staffs at the Church of Bangladesh's two hospitals and its two nursing schools. They keep in touch with the health issues faced by the people the church seeks to serve by providing direct patient care at small community clinics.
Country Context
Bangladesh is one of the most densely populated countries in the world. It has a population of more than 166 million and is the world's eighth most populous country. Poverty is deep and widespread in Bangladesh, and it ranks among the lowest in human development in Asia. However, in recent years Bangladesh has made some strides in reducing population growth and in improving health care and education. Most of the people in Bangladesh work in the agricultural sector, but it is unable to meet the demand for jobs, so many Bangladeshis leave the country to find employment. Nearly 90 percent of the population is Muslim and almost 10 percent is Hindu. Fewer than one half of one percent is Christian. Christians suffer from rampant discrimination based both on religion and ethnicity since most Christians are not Bengali, an ethnic group comprising 90 percent of the population. The Church of Bangladesh, the Presbyterian Church (U.S.A.) partner church in the country, traces its roots to the work of English Presbyterian and Anglican missionaries. The PC(USA) has been in partnership with the church since 1992, a relationship the Morgans helped establish during their first term as mission co-workers.
About Les and Cindy Morgan
The teeming metropolis of Dhaka, a city with more than 16 million people, is the base of Les and Cindy's multi-faceted health ministry.
"With more than 100,000 people per square mile," they write, "the traffic, the crowds, and the filth can be overwhelming. Although living here is definitely a challenge, opportunities for service abound. Here we are blessed to be able to live out our passion—to embody the loving presence of Christ for those who suffer."
The Morgans raised three children in Bangladesh. Their oldest child, Laura, is now married and works as an immigration lawyer in Minneapolis. She is the mother of Lewis Everett Trosen, the Morgan's first grandchild. Their youngest child, Stewart, is married and works as a psychological counselor in Springfield, Missouri. The Morgans lost their middle child, Everett, to bone cancer in 2008.
Les was born in New Orleans and raised in Shreveport, Louisiana. He earned his B.A. in biology from Colby College in Waterville, Maine, and his M.D. from the Louisiana State University School of Medicine in Shreveport. He later earned an M.T.S. in biblical studies at Harvard Divinity School in Cambridge, Massachusetts, and an M.P.H. in international health at the Johns Hopkins School of Public Health in Baltimore, Maryland. He is certified by the American Board of Internal Medicine.
Cindy was born in Lake Charles, Louisiana, and grew up traveling throughout the southern United States and Europe with her Air Force family. She received her B.S. in zoology from Northwestern State University of Louisiana in Natchitoches, her M.D. from the Louisiana State University School of Medicine in Shreveport, and her M.P.H. in international health from the Johns Hopkins School of Public Health. More recently she earned a Certificate in Spiritual Formation at Columbia Theological Seminary in Decatur, Georgia, and a Diploma in the Art of Spiritual Direction at San Francisco Theological Seminary. She is certified by the American Board of Preventive Medicine and ordained to the office of ruling elder in the PC(USA).
The Morgans are members of First Presbyterian Church in Shreveport, Louisiana.
Birthdays:
Les - September 15
Cindy - August 11
Topics:
Tags: