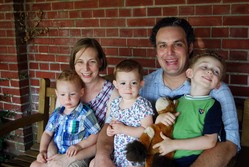 Read letters from Jonathan and Emily Seitz
Subscribe to Jonathan and Emily Seitz's letters
2015
Christmas - Exceptional Pastors
September - Balancing Work and Family
June - Graduation Day 2015
April - Annual Ministry Update, 2014
March - Lessons from Jonah

2014
Christmas - Gift-Giving
June - Summer Days
May - Sunflower Student Movement
Spring - A walk through Tamsui

Older Letters
Advent 2013
Fall 2013
June 2013
January 2013
Christmas 2012
September 2012
July/August 2012
June 2012
March 2012
January 2012
Christmas 2011
October 2011
Mid-Summer 2011
Easter 2011
March 2011
February 2011
January 2011
Christmas 2010
November 2010
October 2010
September 6, 2010
April 12, 2010
For older letters, contact Mission Connections
The 2015 Presbyterian Mission Yearbook for Prayer & Study, p. 253

Rev. Jonathan and Emily Seitz
Mission co-workers in Taiwan since 2009
Serving at the invitation of the Presbyterian Church of Taiwan
Give to Jonathan and Emily's MinistryDownload Jonathan & Emily's prayer card
Write to Jonathan Seitz (jonathan.seitz@pcusa.org)
Write to Emily Seitz (emily.seitz@pcusa.org)
Jonathan and Emily will next be in the U.S. February - June 2016. Email them to invite him to speak with your congregation or organization.
About Jonathan and Emily Seitz's ministry
Jonathan and Emily Seitz serve at the invitation of the Presbyterian Church of Taiwan. Jonathan teaches at Taiwan Theological College and Seminary in Taipei, the capital of Taiwan. Most of Jonathan's students are preparing for pastoral ministry. Emily serves in team ministry but hopes to work in a library or teach library science in the coming years. They have three children; their twins were born in Taiwan.
The earliest Presbyterian missionaries came from England and Canada and had a profound impact on the country. They opened hospitals, schools and churches, many of which have been quite influential. Taiwan Seminary is by some measures the oldest modern school of higher education in Taiwan, founded by George Leslie Mackay in 1872. Its graduates serve primarily in Taiwan, usually working in small, rural churches.
Country context
Taiwan is an island nation. It sits between China and Japan, has at times been occupied by each, and is one of the "four dragons" of East Asia, known for its rapid economic change. The Presbyterian Church of Taiwan (PCT) has roots that reach back to 1865. Taiwan is a diverse country, something that is rare in the region. The older generation often speak Taiwanese and Japanese, while young people most often learn Mandarin and English. "Aborigines," the original residents of Taiwan, make up only 2 percent of the population, but about a quarter of the church. The island has larger Hakka (14 percent) and mainlander (15 percent) populations, although a majority of the population are Taiwanese (70 percent). For more than half a centuryTaiwan has functioned as an independent state, but mainland China considers it a renegade province. Taiwan issues its own currency, supports an advanced economy, and maintains a technologically sophisticated military, but it lacks a seat at the United Nations and has formal diplomatic ties with only two dozen nations. Some in Taiwan want the country to declare its independence from China immediately and seek more inclusion in the international community. However, public opinion is divided over the issue.
About Jonathan and Emily Seitz
Jonathan and Emily lived briefly in Taiwan in 2005 and 2006, which inspired them to return as mission workers in 2009. Emily describes how she felt called to this ministry: "We got to know [PC(USA) mission worker] John McCall when we spent time in Taiwan, and he was very inspiring." While in Taiwan she was moved by the Christians there. "It was inspiring to see the courage of Christians who are a tiny minority of the population but have a vibrant faith. This helped me to put my own faith into perspective."
"One of the biggest influences on my prayer life," says Jonathan, "was being part of the seminary community at Taiwan Theological Seminary. At meals and before classes, during Bible studies and in worship, Taiwanese students and teachers prayed. Taiwanese sometimes pray kaikou, or 'open mouthed,' a format where the whole group or congregation will sort of mumble their prayers together. At first, this seemed quite alien to me, and only gradually did it become familiar and even meaningful. The time we spent as part of this community reconverted me."
Before accepting this call to Taiwan, Emily was a children's librarian at the South Brunswick Public Library in Monmouth Junction, New Jersey. She helped organize a book club and creative writing programs for fourth and fifth graders. Prior to that, she worked as a youth services librarian at the Princeton Public Library in Princeton, New Jersey, as the associate reference librarian at the Mercer County Library in Lawrenceville, New Jersey, and as a reference intern at the South Brunswick Library in Monmouth Junction, New Jersey. She also worked as a secretary at Princeton's Institute for Advanced Study and served for a year as an immigration and multicultural services assistant at Catholic Social Services in Atlanta, Georgia, where she translated documents from Spanish to English and helped clients find employment.
Though he grew up in the United States, Jonathan was born in Congo of missionary parents and baptized by an African pastor in Tshiluba, so serving abroad was something he had always considered. During and after his Ph.D. studies, Jonathan was a teaching assistant at Princeton University in East Asian history and Buddhism and at Princeton Seminary in Early Church history, world Christianity and world literature, and Presbyterian history and theology. He taught study-abroad students in China in 2007 and was an assistant professor in world history at Centenary College, Hackettstown, New Jersey, from 2008 to 2009. He also taught classes at Princeton Seminary as an adjunct professor, including one called "From Missions History to World Christianity" in which he invited PC(USA) mission workers Karla Koll and Ted Wright as guest speakers. He worked in youth ministry in different churches during and after seminary and first felt called to Taiwan while serving as the youth director at Grace Taiwanese Presbyterian Church in Lawrenceville, New Jersey. He was ordained during the regular worship of the congregation on a Sunday afternoon in July 2005.
Emily holds a bachelor's degree in English from the College of Wooster in Wooster, Ohio, along with a master's degree in library and information science from Rutgers University in New Brunswick, New Jersey. She is currently a doctoral candidate in library and information science at Rutgers and hopes to finish and defend her dissertation in 2012.
Jonathan earned a bachelor's degree in history from the College of Wooster in Wooster, Ohio. He spent his junior year in Beijing and a Fulbright year in Singapore. He then earned an M.Div. from Princeton Theological Seminary in Princeton, New Jersey. His master's work included field education in Ghana at the Tamale Institute for Cross Cultural Studies. In May 2007 Jonathan defended his dissertation in the History Department and earned his Ph.D. (with a concentration in mission, ecumenics and the history of religion) from Princeton Theological Seminary.
Emily was ordained as an elder in November 2007 and is a member of Westminster Presbyterian Church, Trenton, New Jersey. Jonathan was ordained to the ministry of Word and Sacrament in July 2005 and is a member of New Brunswick Presbytery. Jonathan and Emily have three children: Samuel, who is beginning primary school and studies in both Chinese and English, and twins, Eva and Eli, born in 2010 in Taiwan.
Birthdays:
Emily - June 6
Jonathan - June 29
Samuel - March 21
Eva - October 29
Eli - October 29
Topics:
Tags: