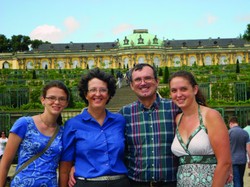 Read letters from Alan and Ellen Smith
Subscribe by RSS to Al & Ellen's letters
2016
March - Both Hospitality and Aid

2015
December - Al/Ellen - Troubling Times
July - Al - Summer = Camps
June - Ellen - New Church Partners
June - Ellen - A Visit to L'Arche
April - Al - Planning Summer Camp
March - Ellen - Shared Memories
February - Ellen - Brothers/Sisters in Russia

Older Letters
November 2014- A visit to Russia, no bears
October 2014 - Ellen - A Powerful Witness
October 2014 - Al - If you build it...
September 2014- Al- Partnering, Bible Camp
May 2014 - Ellen-Dealing,Childhood Trauma
Spring 2014 - Al - A Visit to Russia
February 2014 - Ellen
Fall 2013 - Ellen
October 2013 - Al
August 2013 - Ellen
July 2013 - Al
March 2013 - Al
March 2013 - Ellen
February 2013
December 2012
November 2012
October 2012
August 2012
June 29, 2012
June 2012
April 2012
March 2012
February 2012
January 2012
December 2011
Thanksgiving 2011
November 2011
August 23, 2011
June 2011
November 2010 (3)
November 2010 (2)
November 2010
July 21, 2010
April 12, 2010
February 8, 2010
February 4, 2010
December 4, 2009
December 2, 2009
November 18, 2009
October 30, 2009
September 21, 2009
September 3, 2009
July 1, 2009
June 8, 2009
May 25, 2009
April 16, 2009
February 17, 2009
For older letters, contact Mission Connections
The 2015 Presbyterian Mission Yearbook for Prayer & Study, p. 333

Alan and Ellen Smith
Mission co-workers based in Germany, serving also in Russia and Belarus
Serving as Regional Liaison, Eastern Europe (Ellen) /
Outreach Facilitator for Minority Peoples, Russia (Alan)
Give to Al and Ellen's MinistryDownload Al and Ellen's prayer card
Contact: Al Smith (al.smith@pcusa.org)
Contact: Ellen Smith (ellen.smith@pcusa.org)
Alan and Ellen are periodically in the USA.
Email them to extend an invitation
to visit your congregation or organization.
About Alan and Ellen Smith's ministry
As regional liaison for Eastern Europe Ellen Smith facilitates Presbyterian Church (U.S.A.) support for partner programs, relationships and activities and will implement Presbyterian World Mission strategy. She also supports PC(USA) mission personnel in communications, information sharing, mentoring/guiding, and missiological reflection. In addition, she and her husband, Al, facilitate a congregational twinning program, pairing U.S. Presbyterian congregations with congregations in Russia.
Al's primary duties relate to the ministries of PC(USA) partners among minority groups in Russia. This includes the Roma people, formerly known as gypsies, who have been marginalized for generations. He also works with refugees from Africa and Asia who have come to Russia in recent years and who have no legal rights and face extreme discrimination.
Al and Ellen Smith and their ministry partners are committed to breaking down barriers that divide people. Ellen likes to tell of the reconciliation efforts of Father Vladimir Klimzo, an Orthodox priest who serves in the small Russian village of Davydovo. Father Vladimir is involved with a ministry with special needs children and their families. "These families so often feel like outcasts in a society that for 70 years institutionalized those with special needs," Ellen says. "People are not used to seeing them and too often react unkindly." In order to protect children from insults, the parents often isolate themselves and their children. Father Vladimir wants to change that, so he is reaching out to children with cerebral palsy, blindness and deafness.
Ellen arranged for Father Vladimir and other Russians engaged in special needs ministries to visit programs in Germany that serve people with special needs. She is also seeking specialists and other resources from the United States that will help them develop their model. Father Vladimir has a small farm that he hopes will someday provide employment for people with special needs. He already has acquired 35 head of cattle. "We ask for your prayers for this developing ministry; that their steps would find solid ground, guided by the Holy Spirit and that others might join them in the journey," Ellen says.
In his outreach to minority peoples Al works with partners like Andrey Beskorovainiy, a Roma pastor in Russia, who strives to help Roma people experience full inclusion in the church and society. While visiting a Roma camp in Carpath-Ukraine, Al and Andrey saw how severe the Roma's alienation can be. People were living in ramshackle housing made of homemade bricks and plywood. "How anyone survives a winter is a mystery," Al says. "The camp is very crowded; men, women, children, and stray dogs wander everywhere, and few people are able to find gainful employment." Al was heartened that a nearby Reformed congregation was tending to the physical and spiritual needs of the people in the camp. Andrey preached in the camp, and the Roma were gratified to hear a sermon delivered by a Roma minister. The Roma in Russia also face serious challenges, Al notes. "It's pretty unusual for Roma to go to school through the 10th grade like most Russians do. They wind up as people with very limited job skills."
Regional context
When communism fell in the late 20th century, the freedom for Christians in Eastern Europe to practice their faith was greatly expanded. The Presbyterian Church (U.S.A.) has accepted the invitation of several of the region's historic churches to accompany them in this new chapter of ministry. Expanded freedoms have helped Eastern Europe recover a rich and diverse history, but they have also brought to the forefront many ethnic and nationalistic tensions that were repressed when the region was dominated by the Soviet Union. Al and Ellen Smith and other mission co-workers are helping PC(USA) partner churches in the region in ministries that seek to move Eastern Europe beyond those historic tensions toward a more harmonious future.
About Al and Ellen Smith
For several years Al and Ellen's ministry in Russia has included facilitating relationships between U.S. Presbyterian congregations and Russian congregations. This program of twinning congregations has strengthened congregations in both countries, they say. It also makes a positive statement about the gospel's ability to overcome barriers.
"When we come together across so many boundaries, the unity we have in Christ is transformative," Ellen says. "The witness we share with non-believers when Russian and American Christians work together as servants in camps, orphanages, outreach, drug rehabilitation, family ministries and other projects is powerful."
Prior to entering mission service Al and Ellen were both secondary school teachers in North Carolina. Al practiced law before becoming a teacher. Both earned undergraduate degrees from Carleton College in Northfield, Minnesota, and Al holds a law degree from the University of Minnesota in Minneapolis.
Al and Ellen are both ordained to the ministries of ruling elder and deacon and are members of MacPherson Presbyterian Church in Fayetteville, North Carolina. They are accompanied in mission service by a teenage daughter, Emma. They also are the parents of two adult daughters, Allison and Margaret.
Birthdays:
Al - December 18
Ellen - April 16
Allison - December 14
Margaret - November 8
Emma - October 9
Topics:
Tags: