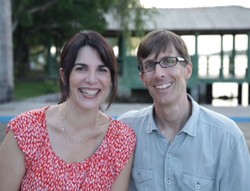 Read letters from Renée and Justin Sundberg
Subscribe to Renée and Justin's letters
2015
November - Vampire Bats Cannot Drain Hope
September - Hues of Relationship
June - A Preposition You Can't Refuse
April - Annual Minsitry Update, 2014
March - "Scrabbling"

2014
December - Quakes (of Earth and Hearts)
October - Orienting: Up, Out, and Back
Summer - Our First Week in Nicaragua
February
The 2015 Presbyterian Mission Yearbook for Prayer & Study, p. 65

Rev. Renée and Justin Sundberg
Mission Co-Workers in Nicaragua since 2014
Serving at the invitation of Council of Evangelical Churches of Nicaragua (CEPAD)
Give to Renée and Justin's MinistryDownload Justin and Renee's prayer card
Contact: Renée Sundberg
Contact: Justin Sundberg
Renee and Justin will next be in the U.S. and available for speaking engagements June - July 2016. Email them to extend an invitation to your congregation or organization.
About Renée and Justin's Ministry: The Council of Evangelical Churches of Nicaragua (CEPAD) works to improve the lives of economically impoverished communities by promoting justice and peace. Groups from the United States visit Nicaragua frequently to participate in the ministries of CEPAD. Justin and Renée will receive visiting groups, coordinate their activities to reflect the priorities of CEPAD, set up in-country logistics, plan the educational program with delegation leaders, and lead reflections with people who visit. They also will facilitate partnership relationships between US churches and Nicaraguan churches and institutions.
Country Context: Nicaragua declared its independence from Spain in 1821 and has functioned as an independent republic since 1838. Its Caribbean coast was under the control of the British in the first half of the 19th century, but gradually the area was ceded to the Nicaraguan government. In the 1970s, violent protests against governmental corruption and manipulation led to a civil war that brought the Marxist Sandinistas to power. The Sandinistas governed Nicaragua until 1990 when President Daniel Ortega lost the election. He also was defeated in 1996 and 2001, but he successfully sought the presidency in 2006 and was reelected in 2011. Though one of the poorest countries in Latin America, Nicaragua in recent years has been able to increase access to potable water, boost life expectancy, reduce infant and child mortality, and raise immunization rates. The Presbyterian Church (U.S.A) began its involvement in Nicaragua in 1972 in response to a massive earthquake that devastated the capital city of Managua. Nearly 60 percent of Nicaraguans are Roman Catholics and Protestants compose almost a quarter of the population. Most other Nicaraguans belong to sectarian groups or claim no religious affiliation.
About Renée and Justin Sundberg: Renée and Justin believe three wonderful things happen when people from the United States connect to the needs of Nicaraguans.
"Nicaraguan hearts are filled with hope, North American hearts get patched up, and real economic change can take root in Nicaragua," Justin says.
Renée and Justin will strive to facilitate the changing of hearts and circumstances as they coordinate the visits of US Presbyterians in Nicaragua. Groups visit Nicaragua expecting to experience new adventures and help Nicaraguans, Justin observes. "But their blessing will be greater still as they seek to give themselves in service," he explains. "Their personal poverties will be laid bare and God will meet them. We are very excited facilitate this and create a space for it."
Renée says short-term mission trips provide an opportunity to step away from frantic and busy lives and gain new perspectives. "We don't really know just how much we are conditioned by our culture and socialized to hold its values and beliefs," she notes. "God's word rights us. Diligent listening and prayer can buoy and center us. But so can completely stepping away from all that we know, leaving the US and opening ourselves to something completely new, especially when that something is people, people who live in a resource-poor world. Jesus becomes visible and alive to us in ways that we never have imagined."
Prior to entering mission service, Renée and Justin lived in a Seattle community that's home to some very rich people, some very poor people and much cultural diversity. "We have often felt most complete when we are around others who are different than us," Justin says.
Their appreciation for diversity helped fuel their interest in mission service. "We've been planning and praying toward this end for nearly 20 years," Renée says. "We were thrilled when the opportunity came our way."
Renée begins her ministry in Nicaragua after serving 11 years as associate pastor of community life at Seattle's University Presbyterian Church. Previously, she served as executive director of Professional Women's Fellowship, a Seattle organization that supports women in the workplace. She received a B.A. degree from the University of Washington and an M.Div. from Princeton Theological Seminary. Renée is a Princeton trustee and a member of Seattle Presbytery.
Justin worked for thirteen years with Agros International, an international development organization based in Seattle. He first served Agros as a senior office manager and later as a resource development associate. He also has been an executive assistant for a financial services company, a high school Spanish teacher and worked on the development team at the 5th Avenue Theatre in Seattle. Justin earned a B.A. degree from the University of Minnesota and an M.Div. from Princeton Seminary. He is a member of University Presbyterian Church.
The couple will be accompanied in Nicaragua by their four children, Autumn, Jack, Cassie, and Ethan.
Birthdays:
Renee - November 25
Justin - May 21

Topics:
Tags: