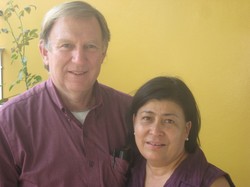 Read letters from Tim and Gloria Wheeler
Subscribe to Tim and Gloria Wheeler's letters
2016
January - Sustaining Mission

2015
September - Presbyterian Day in Trinidad
March - The Passion of Christ, Easter
February - Building a Better Future
Older Letters
December 2014 - Living Into the Future
Fall 2014 - Eat and Drink at My Table
July 2014 - Passing on the Gift
April 2014 - Falling and Rising Again
Spring 2014 - Transforming lives
Winter 2014 - Community Transformation
Advent 2013
Fall 2013
July 2013
Summer 2013
April 2013
March 2013
February 2013
December 2012
October 2012
September 2012
August 2012
June 2012
May 2012
April 2012
March 2012
February 2013
December 2011
November 2011
October 2011
September 2011
June 2011
April 2011
March 2011
December 2010
November 2010
August 2010
June 2010
April 2010
December 2009
For older letters, contact Mission Connections
The 2015 Presbyterian Mission Yearbook for Prayer & Study, p. 68

Tim and Gloria Wheeler
Mission co-workers in Honduras
Serving with Heifer Project International and the Presbyterian Church in Honduras
Give to Tim and Gloria's MinistryDownload Tim and Gloria's prayer card
Contact: Tim Wheeler (tim.wheeler@pcusa.org)
Contact: Gloria Wheeler gloria.wheeler@pcusa.org)
About Tim and Gloria Wheeler's ministry
Heifer International, a U.S.–based non-profit organization, strives to end poverty and hunger by providing livestock and training to struggling communities. Working through a covenant relationship between the Presbyterian Church (U.S.A.) and Heifer, Tim Wheeler is an advisor to the organization's Americas Program and facilitates its processes and workshops. He also assists with program reviews and planning. Tim's wife, Gloria, coordinates the mission team program for the PC(USA) and Heifer International. Mission teams come to assist in community improvement programs in rural communities and also in urban settings through the Presbyterian Church in Honduras' ministry in Tegucigalpa, the largest city in Honduras.
Country Context
Honduras is a largely mountainous, sparsely populated country at the hub of Central America. Once the center of the Mayan empire, Columbus landed there on his fourth voyage, in 1502, and named the region Honduras ("in the depths"), perhaps impressed by ridge after rolling ridge of pine-covered mountains. During the 20th century, when the military did not actually hold direct power in Honduras, they often had huge indirect power. Nevertheless, important social reforms began in 1954 with a national strike, more social reforms followed in the 1960s, and land reform came in the 1970s (with military support). Democracy returned in 1982, and in the 1990s the military influence in civilian government was greatly curbed. In recent years the weakness of public institutions has become evident as they struggle to respond effectively to present-day challenges, including the growing demands of a populace empowered by democracy. Although the per capita income of Honduras is one of the lowest in Latin America, it has improved slightly in recent decades. The PC(USA)'s partner church in Honduras, the Presbyterian Church in Honduras, is just 50 years old and was founded by missionaries from the National Evangelical Presbyterian Church of Guatemala. The Guatemalan church was founded in 1882 by Presbyterian missionaries from the United States.
About Tim and Gloria Wheeler
Tim and Gloria Wheeler see God's hand at work as Hondurans strive to improve their communities.
Looking through the lens of faith, the Wheelers saw God's providence in action in a poor rural community where a school once seemed to be an impossible dream. Yet God planted a vision in the minds of the people in the community and the Wheelers, and the dream became a reality. "A school was built to serve these marginalized people in a month's time by using the formula of coordinating with a local government, which provided some of the funding, and a mission team that provided building skills as well as some resources," Tim says. "Honduran young people who had learned building skills in some house-building projects worked with mission team members, and the school was built in record time."
The community previously had been ignored by the government, but Tim and Gloria played a role in changing that by bringing together the community, a mission team, and the local government. "When we see a local government turning to work with some of the poorest people in its jurisdiction, we know it is the will of God for this to happen," Gloria says.
In his work with Heifer, Tim says he is energized when people work together to make community programs more effective. "Then I know that progress will begin to be made in overcoming the terrifying symptoms of poverty and powerlessness," Tim says, "and that the quality of life will improve as part of a transforming process when people are afforded new opportunities for the first time in their lives."
Tim and Gloria say they are inspired by Jesus' teaching in Matthew 22:37-39 to love God with all of your heart, soul, and mind and to "love your neighbor as yourself." They also find great meaning in 1 John 3:18's instruction to "let us love not with words or tongue but with actions and in truth."
"As we strive to base our mission focus on 'loving your neighbor as yourself' and showing this 'with actions and in truth,' our challenge becomes real every day with the people we come into contact with in our mission assignment," Tim says.
Tim, a native of New York, holds a B.A. in history from Guilford University in Greensboro, N.C., and an M.A. in Latin American studies from American University in Washington, D.C. Gloria grew up in Honduras and earned a B.A. in public administration from the National University of Honduras.
Tim and Gloria have been married since 1978 and are the parents of three adult daughters, Marsha, Pamela, and Grace.
Birthdays:
Tim - December 11
Gloria - March 14
Pamela - June 15
Marsha - June 15
Grace - February 10
Topics:
Tags:
Comments
Our daughter is graduating early from high school (in late Nov 2011). She would like to serve in mission for 1-2 months as a pre-college experience. We have been doing a lot of searching for a program that "fits", through friends, school, and church. Gloria and Tim Wheeler's ministry in Honduras appears to be right up her alley--especially the focus on Heifer International. She also read about the CARES program and found it calling to her. She has been studying Spanish in high school and plans to further her language studies in college. Is there any way to find out about some sort of mission trip for her with the Wheelers--either individually or part of a larger group?