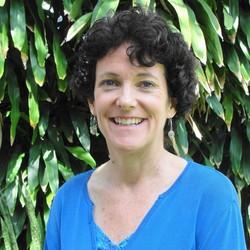 Read letters from Rebecca Young
2014
June - Blessed to Receive
March - Tackling Tough Topics

Older Letters
Winter 2013
Christmas 2013
Fall 2013
May 2013

November 2012
September 2012
June 2012
April 2012
July 2011
March 5, 2011
February 2011
December 2010
June 24, 2010
June 2010
February 2010
January 28, 2010
December 2010
For older letters, contact Mission Connections
Rev. Rebecca Young
Mission worker in Indonesia since 2007
Serving at the invitation of Jakarta Theological Seminary
and for Presbyterian Disaster Assistance (PDA)
---
Rebecca ended mission service with the PC(USA) in October 2014.

---
About Rebecca Young's ministry
Rebecca Young was appointed in July 2007 to serve as instructor of systematic theology at the Jakarta Theological Seminary in Jakarta, Indonesia. In addition Rebecca has a part-time assignment with Presbyterian Disaster Assistance as a consultant for PDA's ongoing recovery work for the tsunami in Aceh Province of December 26, 2004.
Country context
The Republic of Indonesia was formed in 1945, when it claimed its independence from the rule of the Dutch. Indonesia's population consists of many people groups who live on the 5,000 inhabited islands across the archipelago. Indonesia is home to the world's largest religious Muslim population, and adherents to Islam comprise about 85 percent of the population. Christianity, the faith of about 10 percent of the people, came to Indonesia in the early 16th century with the arrival of Westerners. The Presbyterian Church (U.S.A.) began its involvement in Indonesia in the 20th century and continues to serve with partners in theological education, interfaith relations, and disaster assistance.
Download a prayer card that lifts up Rebecca's work in Indonesia.

Watch a video in which Rebecca shares about her work in Indonesia.
About Rebecca Young
Prior to her appointment Rebecca worked for Presbyterian Disaster Assistance in Indonesia.
She has also worked as an adjunct professor at Piedmont College in Demorest, Georgia, teaching world religions, philosophical ethics, and women in world religions (2000–2003).
Rebecca was director of alumni/alumnae relations and church relations for Columbia Theological Seminary in Decatur, Georgia (1998–1999). She was interim pastor of Nacoochee Presbyterian Church in Sautee-Nacoochee, Georgia (1997–1998).
In health and development work, Rebecca worked with Church World Service from 1989 to 1993 in Jayapura, Irian Jaya, Indonesia, where she served as a nutritional consultant, trained village health workers, and did health and nutrition surveys in the interior of West Papua. She was a nutritionist in Johnson City, Tennessee, employed by the Upper East Tennessee Regional health Office to evaluate and monitor the nutritional status of children under 2 and pregnant and breast-feeding women.
Rebecca has a bachelor's degree, three master's degrees, and a doctorate. Her bachelor's degree is in psychology and international development from the College of William and Mary in Williamsburg, Virginia. She has a master of divinity degree from Columbia Theological Seminary in Decatur, Georgia; a master's degree in public health and nutrition from the University of North Carolina Public Health in Chapel Hill, North Carolina; and both a master's of philosophy and a doctorate from Fordham University in New York, New York. Her dissertation subject was the Holy Spirit from a woman's perspective, with emphasis on environmental and women's issues.
Rebecca was ordained to the ministry of Word and Sacrament in 1998 by the Presbytery of Western North Carolina, of which she is still a minister member.
Birthday: November 7
Topics:
Tags:
Comments
Rebecca: I hope that Christ's "joy" fills you and your associates for your great dedication. I chair our church's Committee that reports on persecution in the world, and was wondering how the increase in hostility toward Christians, and the destruction of churches recently, including in the Jakarta area, was affecting your associates and your work. Woodhaven Presbyterian Church, Irving, Texas

thank you catherine, this is too kind of you :)

At my church we have started using Rebecca's "Thoughtful Christians" Advent study, "Held in God's Grace." It is great! Thank you, Rebecca.