An outline for daily prayer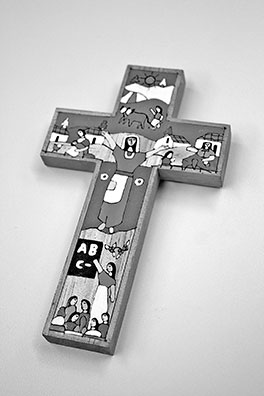 Prayer is an act of love by which we bring our joys and concerns for others before God. The stories collected in this book are windows into the life of the church across the United States and around the world. Reading these stories and lifting our prayers to God draws us closer to one another and strengthens our connection with the broader body of Christ.
Aloud or in silence, with others or alone, prayer is how we communicate with God. There are no hard-and-fast rules about how to do it, and this can be as liberating for some as it is intimidating for others. If you have a practice that works for you, carry on! If you're new to the Mission Yearbook, simply reading the entries day by day is a good place to start. Here are some ideas to enrich your daily practice of prayer. You might go through the entire set in order, or just pick a few that fit your comfort level and available time. May God bless and strengthen your desire to pray!
Center yourself in God's presence
• Light a candle.
• Sit comfortably and breathe deeply.
• Repeat a simple prayer a few times: "Come, Holy Spirit"; "Thank you, God"; "Christ is my light."
Read and reflect
• Read a portion of the daily lectionary passages.
• Listen for God's word to you through Scripture.
• Read the yearbook entry for the day.
• Reflect on God's activity in the day's entry and how you might be called to respond.
• Listen for words that stand out to you in the readings, or draw a picture that symbolizes what you have heard.
Lift your prayers to God
• Identify concerns from your personal circle and from the news.
• Make note of these concerns in a journal.
• Read the names listed in the entry.
• Pray for the ministry described in the day's story.
• Give thanks for your connection to Christ's body and for your own body, whatever state it may be in. Take a deep breath, feel your heartbeat, stand and stretch, open and close your hands—whatever is within your ability—and remember you are wholly in God's hands.
• Close with the prayer at the end of the day's entry.
• Carry the day's prayers and a sense of God's presence with you.
—Rev. Sarah Henken, PC(USA) regional liaison for the Andean countries
Topics:
Tags: