National Multicultural Church Conference

Click for a conference quick view.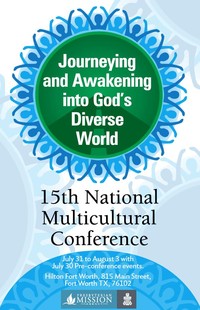 ONLINE REGISTRATION HAS ENDED
Still planning to attend the conference? Please download the Registration form, complete it in its entirety and forward it via email/fax to Murphy Ashley. Onsite registration will be available at the conference. Contact us for additional information.
Email: murphy.ashley@pcusa.org
Fax: 502-569-8228
Phone:502-569-5089
Learn more about this year's track leaders
---
keynote speakers
Rep. Stacey Y. Abrams is the House Minority Leader for the Georgia General Assembly and State Representative for the 89th House District. She is the first woman to lead either party in the Georgia General Assembly and is the first African-American to lead in the House of Representatives. Stacey serves on the following committees: Appropriations, Ethics, Judiciary Non-Civil, Rules and Ways & Means. She co-founded and acts as Senior Vice President of NOW account Network Corporation, a financial services firm.
Stacey also co-founded Nourish, Inc., a beverage company with a focus on infants and toddlers, as well as other entrepreneurial ventures. Formerly, she was Deputy City Attorney for the City of Atlanta. In 2012, Stacey received the prestigious John F. Kennedy New Frontier Award, which honors an elected official under 40 whose work demonstrates the impact of elective public service as a way to address public challenges.
---
Luis Rivera-Pagán comes to Princeton Theological Seminary from San Juan, where he is professor of humanities at the University of Puerto Rico. He also serves as adjunct professor of theology at the Evangelical Seminary of Puerto Rico. His wife, Anaida Pascual-Morán, a visiting scholar at PTS, who is a full professor in the Graduate School of Education at the University of Puerto Rico, accompanied him to Princeton.
Luis and Anaida share a blended family of six grown children and a commitment to academic careers that are fully engaged with the modern struggles of Latin American life. Rivera-Pagán's intellect and academic training have pushed him out into the world rather than keeping him cloistered in the library. After research at the University of Tübingen, in 1970 he earned a Ph.D. in theology from Yale University. Returning home, he became active in protests against U.S. naval war exercises in Puerto Rican territory.
---
Rev. Dr. Joseph J. Clifford serves as Pastor, Head of Staff of the First Presbyterian Church of Dallas, Texas, a vibrant congregation located in the heart of downtown Dallas. The church is best known for its community ministry with the homeless of our city and with children and youth living in poverty. They are in the process of launching "Encore Park," a major initiative bringing creativity and caring together through the arts and renovation of the historic 508 Park Avenue property, famous for being the location of blues legend, Robert Johnson's final recording session.
Prior to coming to Dallas, Joe served two congregations in the Atlanta area, Stockbridge Presbyterian Church (1997-2000,) and Alpharetta Presbyterian Church (2000-2006.) He is a graduate of Columbia Theological Seminary, and earned his Doctor of Ministry in Preaching from McCormick Theological Seminary. His undergraduate degree is from Auburn University, where he majored in economics and went on to a career in banking and finance before discerning a call to ministry and going to seminary.
He grew up in the Washington DC area, the son of two public school teachers. Joe met his wife, Jennifer, at Auburn and they have two children, John and Kate.
---
Jooseop Keum, secretary for the WCC Commission on World Mission and Evangelism, said he read Matthew 28 "from a contextual context" of what was prevalent in the Roman Empire, and not as an "imperial" command to go forth and disciple others.