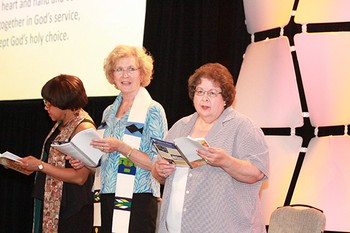 Bringing Together "One Body, One Spirit"
By Yvonne Hileman
"What a beautiful sea of faces!" Shelda Wills, Gathering chair, exclaimed as she looked out over rows and rows of women in the opening plenary session to the 2015 Churchwide Gathering of Presbyterian Women. And a beautifully diverse sea of faces it was. Dozens of international guests, from 15 countries, and more than 1,700 Presbyterian women from all over the United States filled the plenary hall for the opening celebration on Thursday, June 18, 2015.
Nearly 100 guests, planners and staff processed to seats of honor in the front, as attendees sang the Gathering theme song of the Gathering, "One Body, One Spirit." Attendees lined the back wall and spilled out into the foyer outside the ballroom.
Truly, anytime this many women gather in God's name, God's spirit weaves them together. And, while always near, God's spirit was especially in need today as women prayed for an end to racism, remembering those who died in Wednesday's shooting at a church in Charleston, South Carolina. As Linda Valentine, executive director of the Presbyterian Mission Agency, and Rhashell Hunter, director of Racial Ethnic and Women's Ministries for the PC(USA), brought greetings, they affirmed PW's central role in the work of the church and asked for women to once again put their hands and feet to Christ's work, this time to break down barriers of privilege and racism.
This plenary session, full of hymns and prayer, a Bible study preview and statement of faith, stirred deep response to the hurts of the world and set the stage not only for two days of growth in one body, but for concerted action. God's grace might be said to be working for healing as Gathering participants prayed, "May we who have been brought here from across the globe declare that we are called by you, O God, to be united together as One Body, One Spirit. And may the God who is above us, the Christ who is in front of us and the Holy Spirit who is within us show us the way."
The evening's speakers and presentations inspired nothing short of awe. A beautifully staged multivoice reading of 1 Corinthians 12:12–27 set the stage for music and a sermon around the Gathering theme. Peggy Brewer's delivered an amazing rendition of "We Are One in the Spirit"/ "They'll Know We Are Christians by Our Love." Alika Galloway's spirit-filled sermon inspired the audience to tears and laughter, and a renewed call to live into "One Body, One Spirit."
Tags: