Save the date for the 2018 Churchwide Gathering!
The 2018 Churchwide Gathering will be held August 2–5, 2018 in Louisville, Kentucky! Planning is underway, so stay tuned for the Gathering scripture, theme, logo, speakers, program highlights, opportunities for connection and renewal, and so much more!
And while those details are being worked out, follow along with Gathering emails (one a month!) with reflections, free downloads, fun ideas and more! (If you're not receiving PW emails, contact Patricia Longfellow to be added to the email list.)
Reflecting on light
I love night walks. Many evenings, I venture out with my dogs. Even well after the sun has fully retreated for the day, night walks, at least in my little city, could be renamed night light walks. Although certainly not as bright as the noonday sun, on cloudless nights, stars and planets and the moon help us navigate our way through the nighttime neighborhood (and snowy evenings are especially vivid). Truthfully, I hadn't considered just how much of our world is bathed in artificial light until I became aware of the ever-ubiquitous streetlamps and security lights, lamps in windows, and the occasional headlights, after we spotted a herd of deer silhouetted against the Louisville skyline. A magnificent image, for sure, but sobering.
For better or for worse, finding true darkness (that is, a place in the world not artificially illuminated) is a rarity for North Americans (people and deer alike!). "Already, some two-thirds of Americans and Europeans no longer experience real night—that is, real darkness—and nearly all of us live in areas considered polluted by light," writes Paul Bogard in his book, The End of Night: Searching for Natural Darkness (page 9, New York: Back Bay, 2014).
As this Gathering Quest series asks us to reflect on light, perhaps we should consider light's partner, darkness, as well.
Our Gathering theme is, "Arise, shine, your light has come!" based on Isaiah 60. And the Gathering logo—the image of a towering sunflower, head tilted toward the sun—is one that joyfully inspires. But night walks and a gifted-with-a-green-thumb mother-in-law helped me discover that many flowers wait for the night before opening their petals. These include the (aptly named) moonflower and the night-blooming narcissus. Night gardens, according to a quick Internet trip, are a "thing." And the zoo docent in me can confidently share that many of God's creatures are crepuscular and nocturnal, designed to be most active during twilight and night, respectively.
My takeaway is this: no matter how or whether the world around us is illumined, our Creator has made a wondrous world, indeed, a wondrous universe. Let us, like the night-blooming narcissus, open to the nighttime world to discover or rediscover the world in this way. Just remember to turn off the porchlight on your way out.
Reading challenge
Following an enthusiastic response to the Reading Challenge, a number of books have been suggested to keep PW reading. Learn more.
A little Gathering fun
Free downloads will be made available to publicize and raise excitement for the Gathering. Copy and share these PW-themed puzzles as widely as you wish!
Happy New Year, PW!
Gratitude word scramble
Letter tiles
Word wheel
Word search
Sudoku
Crossword puzzle
---
Explore "One Body, One Spirit"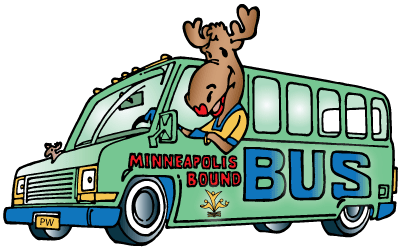 More than 1,700 women (from around the United States and the world!) went to Minneapolis June 18–21, 2015. Plenary speakers and workshop leaders interpreted the theme "One Body, One Spirit," and Gathering attendees welcomed God's powerful spirit to unite them into one body, empowered to embody Christ's love in the world.
Enjoy some of the stories and images from the Gathering. Then be sure to check in with your PW sisters when they return.
If you've never attended a Gathering, learn more about Gatherings (including history!). And mark your calendars for the 2018 Gathering: August 2–5, 2018 in Louisville, Kentucky!
---
Gathering news
Leaders and Legacies, Budgets and Bylaws
By Yvonne Hileman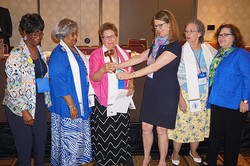 Presbyterian Women in the PC(USA), Inc. has a new slate of moderators and representatives, elected on the second day of the Business Meeting—a day of jubilation and sadness.
In the evening of Wednesday, June 17, the 2015 Business Meeting began with a prayer: "May the God of freedom, hope, compassion and strength fill us, and may we stand on a foundation of hope, made possible by the transforming power of the Holy Spirit." Read more.
Bringing Together "One Body, One Spirit"
By Yvonne Hileman
"What a beautiful sea of faces!" Shelda Wills, Gathering chair, exclaimed as she looked out over rows and rows of women in the opening plenary session to the 2015 Churchwide Gathering of Presbyterian Women. And a beautifully diverse sea of faces it was. Dozens of international guests, from 15 countries, and more than 1,700 Presbyterian women from all over the United States filled the plenary hall for the opening celebration on Thursday, June 18, 2015. Read more.
---
Gathering Resources
Update to Daily Horizons, Issue 1
Use this summary of the latest Churchwide Gathering news as a supplement to Daily Horizons 1. Print and slip it inside DH1 so you are prepared with the latest information.
Daily Horizons, issue 1
Learn everything you need to know about your first day(s) at the Gathering. This first issue of the almost-daily Gathering newspaper has information on what you should bring, leave at home and put on your schedule while you're in Minneapolis for the 2015 Churchwide Gathering.
Gathering registration booklet
Are you ready to start planning your Gathering experience? The Gathering registration booklet mailed with the November/December 2014 issue of Horizons, and is also available for download!
Use this resource to plan your arrival, worship, shopping, education, relaxation and inspiration during the 2015 Gathering. Plenary speakers will inspire you to live out your faith in new ways. Educational opportunities (workshops, forums and mission tours) will stretch your understanding and engagement with the world. Time with your Presbyterian sisters will remind you of the power of women committed to creating a more just world for everyone. In short, it's an incredible event that should not be missed!
Make Your own logo pin
Download instructions for making your own Gathering logo pin.
---
Step out for justice and peace!
Participate in the PW March for Justice and Peace at the Churchwide Gathering, Saturday, June 20, 2015, in Minneapolis. The march will be held from 5 to 6 pm. If you are attending the Gathering, gather in the courtyard at Westminster Presbyterian Church, just one block from the Hyatt Regency Minneapolis (where the Gathering is being held). If you won't be at the Gathering, sponsor someone who will be. Pledges will benefit CARE and Presbyterian Ministry at the UN. Download the pledge form here. Download a promotional flier here. Download ideas for signs here.
Get a taste of the Gathering
Watch this four-minute video that offers a look at the fun, worship and fellowship that you can have at the 2015 Churchwide Gathering of Presbyterian Women!
(Gathering images from the 2012 Gathering in Orlando, Florida.)
---