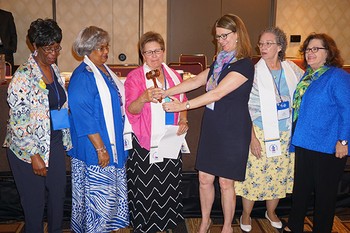 Legacies and Leaders, Bylaws and Budgets
By Yvonne Hileman
Presbyterian Women in the PC(USA), Inc. has a new slate of moderators and representatives, elected on the second day of the Business Meeting—a day of jubilation and sadness.
On Wednesday evening, the 2015 Business Meeting began with a prayer: "May the God of freedom, hope, compassion and strength fill us, and may we stand on a foundation of hope, made possible by the transforming power of the Holy Spirit.
With great joy, Rhashell Hunter, director of Racial Ethnic and Women's Ministries brought greetings from the PC(USA). Sporting the Honorary Life Membership pin she was surprised with at the most recent General Assembly Mission Council meeting ("They pulled one over on me!"), she said she was very honored and humbled to receive it. "PW is an organization near and dear to my heart. I think of the many women serving the church in a humble way, with hearts of love."
On Thursday, Rhashell returned with a request. On Wednesday evening, a gunman killed nine people at an African Methodist Episcopal church in Charleston, South Carolina. Noting that Presbyterian Women has long led the church toward peacemaking, education, mission, women's inclusion and cultural proficiency, she asked PW to "not be silent in the midst of these tragedies. People who are marginalized cannot make racism disappear without allies from the dominant culture. Partner with us in cultural humility, engage in difficult but important conversations." She said, "Arresting the shooter is a matter for the police; arresting hate is something we are all called to do in Christ's service."
Also on Thursday, mission partners attending the Gathering from abroad were introduced and welcomed warmly. And with mixed feelings, voting representatives heard Linda Valentine, executive director of the Presbyterian Mission Agency, express how much PW means to her and the church. Linda announced this week that she is resigning, effective July 10.
"Where would the church be without Presbyterian Women?" she asked. "So many ministries of the church have their roots in the work of Presbyterian women's organizations: peacemaking, child advocacy, antiracism, hunger, World Mission." She echoed Rhashell Hunter in saying that much work remains to be done. "While we may no longer have 'Whites Only' signs, the barriers of privilege and racism still exist."
She named some of the many ways PW and the PC(USA) continue to partner—in world mission, through Presbyterian Disaster Assistance, at the UN Commission on the Status of Women, on the issue of violence against women. "I am grateful to be partners in God's mission. I have been privileged for nine years to lead the Presbyterian Mission Agency, and I have been inspired continually by those who give the love of Christ abundantly. I thank God for the opportunity," she said.
During worship, 2012–2015 PW Churchwide moderator Mary Cook Jorgenson gave a beautiful sermon on Ruth 1:7–22. "We love this story, don't we? This lovely story of love between mother-in-law and daughter-in-law. This devotion across generations. Two women from different communities sticking together. . . . They are what we're all about—community and support."
She drew parallels between women of the Bible and Presbyterian women in early missionary societies. "The first known organized mission society was in 1803 in Newark, New Jersey. . . . Our foremothers knew we could make a difference. And like Ruth and Naomi, they made that difference with faith and trust in each other. But let's be clear, just as there are so many gifted women present today.
"These past three years as your moderator have provided me the opportunities to recognize and be a recipient of so many of the gifts of Presbyterian Women today. . . . I want to thank you for the opportunity to have served as your moderator. And I challenge you today and always to embrace and share the gifts that you have received as you welcome the gifts from those around you."
Read the entire text of Mary's remarks.
Items of Business
One of the highlights of the 2015 Churchwide Business Meeting was the signing of memoranda of understanding with three African women's groups—from the Christian Women's Fellowships in the Presbyterian Church (U.S.A.) (Cameroon), the Women's Fellowship of the Conference of Ghanaian Presbyterian Churches in North America and the Kenyan Women's Groups in the Presbyterian Church (U.S.A.).
Voting representatives voted to change the fiscal year end to December 31, thereby placing it on a calendar year. With the presentation of the 42-month budget for June 2015 through December 31, 2018 (because of the bylaws change, the next triennial budget will have an extra six months), Finance Committee Chair Carolyn Sprinkle said, "PW is a wonderful organization, but it takes money to run it. We are looking at the reality that Mission Pledge is down, and we are doing our best to live within a smaller budget. Please know that we have to be good stewards." The budget was approved.
Based on the coming reduction in the number of Presbyterian synods as voted by the 214th General Assembly, Presbyterian Women's bylaws were revised to reflect an undetermined number of synods. Mary noted, "We handle change; we are flexible and adaptable. Bylaws will reflect anticipation of that change." Another change was to remove the bylaws requirement that the Business Meeting be held in conjuction with the Churchwide Gathering.
Voting representatives also clarified what the requirement of PC(USA) membership means. Voting representatives must be members of the Church "via membership in a Church congregation or, for teaching elders, membership in a Church presbytery and must be actively involved in a Presbyterian Women Group."
Other items of business included clarifying roles, titles and positions. The role of board secretary and historian have been combined. The bylaws were amended to clarify that the president of corporation shall be its executive director. And selection of the new immigrant women's representative is being moved to election by voting representatives.
Election of 2015–2018 leaders
The entire slate of new leaders for the 2015–2018 triennium, presented by Search Committee Chair Virginia Champlin, was elected.
Notably, two changes to the published slate were approved. The candidate for Young Women's Racial Ethnic Representative, Sandy Fefeti, was nominated and elected for the New Immigrant Women's Representative position. And Lisiann Rodriguez, currently filling an expiring term as Young Women's Representative at Large, was nominated and elected for the same position for the 2015–2018 term.
The new moderatorial team consists of Carol Winkler, moderator (from Synod of the Covenant), Wanda Beauman, vice moderator for justice and peace concerns (Synod of Rocky Mountains) and Judy Persons, vice moderator for mission relationships (Synod of Living Waters).
As she accepted the seat, newly elected Churchwide moderator Carol Winkler said, "Presbyterian Women is a strong organization and a strong leader in the church. It is also a strong partner in ministry, initiating many programs that are now shared throughout the church. I hope we will expand our partnerships within the church, finding new opportunities for shared ministry. We will continue to raise issues, develop strategies, and be a prophetic voice in the church. We need each of you to continue to lead Presbyterian Women. Be the mentor, be the friend, be the financial supporter. Find your passion for advocacy and mission, and use that passion to make a difference."
Tags: