Want to put your faith into action?
Want to grow as a leader in Christian service?
Want to see what God is doing in the world while serving a local community?
The YAV Program might be just for you...
a year of service for a lifetime of change
---
IMPORTANT dates:
Orientation
8/22/16 - 8/29/16
Transition Event
TBA
The Young Adult Volunteer program is a one year service opportunity for young adults from 19 to 30 years. YAVs live in intentional Christian community, deepening and developing their faith while serving alongside partners in sites across the United States and around the world. YAVs serve for one academic year, August - July, as they explore God's calling in their lives.
Volunteers are placed in community agencies or local churches, with jobs depending on the needs of partners and the skills of the Young Adult Volunteer. YAVs are exposed to some of the hardest problems in the world – poverty, violence and reconciliation, and sharing the Good News of Jesus Christ – while living and reflecting with other volunteers on the meaning and motivation of their Christian faith.
Each YAV experience is different – but all YAVs will participate in a mutual discernment process to be a part of the program, receive national and on-site orientation, work closely with mentors and peers during, participate in vocational discernment activities, and integrate the whole experience at a transition retreat. All YAVs receive health insurance and student loan repayment is available for qualified applicants. The Presbyterian Church (U.S.A.), you and your supporting congregation and presbytery, and some placement agencies share funding of this program. All volunteers are required to raise some of their financial support – the requirements for fundraising have been cut in half since 2013 – to $3,000 for national service and $4,000 for international service. A limited number of scholarships are also available each year.
Being a Young Adult Volunteer means living a year you'll never forget. What do YAVs do? Typically, they participate in the following:
They serve for one year in communities of need in the United States and around the world.
They meet regularly for prayer and Bible study.
They work with mentors to explore and grow in their expression of their Chris­tian faith.
They build each other up as Disciples of Jesus Christ.
They are supported in their faith journey through orientation and an end-of-term debriefing event.
---
What we look for in a Young Adult Volunteer: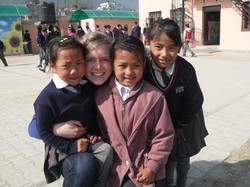 Volunteers should exhibit crosscultural sensitivity and a creativity and willingness to work with diverse communities.
A basic understanding of the historical and contemporary religious, political and cultural realities of their site is expected.
Volunteers should be mature, adaptable and independent. The ability to deal with uncertainty, ambiguity and contradiction is a plus, as are patience, persistence, initiative, good listening skills, a sense of humor and a desire to simply "be" with people and with God.
Volunteers should demonstrate flexibility that will be needed to respond to unique situations and circumstances.
Volunteers should have the ability to articulate their faith. Some sites, due to the nature of the cultural understanding of Christianity, ask for volunteers who are able to express their faith publicly.
Some sites will require certain language skills or the willingness to learn a new language. In other cases, additional language skills are helpful, but not necessary.
---
Goals of the YAV Program: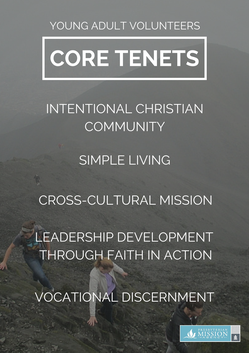 THE PROGRAM WAS DEVELOPED WITH SEVERAL GOALS IN MIND:
Intentional Christian Community
YAVs explore what it means to be a Christian community with one another and their neighbors. While some will live in housing together and others spread throughout their country, all YAVs will reflect together on their service and explore their relationship with God, the church, and their ministry in a broken world.Simple Living
YAVs are challenged to practice simple living – living an abundant life with less. Living simply pushes YAVs to evaluate their true needs with their lifestyle and beliefs.
Cross-Cultural Mission
YAVs will intentionally explore the diversity of God's creation, living and working outside of their comfort zone. YAVs will work to confront the systemic challenges of race, class, gender, and power, while learning to examine their own lives and actions.
Leadership Development through Faith in Action
YAVs develop their leadership by serving in marginalized communities alongside local people of faith responding to poverty, violence, and injustice in their communities, sharing the gospel through word and deed.
Vocational Discernment
Through theological reflection and spiritual practices, YAVs will participate in the process of vocational discernment –unearthing God's desire for each person's life and work.
---
Do you have more questions?
Or feel free to call the YAV office at (888) 728-7228, x5024.
The Young Adult Volunteer program is one of many ministries of Presbyterian Mission Agency that serves young adults. For more information, visit our young adult website.
Tags: