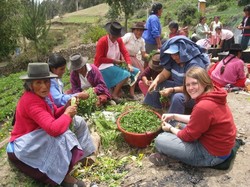 Where can I serve?
The applicant, the site coordinator and the YAV staff work together to discern placement of each YAV. National placement interviews take place by telephone. Due to the difficulty of long-distance communication with some international sites, international placements require in-person interviews. These are conducted at a Young Adult Volunteer Discernment Event. Candidates are encouraged to look at possible placement both nationally and internationally.


national sites
Asheville
In a city nestled in the Blue Ridge Mountains, home to a surprising variety of cultures, and celebrated as a tourist destination, Asheville YAVs will engage in transformative mission, living the Gospel by building relationships and creating community with people on the margins experiencing desperate need. Asheville is a place where diverse perspectives constantly negotiate space as the city grows and changes. YAVs in Asheville will work with local worship communities and nonprofit partners to build meaningful connection and creative community across our city's invisible borders, while seeking faith together in a YAV house experience that will include regular reflection, prayer, and study as a group. YAV-AVL, known as Hands-and-Feet of Asheville, is a welcoming, supportive, challenging environment for young adults seeking the nature of God's calling for themselves and for the beloved community.
Atlanta
Located in the heart of the south, and being the home of a Civil Rights Museum, the Martin Luther King Jr. Center, and the Carter Center, Atlanta is often seen as the headquarters for civil rights and social justice. You will be emerged in southern hospitality while you serve those who may be struggling with homelessness and/or mentally disabled. With nearly 7,000 people struggling with homelessness in Atlanta, you will be able to gain experiences that will break down some of the stereotypes that people often have of those in the city and allow yourself to see the face of God in those with whom you interact. Website
Austin
Ayava House (an acronym for Austin Young Adult Volunteer and AmeriCorps) recognizes the growing desire of many young people to engage and transform their world through a deep commitment to service. Austin Seminary desires to offer its resources to young adults working through faith-based programs as well as our national service corps. We recognize that both programs engage young people who will serve in ministry and leadership capacities in their faith traditions as well as their communities of residence.
Boston
The Boston Food Justice Young Adult Volunteer (BFJYAV) program gives young adults a year-long experience living together in intentional Christian community and engaging in the mission of Presbytery congregations to secure healthy, just, and sustainable food for all people. At the heart of the program are practices aimed at cultivating spiritual growth, vocational discernment, and leadership development, along with social and congregational transformation.
Chicago
Chicago is often seen as the birthplace of the study and emphasis in 'urban ministry.' This team engages the community, studies its authors, rides its public transit (CTA) and seeks to integrate into the life of this amazing midwestern yet world class city. This site seeks young adults to serve and to learn with the people of Chicago, to engage in intentional Christian community and personal discipleship, to work with local ministries and agencies and to explore urban, multicultural ministry as a vocation and calling. Website
Chinook, Montana
The Chinook(Hi-Line) YAV program is a partnership between five churches, Presbyterian, Methodist, Alliance, Assembly of God, and Lutheran. YAVs participate in ecumenical programs sponsored by the churches: youth groups ( high school/junior high and grade school groups), after school and summer lunch programs, senior citizen programs and nursing home outreach. YAVs work closely with the local pastors as well as church groups. YAVs also have opportunities to help in the local grade school and high school/junior high.
Denver
The Denver YAV site is an urban experience with the availability of the Rocky Mountains for reflection and discernment. Your year will expose you to counter cultural experiences that will broaden your world view. In Denver your YAV year will be structured around four pillars: Community, Spiritual Formation, Exploration of Vocation, and Social Justice. With an emphasis on Liberation Theology connecting your faith with justice. The Denver program invites you to a paradigm shift in thinking from charity into solidarity. We have a rich diversity of placements which assist you in your vocational discernment. We have been in Denver for over 25 years which has helped us develop over 40 agencies partnerships. Currently we have placements with a refugee resettlement organization, after school programs for marginalized youth, food justice, transitional housing for homeless individuals, and an agency that focuses on care for creation. Website
Indianapolis
Indiana's motto is "Crossroads of America." The Indy YAVs will live in the intersection of religious diversity, and work together to address issues of reconciliation and poverty. The goal of Indy YAV is to provide opportunities for deep engagement and cooperative work with people of diverse religious identities. YAVs will gain skills in helping the community live faithfully with difference. The work that will be undertaken will help to broaden understanding of the interfaith and ecumenical landscape of the Indianapolis community and the world. Come to the crossroads and engage in the struggle.
Little Rock
The focus of the Little Rock site is on living sustainably on the earth, living compassionately with neighbors --including those who have experienced disaster-- and living faithfully in community and congregation. YAVs live and work on the 1200 acre Ferncliff camp, yet connect to a large thriving congregation at Second Presbyterian and its varied outreach ministries in the city.
In a city know for its storytelling and famous residents, YAVs living in the City of Angels learn the joys of mutual hospitality with their Central and South American neighbors while uncovering the overlooked stories of the largest and most diverse homeless population in the county. To live in Los Angeles, and more specifically in a neighborhood in Hollywood, means to seek the face of God amidst the juxtaposition of the fame, fortune, and the poverty just outside what's captured in the camera frames. YAVs work in agencies and ministries that engage on multiple levels and encounter peripheral issues of economic injustice, domestic violence, and human trafficking. Concurrently, YAVs engage in racial reconciliation in their immediate neighborhood, and amidst the broad multi-cultural range of this huge city, from Korea Town to Little Bangladesh, Little Ethiopia to Little Armenia, South Central to East LA. Website
Miami
With around 65% of the population being Hispanic/Latino, Miami is formed by a mix of cultures, languages, economic differences, class, and nationalities. Dwell-ing in Miami means to be exposed to a strong and visible contrast on a daily basis in a place where the top spoken languages are Spanish, English and Haitian Creole, among others.
Homelessness, immigration, gentrification, and human trafficking are some of the matters around a city known by being a tourist destination, it's opulence, extravagant lifestyle and wealth. Dwellers will encounter this reality by working or getting involved in agencies all the way from the Miami-Dade county to Homestead, Florida, which is known by their farmworker population. All Miami YAVs (Dwellers) will also live together in an intentional community participating and learning in a cooperative culture that will enrich their experience and contribute to their personal and group growth. Website
Nashville << Not available for 2016-2017 >>
These days, Nashville rightly appears on all kinds of "best" lists and is making a name for itself as one of the most creative and forward-thinking cities in the American South. Nashville YAVs will enjoy this cultural Renaissance to the fullest while also serving as prophetic voices on the margins of a city that cannot hide from its history of discrimination, segregation, and disenfranchisement, and which must continue to wrestle with how these systemic patterns shape the present and future for its growing populations of immigrants, refugees, and people who live with homelessness and poverty. Website
New Orleans
To be YAV a in New Orleans is to celebrate life and culture at Mardi Gras, Jazz Fest, and a neighborhood crawfish boil. But it is also to mourn the on-going effects of hurricane Katrina, gun violence, racism, food injustice, and the disappering wetlands. Website
New York City
(Second year site - for returning YAVs only)
New York City feels like the capital of the world. . . . just ask a NYer. Beyond that biased bravado, there is a legitimate argument, as the world gathers here and explodes with dynamism. Volunteers will witness and work with a city that loves hard, lives big, yet suffers too much. Come and learn. Come and teach. Find God in the city.
San Antonio (Not currently placing volunteers for the class of 2016/2017)
YAVs serving in San Antonio have the unique opportunity for immersion in a Hispanic culture while taking language classes to develop their Spanish language skills. Participants will live in one of San Antonio's oldest neighborhoods with its rich Mexican and German history.

Tucson
The Tucson Borderlands site offers an opportunity to experience and explore the call of the gospel in the social and political realities of the U.S./Mexico border region. Our placements serve the program needs of churches, agencies and programs and address the social and economic consequences of global and free trade policies. Website
Washington, DC
Living in the nation's capital, Washington, DC YAVs serve beside the poor and low-income residents of DC—and have the unique opportunity to engage issues such as poverty, hunger, and homelessness on the policy level. DC YAVs seek and give witness to God's activity in the city, and in their lives, as they live together in a diverse neighborhood of DC and commute to their placements by bus, bike, or Metro.
International sites
Colombia
Natural and cultural wealth abounds in Colombia, home of Gabriel García Márquez and Shakira, emeralds, coffee, and myriad species of birds and animals. Colombia has also been plagued by conflict for generations, leaving 10% of the population internally displaced, turned into refugees in their own country. Peace talks are underway between the government and the FARC guerrilla group, and implementation of controversial free trade agreements has just begun. In this compelling context, YAVs will gain a new perspective on what it means to be church through service with the Iglesia Presbiteriana de Colombia or IPC (Presbyterian Church of Colombia), founded in 1856. They will live and work alongside the church, learning from and contributing to its holistic witness.
Northern Ireland (closed year 2016-17) or Scotland (open for 2016-17)
Northern Ireland - Northern Ireland is primarily known for its tragic history of communal violence. Volunteers work with local churches and community projects to address the legacy of division and help lay foundations for a positive, shared future, particularly (though not exclusively) through work with youth and children. This is Northern Ireland's last year as a YAV site. It will not be available starting 2016-17.
Scotland - Volunteers will be hosted by the Church of Scotland Priority Areas Team in Glasgow. Priority Areas work extends to 68 of the most disadvantaged parishes in Scotland with 33 of these in Glasgow working with local people to serve the needs of their communities.
Peru
From the Amazon jungle to the Andes Mountains, Peru´s immense cultural and ecological diversity exemplify the wealth of God´s Creation. Sadly, the exploitation of such wealth has created the most significant gap on the continent between the rich and the poor while also increasing social conflicts and laying waste to the environment. In this context, YAVs are placed through the Red Uniendo Manos Peru - a network of 12 Peruvian organizations from across the country working together to address the root causes of such poverty and injustice, while promoting harmonious and sustainable development.
Philippines
The program in the Philippines is about developing servant-leaders through faith in action. The 10-month placement will include immersions into different church and community settings that expose the Philippine reality as a mosaic for reflection and socio-cultural understanding. Each volunteer will be matched with specific and suitable work responsibility in one setting addressing relevant and compelling issues that requires transformative community action.
South Korea
At the Korea YAV site, Korean university students will volunteer alongside you at neighborhood children centers fighting to end poverty, and you will experience life on a divided peninsula in conflict, meeting Koreans working for reconciliation and relationships across a border as well as how US policies sometimes help but often hinder the peace process.
Volunteers will be hosted by the CCAP Synod of Zambia (Church of Central Africa Presbyterian), a small but faithful church involved in living out the Great Commandment and the Great Commission in a context of poverty and economic injustice, witchcraft, HIV/AIDs and vulnerable children, food insecurity, and a heavy disease burden. They welcome your willingness to share in this faith journey with them as together you do significant work for the Kingdom of God.
Tags: