Our Mission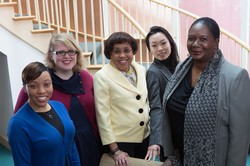 We are a network of young adult women, united through Christ, seeking to promote the empowerment of women through our work within the PC(USA).
Following the prophetic example of Jesus Christ, we are called to:
Live within and share God's grace, acceptance and love.
Build a community of women that reflects God's extravagant hospitality to all persons,
Challenge systems of oppression, domination, exploitation and suffering.
Work for justice and reconciliation in both church and society.
Honor the movement of the Spirit in the lives of young women by encouraging and celebrating our theological and liturgical contributions to the church.
On behalf of young women, we carry out this mission through the larger ministry of the Presbyterian Church (U.S.A.). NNPCW is a ministry of the Racial Ethnic and Women's Ministries program area of the Presbyterian Church (U.S.A.).
---
Mission commitments which inform our work
Theology informed by women's perspectives, feminism, diversity, peace and justice, evangelism, ecumenism, education, honest questioning and dialogue, and women's Issues, locally, nationally and globally
Because words are powerful and mean different things to different people, we choose to define two commitments for ourselves:
Feminism
Our understanding of feminism grows out of our Christian belief that all people are "fearfully and wonderfully made" in the image of God and thus should be respected and heard equally. Because women in church and society historically have been marginalized and silenced, we choose to focus on women's lives. We affirm women&rsqyo;s abilities to think theologically and we value the diversity of women's experiences in pursuing empowerment, building a nurturing community and working for equality for all of God's creation. We recognize the interconnectedness of all forms of oppression, acknowledge our participation in such systems and accept our responsibility as Christian women to work for God's fuller justice. This understanding of feminism informs our vision and action as well as our structure and process.
Evangelism
NNPCW reaches out to engage young women in a respectful community sharing faith stories and biblical perspectives that lead to claiming and living out the gospel of Jesus Christ in a transforming way.
Objectives of the Network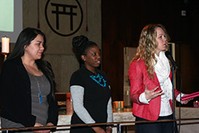 Leadership Development
Our primary objective is to nurture and develop young women's God-given gifts for leadership in the church and society. The NNPCW Coordinating Committee consists of 12 college women from around the country who develop and carry out the larger work of NNPCW. We sponsor an annual leadership conference, encourage young women's involvement in the decision-making structures of the Presbyterian Church (U.S.A.) and provide support for young women's participation in national and international church events.
NETWORKING
Another objective for NNPCW is to link college women with one another and the larger church through local campus women's spiritual formation groups and individual membership. Through this web we support, affirm and equip young women in their faith journey by sharing information and ideas. We encourage young women to initiate campus women's groups where they do not already exist and to take initiative in ministry.
Resourcing
Recognizing the scarcity of resources for use with college students, particularly women, NNPCW works to develop and publish resources that explore issues related to being a Christian, a woman and a college student.
---
Connect with NNPCW
As college students, we sometimes feel isolated from the outside world. We don't always know current news, we lose track of our friends in other places and we feel disconnected from our home churches. Use these tools to stay connected.
---
National Network of Presbyterian College Women Coordinating Committee Consensus Model of Decision Making
Decision making processes
Decision-making involves a process. Some processes are authoritative: "I'm in charge, and we do what I say." Some are democratic: "We have several opinions on this issue. Let's vote, and the majority rules." Some are elective: "I'm going to choose someone to represent me in making decisions and trust that the person I elect will reflect my opinion." Keep reading.
Topics:
Tags: