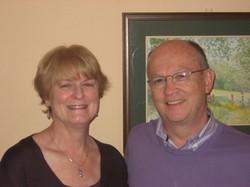 Read letters from Doug and Elaine Baker
Subscribe to Doug and Elaine Baker's letters
2016
March - It's Going to be Fabulous

2015
November - The Ties that Bond
September - Caught not Taught
June - "He Get's It!"
March - Faithful Peacebuilding

Older Letters
November 2014 - Hugs, Cake & an Apology
September 2014 - YAV 20th Anniversary
June 2014 - A Story of Reconciliation
Spring 2014 - Listening to your enemy
Fall 2013
July 2013
May 2013
April 2013
December 2012
November 2012
August 2012
June 2012
April 18, 2012
February 2012
September 28, 2011
September 2011 (2)
September 2011
April 2011
March 2011
November 2010
June 2010
March 2010
February 2010
September 21, 2009
July 1, 2009
March 18, 2009
March 10, 2009
February 20, 2009
February 2009
For older letters, contact Mission Connections
The 2015 Presbyterian Mission Yearbook for Prayer & Study, p. 322
Rev. Doug and Elaine Baker
Mission co-workers in Northern Ireland and the United Kingdom since 1979
Give to Doug and Elaine's MinistryMeet Doug and Elaine in a videoDownload Doug and Elaine's prayer card
Contact: Doug Baker (doug.baker@pcusa.org)
Contact: Elaine Baker (elaine.baker@pcusa.org)
Doug is occasionally in the USA and available to speak as his schedule permits, most often during March or early April. Email him to extend an invitation to visit your congregation or organization.
About Doug and Elaine Baker's ministry
Doug is the PC(USA)'s regional liaison for Ireland and the United Kingdom. In this role he helps grassroots Presbyterians from the United States become involved with and learn from ministry in Ireland and the UK and maintains relationships with partner churches. The Young Adult Volunteer (YAV) program is one way in which this is done and also trains leaders for the PC(USA). The YAV program is for people between the ages of 19 and 30 who serve in communities of need for one year. YAVs are placed in 11 sites in the United States and 5 sites overseas. Doug coordinates the Northern Ireland site, where volunteers support work with youth and children and perform other ministries in congregations. They also spend part of each week with community projects addressing the legacy of decades of civil conflict. As coordinator, Doug mentors YAVs as they learn to live in an intentional Christian community, serve the church's mission, and engage in vocational discernment. Doug's wife, Elaine, assists in the ministries with YAVs and also helps facilitate group visits from the United States.
Country context
Northern Ireland is perhaps best known for its tragic history of violence and inter-community conflict. These "Troubles," as they are commonly known, have left behind serious economic, emotional and spiritual needs. Violence has been reduced significantly in recent years, but deep sectarian division remains a feature of Northern Irish society. In spite of a peace agreement and new power-sharing arrangements, mistrust between those who favor Northern Ireland remaining part of the United Kingdom (unionists) and those who want it linked to the Republic of Ireland (nationalists) remains. The legacy of hurt from decades of fighting and deep-seated polarization along religious, political and cultural lines means that movement toward full reconciliation will need to be a generational task involving the churches, voluntary bodies, and community groups, working alongside politicians.
About Doug and Elaine Baker
After more than 30 years of working for reconciliation in Northern Ireland, Doug Baker has seen tensions lessen and violence abate. However, the tall, graffiti-covered metal walls that separate some unionist and nationalist neighborhoods remind him that much work is still to be done.
Doug serves as a resource to the Irish churches as they develop their own understanding of and capacity for peace-building. This includes facilitating dialogue within particular churches about the place of reconciliation in Christian ministry and also dialogues between those from differing religious, political, and cultural backgrounds. Such dialogues, Doug says, have helped build understanding and nurture relationships.
"In the first 15 years of my ministry in Northern Ireland, people spent a lot of time debating whether we can accept one another as Christians, and how the answer to that should determine how we treated each other," he says. The discussions have changed, he explains, because of a "rediscovery of what's at the heart of the gospel, the command to love God and to love our neighbor. The question then becomes not whether they are in Christ, but what difference our being in Christ makes in how we relate to our neighbors—whoever they are.
Religion has contributed to Northern Ireland's division, Baker acknowledges. "That's religion, but there's a growing recognition that the gospel itself, when truly understood and lived out, actually has the power to heal and unite."
Doug invests much time preparing future church leaders. In addition to his role with YAVs, he teaches ministerial students, equipping them to be agents of reconciliation within the parishes they are to serve.
YAVs plant seeds of reconciliation in Northern Ireland primarily in their work with children and youth. While supporting them in this work, Doug also encourages the YAVs themselves toward a deeper walk of faith. About one-third of YAVs go to seminary after they complete their year of service.
Like the YAVs he now mentors, Doug Baker experienced Northern Ireland in a formative stage of his life. He was a college student in the summer of 1970 when he was invited to work in Northern Ireland through a program sponsored by University Presbyterian Church in Seattle. "Being there for a summer stimulated an interest and gave me a deep concern for what the people there are going through," he says.
Eventually Doug returned to Northern Ireland as a mission co-worker and has invested his life in the region. There he met and married Elaine, a former teacher in Belfast who had long been active in reconciliation efforts. Their work with the churches has made a lasting impact on society in Northern Ireland and their influence on YAVs promises to bear fruit for years to come in the PC(USA).
"I see the YAVs making wonderful contributions not only in what they contribute during the year they serve in Northern Ireland," Doug says, "but in the leadership roles that they are taking on in the PC(USA) when they return to the United States,"
Doug graduated from the University of Washington in Seattle in 1972 and received his Master of Divinity degree in 1976 from Princeton Theological Seminary. He served as associate pastor of Trinity Presbyterian Church in Berwyn, Pennsylvania, until his appointment to Ireland. He is a clergy member of the Presbytery of Donegal.
Elaine is a native of Belfast and first became involved in reconciliation efforts with the Corrymeela Community in the early 1970s. From 1973 to 1984 she taught 11- to 18-year-olds at Belfast Royal Academy and contributed as a volunteer to various Corrymeela programs. She is a member of the Presbyterian Church in Ireland and an active elder in their local congregation, Stormont.
Elaine and Doug are the parents of three grown children.
Birthdays:
Doug - September 5
Elaine - May 22


Topics:
Tags: