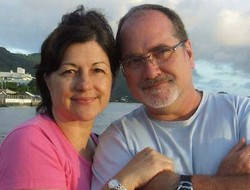 Read letters from Tim and Marta Carriker
Subscribe to Tim and Marta Carriker's letters
2015
September - Transition
June - Supporting Women in Ministry
January - Former Students Bearing Fruit
January - Portuguese Mission Study Bible

2014
November - Gambaga Witch Camp
July - Environmental Responsibility
June - Gugu's Story
Winter - Voices in Ministry

Older Letters
Christmas 2013
Fall 2013
July 2013
June 2013
March 2013
November 2012
September 2012
May 2012
March 2012
November 2011
Thanksgiving 2011
October 2011
July 2011
May 2011
November 2010
July 2010
May 2010
October 2009
June 2009
April 2009
For older letters, contact Mission Connections
The 2015 Presbyterian Mission Yearbook for Prayer & Study, p. 49
Rev. Tim and Marta Carriker
Mission co-workers in Brazil
Serving with the Independent Presbyterian Church of Brazil
Give to Tim and Marta's MinistryMeet Tim and Marta in a videoDownload a prayer card
Contact: Tim Carriker (tim.carriker@pcusa.org)
Contact: Marta Carriker (marta.carriker@pcusa.org)
Marta and Tim will next be in the USA, based in Charlotte NC, in January - March 2016. Email them to extend an invitation to visit your congregation or organization.
About Tim and Marta Carriker's ministry
Tim and Marta encourage the Brazilian missionary movement, which has approximately 34,000 personnel serving around the world. Tim's work involves development, teaching, writing, and consulting. Marta provides pastoral support to national missionaries and also facilitates the participation of Presbyterian Church (U.S.A.) groups that visit the many outreach ministries of the Independent Presbyterian Church of Brazil (IPIB).
Tim helps the IPIB grow its missional impact in Brazil by coordinating continuing education seminars for pastors. With his IPIB colleagues he is currently developing an online continuing education curriculum. Marta provides pastoral care to the spouses of IPIB's national missionaries and assists mission teams from the United States that partner with IPIB ministries.
The IPIB leadership has asked Tim to help expand the church's mission outreach. Both domestic and international mission in Brazil require cross-cultural strategies and sensitivities, Tim says. "Brazil is culturally, economically, and socially very diverse, which makes national ministries very cross-cultural in nature."
The ties between U.S. and Brazilian Presbyterians continue to be strengthened through congregational and presbytery partnerships. When U.S. Presbyterians visit their Brazilian partners, Marta is there to translate and interpret the Brazilian context of ministry. "It has been a joy for me to get to know firsthand the joint evangelistic projects," Marta says. "They always include some ministry of social assistance such as the construction of cisterns in the Northeast and the medical and dental assistance provided to river communities in the Amazon."
Read: Presbyterian mission co-worker edits innovative study Bible on mission
Download: ulletin insert that lift up the work of Tim and Marta Carriker in Brazil.
Read a news story about the Carrikers' ministry.
Country context
Brazil is South America's largest and most influential country, an economic giant and one of the world's biggest democracies. After years of economic boom and bust, changing currencies, hyper-inflation and foreign debt, Brazil´s economy and currency have been stable for more than a decade. Brazil has gone from being a debtor to being a creditor. Much of the arable land is controlled by wealthy landowners and international corporations, and a large gap exists between the rich and the economically impoverished. Almost three quarters of Brazilians identify themselves as Roman Catholic, but fewer than 20 percent of them regularly attend mass. Slightly more than 22 percent of the people are Protestants. In addition to the IPIB, the PC(USA) also has formal partnership ties in Brazil with the United Presbyterian Church
Presbyterians in Brazil look back to 1859, the year the first U.S. Presbyterian missionary arrived on their shores, with gratitude, Tim says. "Every year they celebrate their own Reformation Day, the coming of North American missionaries."
About Tim and Marta Carriker
Although Tim and Marta Carriker have spent their entire mission career in Brazil, their influence is felt around the world.
Tim arrived in Brazil in 1977 amid a growing surge of Brazilian interest in sending international mission workers. He met Marta, a native Brazilian, Christian composer, and linguist, the day after his arrival and the two married in 1978. A huge part of their life together has been dedicated to helping Brazilians share the gospel in their own country and internationally.
They began their joint ministry as church planters serving alongside Brazilian partners. They could readily see the enthusiasm of local Presbyterians for mission in Brazil and beyond. After six years in this ministry, Tim, working with Brazilian colleagues, helped organize the Evangelical Missions Training Center in Viscosa. Opportunities for mission training were few in those days in Brazil.
"Other institutions basically gave them two weeks of training and sent them off," says Tim. "We felt that this was not enough and designed a one- to two-year training program." In South America as well as Africa and Asia the school's graduates have planted new congregations and translated scripture. It has been a model for other mission education programs. "Today there are more than 100 schools and mission departments in seminaries all over Brazil because of that one program that began in 1983," Tim says. The Vicosa center educates students from a number of Brazilian denominations.
Tim left the faculty in 1992, but he continued to teach at other Brazilian schools during the 1990s. In 1999 the Carrikers were assigned to work with the Independent Presbyterian Church of Brazil (IPIB).
Marta holds a bachelor's degree in English from Virginia Commonwealth University and has pursued graduate studies in language acquisition and cultural anthropology at Fuller Theological Seminary. She holds a master's degree in applied linguistics from Universidade Estadual de Campinas.
Tim holds a bachelor's degree in religion from the University of North Carolina in Charlotte and a Master of Divinity from Gordon-Conwell Theological Seminary. He earned a Master of Theology in missiology and a Ph.D. in intercultural studies and New Testament at Fuller Theological Seminary. He is an ordained PC(USA) teaching elder and a member of Charlotte Presbytery.
Birthdays:
Tim - August 2
Marta - September 4
Jennifer - September 19
Tim Jr - June 19
Sarah - July 16
Topics:
Tags: