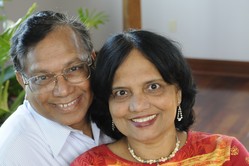 Read letters from Jacob and Aliamma George
2015
May - Daily Encounters
February - Meeting Strangers

2014
Year-End - An Eventful Year
Fall - Ministry with the Displaced
July - Back In Juba
Spring - Seeds Have Been Planted
Winter - Last Days in Malakal

Older Letters
October 2013
June 2013
March 2013
February 2013
November 2012
September 2012
August 2012
June 2012
May 2012
April 2012
March 2012
February 2012
November 2011
October 2011
September 2011
August 2011
July 2011
June 2011
May 2011
April 2011
March 2011
February 2011
December 7, 2010
The 2015 Presbyterian Mission Yearbook for Prayer & Study, p. 139

Rev. Jacob and Aliamma George
Mission co-workers in South Sudan 2010 - 2015
Jacob and Aliamma ended their service with the PC(USA) at the end of 2015 - Thank you for your support of their work
Download Jacob and Alliama's prayer card
---
About Jacob and Aliamma George's ministry
Jacob George teaches a full range of courses at Giffen Institute of Theology. The school trains individuals to serve as pastors and evangelists and in other church-related vocations in the Presbyterian Church of South Sudan. The school is named for J. Kelley Giffen, the first Presbyterian missionary to serve in Sudan.
Jacob and Aliamma are also involved in Community Health Evangelism (CHE) in and around Malakal. This strategy seeks to transform individuals and communities by integrating community-based development, evangelism and discipleship.
Country context
In 2005 a peace accord was signed that ended a bloody 50-year civil war between rebels in the mostly Christian and animist south (mostly black Africans) and the predominately Muslim government based in the north (mostly Arabs). This fragile peace is holding, but conflict continues in the country's western region, where government-backed Arab militias have killed thousands of fellow Arabs living in Darfur. Amid adverse circumstances caused by war and poverty, Christianity in Sudan is vibrant and growing. The PC(USA) has longstanding relationships with two partner churches, the Sudan Presbyterian Evangelical Church, which serves northern Sudan, and the Presbyterian Church of Sudan, based in southern Sudan, now the Presbyterian Church of South Sudan. The PC(USA) joins its partners in a holistic approach to ministry that includes education and leadership development, community development, evangelism, and new church development.
About Jacob and Aliamma George
Jacob and Aliamma George know firsthand that the power of the gospel can transcend cultures. That is because they have seen the gospel transform lives both in their native India and in Houston, Texas, where they lived as young adults. They have now heard God's call to yet another place and culture, and they are excited about service in South Sudan.
"I served as a pastor and teacher in Houston for the last 30 years," says Jacob. "Now the time has come to do this outside the country. I take it as a challenge to go to Sudan as a theological educator."
Jacob was pastor of the Emmanuel Church of South India in Houston for 32 years. The congregation is affiliated with both the Church of South India and the Presbyterian Church (U.S.A.). The Church of South India is a longtime international partner of the PC(USA).
Jacob's commitment to ministry and evangelism was formed early in his life. "I was born in a pastor's home, and at the age of 12 I received Jesus Christ as my Lord and Savior," he says. "I have had the desire to share the Christian faith to non-Christians since I was a small child."
In addition to his ministerial duties in Houston, Jacob taught science in the public schools. His dual career experiences help him tackle his diverse assignment in Sudan.
Aliamma also brings to mission service a faith journey that began in childhood. "When I was in second grade in India, my parents left home for a small village to do mission work," she says. "My parents had dedicated me for the Lord's work, and I have tried to tell others about him in my school, college and work places."
Aliamma has worked for many years as a registered nurse, a professional background that is proving helpful as she and Jacob work with Sudanese who are implementing the Community Health Evangelism strategy. The goal is to present the gospel message and practical steps for communities to improve their physical circumstances. People work together on projects such as clean water, general sanitation, agricultural diversification, small businesses development and literacy.
Aliamma first developed an interest in Sudan by meeting Sudanese refugees who visited the clinic where she worked. "I had positive encounters with them," she says, "and I am happy for the chance to help their home country."
Jacob says that Sudanese Christians carry a message that gives hope to a country torn apart by war and poverty. "I believe that the gospel can change communities and then eventually the nation."
Birthdays
Aliamma – June 2
Jacob – February 23


Topics:
Tags:
Comments
Happy Birthday, Jacob! Our prayers are with you this weekend as we remember you on your birthday coming up this week. May God protect you and keep you.