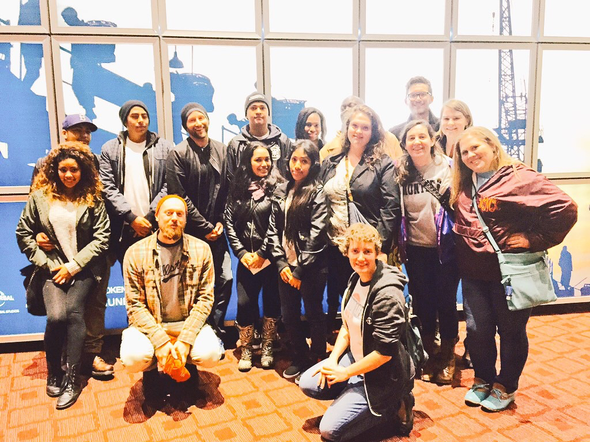 Hollywood YAVs, Alums, Directors, and DOOR Local Discern Team
PROGRAM PARTNER
PROGRAM DESCRIPTION
This site seeks young adults to serve and learn with the diverse racial and socio-economic communities of Hollywood and Los Angeles, to engage in intentional Christian community and personal discipleship in a mostly Central American immigrant neighborhood while caring for and learning from a wide range of people who've fallen short of the American Dream.
PLACEMENT OPPORTUNITIES
While the brand identity of "Hollywood" conjures up images of fame and fortune, the geographic region is one of the lowest income areas of Los Angeles. On any given night in Los Angeles county, there are 60,000 to 100,000 people living on the streets, with Hollywood itself being home to thousands of homeless teens and young adults. Many are would-be stars who've migrated in search of opportunities, totally overwhelmed by the competition that exists; others are runaways or throwaways; others have pre-existing mental illnesses and some develop them as a result of sleeping regularly on sidewalks. The homeless teens, in particular, make up 5,000-10,000 of this number, and are particularly vulnerable to the 5 billion dollar industries of online pornography, prostitution, and human trafficking. Agency work is also diverse, but here are possible placements:
PATH (People Assisting the Homeless) Instead of waiting for people to come to us for housing and services, we go to them. Our street outreach teams travel throughout Southern California, making connections with people living on the streets and providing much-needed support and referrals. If you are homeless, or have encountered someone who is homeless and in need of assistance, contacting PATH's outreach team is an important first step.
Broken Hearts Ministries To build consistent and empowering relationships with the broken-hearted living and working on the street; bridge the gap between the church and the street by training and mobilizing believers; bring the grace and truth of the gospel to those who might otherwise consider themselves disqualified.
My Friend's Place In collaboration with the leading social services providers and educational institutions in the region as well as over 500 volunteers, we offer a free and comprehensive continuum of care that combines emergency necessities with therapeutic, health, employment and education assistance, and creative arts services for the thousands of homeless youth in Hollywood and Los Angeles.
GettLove Gettlove strives to be both a catalyst and a model within the community implementing and evaluating innovative practices that if effective can be replicated throughout the country. Gettlove hopes to demonstrate the power of relationships, the importance of instilling a sense of belonging in every member of the community, and the effectiveness of permanent housing. Success is not only measured by numbers, but by improvements in quality of life for clients and for the community. The sustainable, long-term well being of the individuals we serve, and the Hollywood community as a whole, is Gettlove's mission.
The Center at Blessed Sacrament The Center at Blessed Sacrament exists to be a catalyst for ending homelessness in Hollywood. We could never do it alone. It takes a community working together. At the center of community are relationships. We see these relationships as fundamental to a future in which homelessness no longer exists. The Center works to build this network of relationships with our participants experiencing homelessness, those who have been recently housed, service providers, public agencies, business leaders and the broader community. Together we are eradicating chronic homelessness from Hollywood.
The Lord's Lighthouse at First Presbyterian Church of Hollywood We provide compassionate services and empowerment for the poor, homeless and marginalized through a program that addresses the felt needs of guests. We provide a means for individuals to escape the cycle of poverty and homelessness, and empower individuals to become advocates on issues essential to the poor, such as housing, employment, transportation and healthcare. We also provide an environment that nurtures spiritual growth.
YAV/Dwellers are also responsible for maintaining the neighborhood ministry program out of La Casa de la Comunidad, which is at the heart of our ministry of racial reconciliation. La Casa de la Comunidad is attached to the YAV/Dwell duplex, and is situated in a neighborhood of predominantly Central American immigrants, some documented, some undocumented. YAV/Dwellers are asked, at first, to spend ample time listening and learning from neighbors. At the center of Los Angeles, a city which also has Little Ethiopia, South Central, Pacoima, Koreatown, Chinatown, Little Bangladesh, Little Armenia, and other neighborhoods reflecting the entire globe, the need and potential for reaching out across cultural and neighborhood boundaries is rich and critical. After-school tutoring and fellowship building games, basketball tournaments, hosting Bible studies, YoungLife events, and ESL courses, organizing the maintenance of the front yard community garden, providing a safe space for youth to talk about the peer pressure surrounding gang involvement, planning Posadas and other seasonal events, cooking and baking classes are just some of the many ways the house has been used. YAV/Dwellers are required to commit at least six organized hours each week, but most find that working relationally within the neighborhood becomes part of the very fabric of life while in Los Angeles. The opportunity to practice mutuality, to both give and receive, with neighbors is part of the reason many Hollywood YAV's stay after their year of service. For more context, you can visit our Facebook page.
HOUSING
With four available bedrooms, YAV/City Dwellers will typically share a bedroom with at least one roommate, along with bathrooms and common spaces. Each apartment has a full kitchen, with another industrial sized oven in the kitchen of La Casa de la Comunidad. There is one washer/dryer. The "Gregory Avenue" neighborhood is situated directly next to Paramount Studios and within walking distance of Hollywood's Walk of Fame. This complicated juxtaposition of extreme wealth alongside considerable poverty allows for many opportunities for working to bridge classes while reflecting upon the rifts in our modern society. In addition, the house is a short drive from the Pacific Ocean, the Inland Deserts and the snow-capped Sierra Nevada, offering the chance for many exciting explorations. See photos of our facilities.
INTENTIONAL COMMUNITY ASPECTS
With a focus on living more simply and intentionally, YAVs/City Dwellers will create a house covenant, a common food budget and commit to using bikes and public transportation as much as possible. One day is set aside as a community day, a time to gather together in prayer, worship, and studying culture and issues related to race and class. It is also a space to organize the neighborhood ministry. Several retreats are taken throughout the year, including one to Fronteras de Cristo with other YAV sites — to offer ample time for relaxation, reflection and new experiences.
REQUIREMENTS
Age: 18-30
Education: college desirable, but not required
Other: English; Spanish, not required but very helpful, for neighborhood ministry. All languages can be helpful within homeless populations.
SITE COORDINATOR
Matthew Schmitt, Director
Marvin Wadlow Jr., Associate Director
Tags: